There was really only one thing that England could say after losing their final practice match before the World Cup and they said it. Joe Root was the man chosen to deliver the message since he had made 85 of England's 250 for 8.
"We're ready now," he said. "We're fed up of waiting around, we want to get cracking, we want Saturday to come round and we want to surprise people. We want to put in a performance that gets us a win and take on 90,000 at the MCG."
How it stirred the breast. The trouble, as Root and his colleagues are presumably well aware, is that if England are ready, Australia, their daunting opponents in their opening fixture of the tournament, are readier. And if England are indeed as ready as Root assured, it does not quite explain, as he conceded, why England were 20 runs short of what they ought to have made against Pakistan.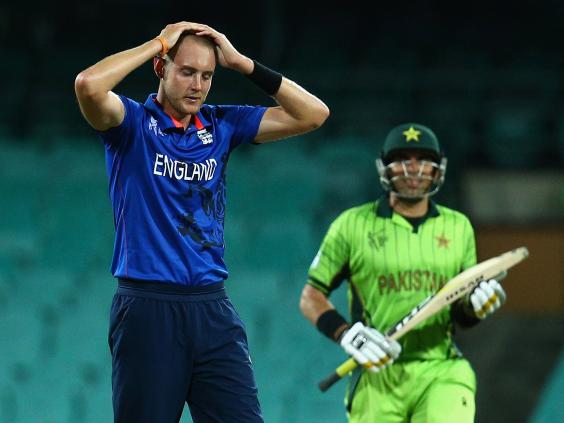 It is leaving preparation a tad late to be so off the pace three days before the business starts. Twenty runs too few on Saturday and Australia will scent blood and hustle for the line.
Even then, England had their opportunity. Reducing Pakistan to 78 for 4 in the 23rd over they had a distinct advantage. But a period of consolidation, marshalled excellently by Pakistan's veteran captain, Misbah ul Haq, was defiance enough.
Misbah knew that if he could work his way into the final overs that would be that. England's batting might have been more culpable but their death bowling is a signal weakness. They might not be alone in that, given that batting sides are well aware what runs are obtainable over the last 10 overs but it is still a facet of their game which needs fairly instant enhancement.
"I think we bowled OK in the last seven or eight overs but we just didn't get enough runs," said Root. "Twenty runs on top of what we got would have created more chances."
The form of Eoin Morgan is starting to be of serious concern. England appear to have dropped one captain who could not score a run in Alastair Cook for another in Morgan. It was hoped that Morgan's elevation would hasten a return to form after a desperately lean year.
Briefly, that seemed to be the case as he made a glittering hundred against Australia in his first match as official captain. But since then his scores have been 0,2,0 and yesterday again 0.
As they did with Cook, the team are rallying round. Indeed, Root's words were eerily similar to the sort of guff being issued when Cook was casting around desperately for runs last year.
"You never want to get out early in your innings," said Root. "Morgs is one of the guys under the pump and when the pressure is on he is someone you turn to. I am sure that throughout this competition he is going to score a lot of runs. Everyone in the dressing room is absolutely convinced." They were convinced too that Cook was forever in sight of sunlit uplands.
There were good things for England. Jimmy Anderson and Stuart Broad, opening the bowling together for the first time since 2013, were both on the button. Gary Ballance, who will start the tournament out of the team, demonstrated he is ready to be in it with 57. Much of the fielding was excellent. It may not be enough to take on Australia and 90,000.
Reuse content