Australia are world champions for the fifth time. Their long, rarely interrupted dominance  of the one-day game was reaffirmed in the most emphatic fashion with irresistible fast bowling of the highest class.
It was complemented by supremely athletic fielding and an unpleasantly strident approach to their work which overwhelmed New Zealand. The 184 runs this left Australia needing to win were acquired straightforwardly and the seven-wicket margin properly represented the difference between the sides.
This made a disappointing culmination to a thoroughly engaging tournament. New Zealand have illuminated the past six weeks during which, as their captain Brendon McCullum has regularly observed, they have had the time of their lives. But it was a match too far. The occasion appeared to consume them.
All in all, Australia were the complete modern limited-overs package and if it was hard to warm to many aspects of a muscular performance, there was no doubting the array of skills on display.
From the first over, when New Zealand's talisman McCullum was removed, it was an unequal contest. The bowling, especially of the two Mitchells, Johnson and Starc, was compelling: rapid, accurate with a hint of swing and entirely fitting for a World Cup final. They brought their A-game to the biggest one-day match of all.
New Zealand simply had no answer. Although they had won a tense pool match between the sides, this was a different ball game. They tried everything they knew to stay in touch but might as well have chased shadows.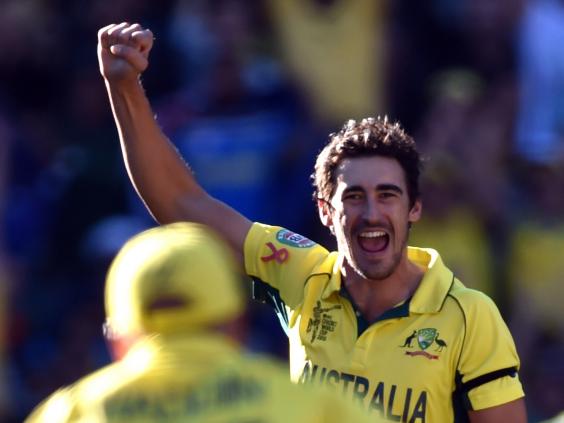 From 39 for 3 in the 13th over, New Zealand embarked on a vigilant recovery operation, marshalled by their semi-final hero Grant Elliott. But just as it seemed they might compile a challenging target, they succumbed meekly, not initially to speed but to the cunning slower balls of the all-rounder James Faulkner, whose intervention surprisingly made him man of the match. The last seven wickets fell for 33 runs in nine overs.
The buzz theme during the interval was that in the World Cup final of 1983 India, too, had been bowled out for an identical and seemingly inadequate total of 183 and ended up winning the match by 40 runs and changing professional cricket as we know it.
Perhaps a Kiwi victory would have had a less dramatic effect. A population of 4 million would have been delighted but they would not have instigated the hero worship prevalent among India's 1 billion which helped to fuel the one-day explosion.
But it was never a realistic aspiration. They managed one early wicket but probably needed three to make Australia feel the heat in front of an attendance of 93,013, a one-day international record crowd, most of whom were supporting the home team.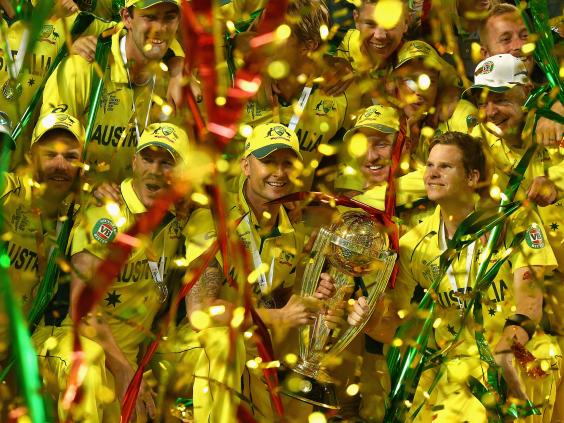 Australia were all but guided determinedly home by their retiring captain, Michael Clarke, and his certain successor, Steve Smith. Clarke had caused a stir the previous day by revealing that this would be his last one-day match. While he should have left the announcement until after the event, it caused not the remotest distraction to him or his colleagues. Clarke strode purposefully to the wicket in the 13th over and followed it with batting to match, his jaw set, his bat straight.
There was nothing flashy about him. He just wanted to get the job done and, though he did not quite manage it, bowled for 74 with nine still required, he follows Allan Border, Steve Waugh and Ricky Ponting (twice) as victorious Australian World Cup captains. Clarke, who wore a black armband throughout the competition, dedicated the victory to Phillip Hughes, who died on the cricket field in Sydney last November. Hughes, said Clarke, was the 16th member of their squad.
Australia have mastered the art of peaking in quadrennial cycles. This was their fourth victory in the last five tournaments – the only reversal coming in India in 2011 – and no one should be remotely surprised if they make it five out of six in England four years hence.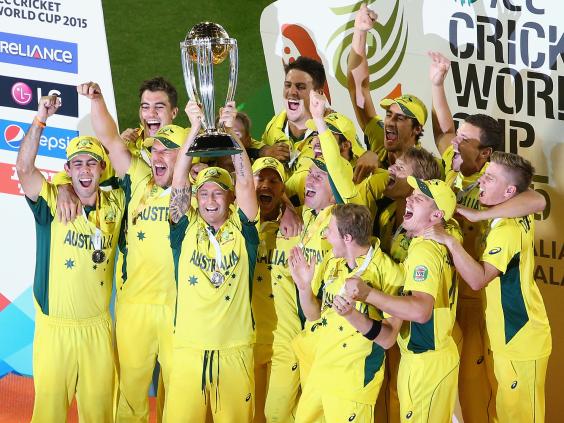 When New Zealand won the toss it seemed they had negotiated the first important part of their herculean task. The final notes of the national anthems had barely faded before any sense of relief that this brought was dissipated.
Martin Guptill steered the second ball of Starc's first over to third man. Starc beat McCullum with his first two balls to him, fast and swinging. The third was again full and quick and McCullum was a fraction late on it as it ripped through his stroke and crashed into the off stump.
Before long, Guptill played a timid shot to Glenn Maxwell and was bowled. Then Kane Williamson was undone by a fearsome Johnson.
Gradually, painstakingly, Elliott and Ross Taylor rebuilt the innings. Taylor was never comfortable. Throughout the tournament he has played with the air of a man placed in surroundings he knows but cannot quite remember when he has been there before. But he stuck at it and Elliott played admirably.
At 150 for 3, New Zealand were not exactly in clover, but they could glimpse sun-lit uplands. They receded rapidly, from the first ball of the batting powerplay when Faulkner bowled a cutter to Taylor which he edged to Brad Haddin's right.
Cricket World Cup final
Cricket World Cup final
1/10 Cricket World Cup final

David Warner of Australia stands in the outfield

GETTY IMAGES

2/10 Cricket World Cup final

Australian cricketer Mitchell Starc (R) celebrates the wicket off New Zealand batsman Luke Ronchi during the final. Starc was named player of the tournament after the match

GETTY IMAGES

3/10 Cricket World Cup final

James Faulkner of Australia celebrates getting the wicket of Corey Anderson

GETTY IMAGES

4/10 Cricket World Cup final

New Zealand batting pair Tim Southee (C) and Trent Boult (R) walk back to pavilion at the end of their innings

GETTY IMAGES

5/10 Cricket World Cup final

New Zealand players celebrate the wicket of David Warner

GETTY IMAGES

6/10 Cricket World Cup final

Daniel Vettori and Ross Taylor of New Zealand looks dejected after Steve Smith of Australia had the ball roll on to his stumps but fail to knock the bails off

GETTY IMAGES

7/10 Cricket World Cup final

Australian batsman Michael Clarke acknowledges scoring his 50

GETTY IMAGES

8/10 Cricket World Cup final

Steve Smith and Shane Watson of Australia celebrate victory after Smith hits the winning runs

GETTY IMAGES

9/10 Cricket World Cup final

Australia lift the Cricket World Cup

GETTY IMAGES

10/10 Cricket World Cup final

Australian captain Michael Clarke and Australian players celebrate winning the 2015 ICC Cricket World Cup final

GETTY IMAGES
It was a smart catch by Haddin but the wicketkeeper's general behaviour in the field as New Zealand batsmen were dismissed was unprepossessing in the extreme.
Faulkner followed it up by bowling Corey Anderson with something more conventional two balls later and with Johnson looking as if he could take a wicket with every ball the rest folded. Elliott's accomplished 83 was ended by another Faulkner slower ball.
Australia's response was rudely interrupted when the admirable Trent Boult swung one in to Aaron Finch, and when David Warner pulled to mid-wicket at 63 there was still just a glimmer. Clarke and Smith extinguished it with uniformly confident batting. There were 16.5 overs left unbowled when victory duly arrived.
Reuse content