These are strange times for Michael Clarke. He might have known they were coming. For Clarke, they are always coming. Two months ago he was the hero of all Australia, but now he is back in the old familiar territory, dividing opinion, courting debate. Yesterday's loss will probably bring more of the same.
Maybe it is the lot of all cap-tains of Australia, of all captains of all cricket teams, to delight some and irritate the rest who wonder why they have the job. Ask Alastair Cook about that. But Clarke, because of a combination of scrutiny, personality and events, has taken this to a different level. It will be fascinating now to watch how long he can endure, or how long he wants to survive. Australia's defeat yesterday on Clarke's return was their first in 10. They had better start winning again quickly.
Clarke has been official captain of both Australia's one-day and Test teams since the middle of 2011. Despite his seniority by then, he was neither a universally popular nor unanimous choice.
Cricket World Cup 2015: 10 young players to watch
Cricket World Cup 2015: 10 young players to watch
1/10 Usman Ghani, 18, Afghanistan

At just over 18 years old, Ghani is the youngest player at the tournament, but the attacking opener already has an ODI century to his name. If the Aghans are to spring a shock, much will depend on him getting them off to a good start.

AFP/Getty Images

2/10 Pat Cummins, 21, Australia

With his wonderful action and searing pace, Cummins burst onto the scene when he took seven wickets as an 18-year-old Test debutant against South Africa. Terrible injuries have prevented him from adding to his solitary Test cap, but now the stage is set for Cummins to re-establish himself as one of cricket's hottest talents.

Getty Images

3/10 Mominul Haque, 23, Bangladesh

A compact left-handed batsman, Haque will occupy the No.3 spot in the Bangladeshi batting order. He has already made 24 ODI appearances, but thus far has enjoyed more success in the longer format - in 12 Test appearances he has plundered almost 1200 runs at 63.05, with four centuries.

AFP/Getty Images

4/10 Jos Buttler, 24, England

One of the genuine box-office talents in the England squad, Buttler's 121 against Sri Lanka last summer was the most eye-catching innings of the season. His keeping needs work, but as a mid- to lower-order batsman he has the talent to change the course of a game in the blink of the eye.

Getty Images

5/10 Akshar Patel, 21, India

One of the few positives of India's disastrous recent Tri-Series with Australia and England was the consistency of Patel, who was miserly and probing with his tight left-arm spin. He enjoyed a superb 2014 IPL season with 16 wickets and an economy rate of just 6.22 for Kings XI Punjab.

AFP/Getty Images

6/10 George Dockrell, 22, Ireland

Despite having been a mainstay of the Ireland side since his debut in 2010, and with four county seasons at Somerset under his belt, Dockrell is still only 22. The canny spinner was named the ICC Associate Player of the Year in 2012, and he has been touted to follow Eoin Morgan into England colours.

AFP/Getty Images

7/10 Kane Williamson, 24, New Zealand

Williamson is the most consistent performer in a dangerous New Zealand batting line-up, his devastating recent form in all forms of cricket cementing his reputation as one of the most exciting, talented batsmen in world cricket. Having recently had his action cleared, he can now resume bowling his useful off-spin.

Getty Images

8/10 Ahmed Shehzad, 23, Pakistan

Despite his tender age, Shehzad boasts a wealth of experience, with over 50 ODI appearances and six centuries to his name. More of a classical, patient opener than a David Warner-esque pinch-hitter, he will lay the foundation from which Pakistan's big-hitting middle order can tee off.

AFP/Getty Images

9/10 Quinton de Kock, 22, South Africa

Since making his debut just after his 20th birthday, De Kock has been an aggressive, punchy performer at the top of the South African order, plundering six hundreds in just 36 matches. A tidy gloveman, who by taking over keeping duties has allowed AB De Villiers to focus on his batting, to devastating effect.

AFP/Getty Images

10/10 Tendai Chatara, 23, Zimbabwe

An athletic opening bowler with a curious, idiosyncratic action, Chatara takes the ball away from the right-hander at decent pace and is Zimbabwe's key strike bowler. His maiden Test five-wicket haul set up a famous victory over Pakistan in 2013.

AFP/Getty Images
He had not been the most well-liked bloke in the dressing room and attracted adverse comments about his lifestyle, which amounted to his liking for being a star, fast cars and pretty girls. When he was appointed captain, there were murmurs from the back rooms but the board went ahead, possibly because there was no clear alternative.
What it swung it for Clarke was the support of the former captain Mark Taylor, as universally admired as it is possible to be. Clarke did not make it his team immediately, but he changed, or at least evolved, though a horrific tour of India nearly split the camp asunder.
However, against England in the 2013-14 Ashes series Australia seemed carefree again. They recovered from a 3-0 loss in England to whitewash the visitors for the second time in three tours. No one questioned Clarke's authority now. But his body started arguing again. Australia had been defeated by Pakistan in the UAE, He was struggling with injury and it seemed he might not be able to play in the Test series against India.
Then Phillip Hughes, the Australia batsman, was felled by a ball and died. Clarke behaved with sincerity, nobility and compassion. The trappings of celebrity were forgotten; here was the man. Somehow he strapped an aching body together to play in the First Test against India and scored a lovely hundred, for his side, for Hughes. Then the injuries rebelled, and the Australian board asked the tyro Steve Smith to do the job. He responded by batting resplendently and winning one, drawing two of the three remaining Tests. It was obvious there was a successor in the making.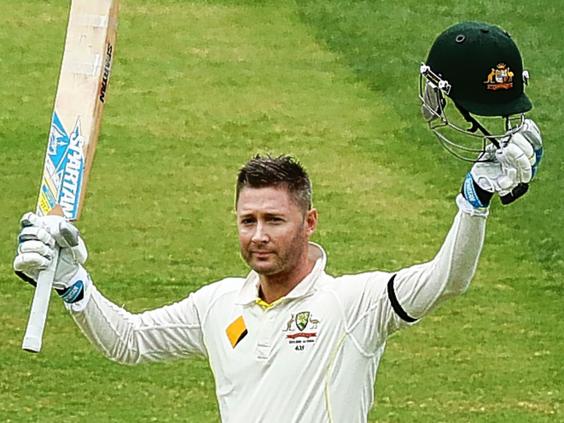 Until yesterday Clarke had played only two of Australia's previous 19 one-day matches. George Bailey was the official deputy but Smith, it is clear, is being groomed for that too.
After the World Cup the next stop is effectively the Ashes. Clarke will be there if he stays more or less in one piece. But for how long after is anybody's guess. They may know at Cricket Australia.
Reuse content