Can England really win this World Cup or is that simply wishful thinking? Certainly they are better placed now to make a genuine challenge than a month ago. The selectors have made two good and brave decisions in replacing Alastair Cook as captain with Eoin Morgan and opening the batting with Ian Bell.
Morgan has a one-day pedigree unrivalled in the England set-up. Bell enjoys the extra pace that southern hemisphere pitches provide and is a perfect foil for the more flamboyant Moeen Ali. Since his elevation, Bell has batted with great clarity, not  giving his wicket away if the tempo of his innings has dropped. In the past he has been guilty too often of trying to hit his way out of trouble.
The fact that England reached the recent Tri-Series final against Australia would have been beyond expectation, achieved as it was by two solid victories against India. But just as importantly there were also encouraging  moments against Australia.
Cricket World Cup 2015: 10 young players to watch
Cricket World Cup 2015: 10 young players to watch
1/10 Usman Ghani, 18, Afghanistan

At just over 18 years old, Ghani is the youngest player at the tournament, but the attacking opener already has an ODI century to his name. If the Aghans are to spring a shock, much will depend on him getting them off to a good start.

AFP/Getty Images

2/10 Pat Cummins, 21, Australia

With his wonderful action and searing pace, Cummins burst onto the scene when he took seven wickets as an 18-year-old Test debutant against South Africa. Terrible injuries have prevented him from adding to his solitary Test cap, but now the stage is set for Cummins to re-establish himself as one of cricket's hottest talents.

Getty Images

3/10 Mominul Haque, 23, Bangladesh

A compact left-handed batsman, Haque will occupy the No.3 spot in the Bangladeshi batting order. He has already made 24 ODI appearances, but thus far has enjoyed more success in the longer format - in 12 Test appearances he has plundered almost 1200 runs at 63.05, with four centuries.

AFP/Getty Images

4/10 Jos Buttler, 24, England

One of the genuine box-office talents in the England squad, Buttler's 121 against Sri Lanka last summer was the most eye-catching innings of the season. His keeping needs work, but as a mid- to lower-order batsman he has the talent to change the course of a game in the blink of the eye.

Getty Images

5/10 Akshar Patel, 21, India

One of the few positives of India's disastrous recent Tri-Series with Australia and England was the consistency of Patel, who was miserly and probing with his tight left-arm spin. He enjoyed a superb 2014 IPL season with 16 wickets and an economy rate of just 6.22 for Kings XI Punjab.

AFP/Getty Images

6/10 George Dockrell, 22, Ireland

Despite having been a mainstay of the Ireland side since his debut in 2010, and with four county seasons at Somerset under his belt, Dockrell is still only 22. The canny spinner was named the ICC Associate Player of the Year in 2012, and he has been touted to follow Eoin Morgan into England colours.

AFP/Getty Images

7/10 Kane Williamson, 24, New Zealand

Williamson is the most consistent performer in a dangerous New Zealand batting line-up, his devastating recent form in all forms of cricket cementing his reputation as one of the most exciting, talented batsmen in world cricket. Having recently had his action cleared, he can now resume bowling his useful off-spin.

Getty Images

8/10 Ahmed Shehzad, 23, Pakistan

Despite his tender age, Shehzad boasts a wealth of experience, with over 50 ODI appearances and six centuries to his name. More of a classical, patient opener than a David Warner-esque pinch-hitter, he will lay the foundation from which Pakistan's big-hitting middle order can tee off.

AFP/Getty Images

9/10 Quinton de Kock, 22, South Africa

Since making his debut just after his 20th birthday, De Kock has been an aggressive, punchy performer at the top of the South African order, plundering six hundreds in just 36 matches. A tidy gloveman, who by taking over keeping duties has allowed AB De Villiers to focus on his batting, to devastating effect.

AFP/Getty Images

10/10 Tendai Chatara, 23, Zimbabwe

An athletic opening bowler with a curious, idiosyncratic action, Chatara takes the ball away from the right-hander at decent pace and is Zimbabwe's key strike bowler. His maiden Test five-wicket haul set up a famous victory over Pakistan in 2013.

AFP/Getty Images
On the cusp of recent World Cup campaigns, England have been confused and uncertain of their best line-up. Not this time. Going into their warm-up games they have been able to tinker with the team as they have decided on their favoured XI. There is a shade of uncertainty only about Ravi Bopara's position.
There is much to be heartened by, but winning games of cricket is not always about having the best team. It is often the side that identifies and wins the important moments in a game. The reality is that England have won just six of their last 20 games.
Success breeds self-belief and confidence, attributes that are needed when games get tight and could go either way. Hence, my only real concern about England's challenge.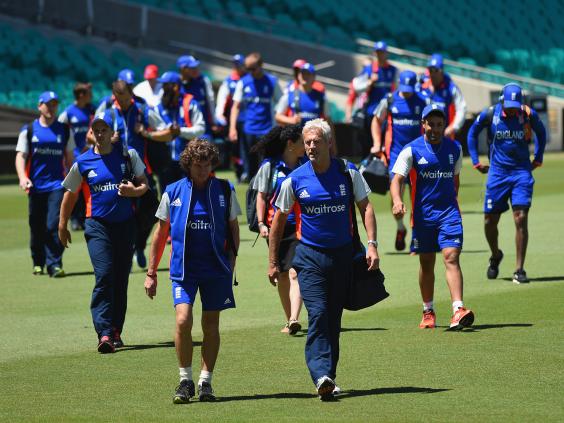 In the three recent Tri-Series games against Australia, England manoeuvred themselves into winning positions twice, with the bat in Hobart and then with the ball in the final at Perth. Thanks to Bell and Joe Root, England were on target for a probable winning score of 350 in the former match but instead fell away in the last 10 overs to reach a below-par 303.
In the final in Perth England's pace attack ripped into Australia's top order taking four quick wickets. Australia recovered to post a plus-par score of 278. Game over.
England's inability to seize the key moment cost them both games. Their immediate task then is to compete for the full game not sections of it. It is these crucial passages that leave England fallible and make champions out of sides like Australia and India.
By now England know they can compete against the best sides in the world but what remains uncertain is whether they have yet learned to do it when it really matters. It is a problem of which unfortunately I have first-hand knowledge, for it afflicted the England one-day side I played in. You would look around the dressing room and see all these world-class players, yet when it came to big global tournaments we hardly competed. We did not win regularly enough to engender a winning spirit and although it's sad to say so, did not really understand how to win. The loss to Australia in Port Elizabeth in 2003 is a perfect example. It was match England were winning, should have won, yet lost.
This team can improve on previous campaigns. It is a tough start against arguably the tournament favourites Australia, though the injury to James Faulkner is a big loss to the hosts as he has become so dependable at the end of the innings with bat and ball.
If England can get through the new-ball burst from the Mitchells, Johnson and Starc, as well as Josh Hazlewood, the Australians' weakness would be exposed. Their fifth and sixth bowling options can be exploited with wickets in hand.
England's only selection concern is Bopara. I would not change the top six at this late stage so would not consider Alex Hales or Gary Ballance at seven. Chris Jordan is an option but I would prefer the extra batting and a few overs from Bopara. England settled on the experience of Bell and for now should employ the same rationale with Bopara.
The bowling is heavily reliant on pace and should have helpful pitches. There remain questions about England's ability to hold a side in the last 10 overs – though, that's not a problem that besets only England.
The question the team really needs to ask itself is this:  have they got the ability to win those three or four game-changing moments that will arise in the next six weeks. If the answer is yes, then glory beckons, if it's no, an early flight home is awaiting yet again.
--
NICK'S PICKS - FIVE TO WATCH
Kane Williamson (New Zealand)
An excellent batting technique with an ability to read a game situation. The perfect foil for more aggressive Kiwi players around him.
Mitchell Starc (Australia)
Starc bowling at 145kmh with a new white ball that swings is a lethal combination. Also bowls excellent yorkers at the end of the innings.
James Anderson (England)
Has shown exemplary control of the swinging ball since his return to the side. One of the most feared bowlers in the one-day game.
Calum MacLeod (Scotland)
The Scot is one of the most exciting prospects among the associate sides. A powerful top-order player, he started as a bowler and could finish as a classy attacking batsman.
Hashim Amla (South Africa)
A high-class Test player, so will be able to cope with differing conditions throughout a long World Cup. A batting giant in one of the fancied sides, South Africa.
Reuse content