It was always probable that Michael Clarke would divide opinion as captain of Australia. In that respect, he has let nobody down, indeed has been an unalloyed triumph.
This has been a tumultuous season for Clarke and he is approaching its conclusion in a manner fitting what has gone before. At various points in the past six months he has been doubted and admired, suspected and praised, loathed and loved. He has run the gamut from selflessness to selfishness.
Clarke is two matches away from leading Australia to their fifth World Cup title. Win them both and his position as captain of both the Test and one-day teams would be indisputable for a year or so. It would give him, at least, some latitude to depart eventually on his own terms.
Lose either – the semi-final of the tournament against India in Sydney on Thursday, or the final on Sunday – and the future direction of his career would again become uncertain. His detractors, who are not a small band and may feature some in, or close to, the Australia dressing room, would try to make his position untenable.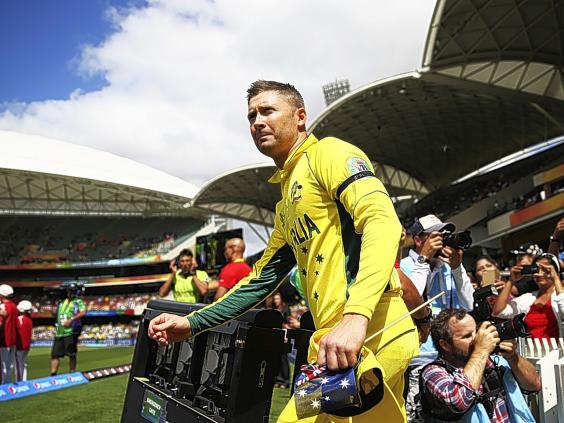 The one-day captaincy could be removed fairly swiftly, as well as his place within the team. There would be for the moment no doubt about his continuing as Test captain but he would be automatically more vulnerable and there is the sense that if his fragile body rebelled against him once more, his demise would be engineered.
In recent weeks, Clarke has reassumed the leadership of the one-day side after a long absence which did him no favours. The feeling was that he was a man who was still playing one-day cricket from the first decade of the century in the middle of the second. If he was not captain, it was being muttered, he might not be in the team – which is not the Australian way of doing things.
Clarke has been at odds with the selectors intermittently for a while. There were differences of opinion about his chronic injuries to back and hamstring, if not over how they should be treated then on how long he was taking to recover from them.
At the start of the Australian summer, Clarke was not in the best of physical conditions. He missed a one-day series in Pakistan and most of a home one-day series against South Africa. There were  rumblings.
Towards the end of November, the sporting world was shocked by the death of Phillip Hughes. In the days that followed the accident to Hughes, who was hit in the neck by a ball during a Sheffield Shield match, Clarke displayed leadership and statesmanlike qualities as captain of Australia, which many had mistakenly thought beyond him. He  represented a game with dignity and compassion.
When cricket started to be played again, Clarke was determined to be there. There were some things much more important than an ailing body. In the first Test between Australia and India, Clarke made a hundred. It was a hundred for Hughes, for Australia and for the world. Almost immediately afterwards, he injured his hamstring.
This time, it was so serious that his whole career seemed in jeopardy. He needed surgery and his participation in the World Cup was far from certain. During his absence a new captain of Australia emerged in Steve Smith, in sizzling form and possessing an innocent charm that is simply not part of Clarke's earnest character.
It is how sport operates. It can move quickly. So from being an icon in a way he never had been before, Clarke then found himself sidelined. During his darkest days, he conceded it might be all up for him, but since returning Clarke has been completely assured. He has not been fitter for years and has no intention of retiring from the one-day captaincy after the World Cup.
Australia cricket circles are full of conspiracy theories about the nature of the relationship between Clarke and national coach, Darren Lehmann. It is certain that Lehmann would enjoy greater authority when Smith was in charge, if only because Clarke was there before Lehmann.
It appears that Clarke has mended fences with those members of the team with whom he has not always got on, Shane Watson among them. But players do not have to like each other, they simply have to be on the field together, pulling in the same direction. Clarke, as captain, certainly in the last 18 months has always given the impression of caring for each and every one of those under him.
Given freedom from injury he will definitely be Australia's captain for the Ashes this summer. The selectors would not dare risk such a major change. Would they? But first he has to orchestrate a win on Thursday against a resurgent India.
Reuse content