Much more of this and the chokers will be consigned to history forever. South Africa were exemplary in all that they did yesterday in crushing Sri Lanka in the first quarter-final of the World Cup.
It could be said that Sri Lanka erred in everything  from the moment they selected their team, but that would not do justice to a clinical exhibition from their opponents who embraced the occasion rather than be cowed by it.
There is a traditional closeness between these teams – there was a gap of one in wins and losses between them coming into this match – but in levelling the tally at 29-29, South Africa were completely dominant. They were stifling with the ball, whether quick or slow, and then won at a gallop in chasing down a paltry total of 133.
The match lasted a total of 55.2 overs. It was like something England could have been involved in. As a way for the old warriors, Mahela Jayawardene and Kumar Sangakkara, to depart the one-day stage together, after 852 appearances between them, it was extraordinarily sad.
Sangakkara, as ever, was as phlegmatic in defeat as he would have been in victory. His disappointment was tempered by the knowledge that South Africa had played with wonderful force.
Cricket World Cup 2015: 10 young players to watch
Cricket World Cup 2015: 10 young players to watch
1/10 Usman Ghani, 18, Afghanistan

At just over 18 years old, Ghani is the youngest player at the tournament, but the attacking opener already has an ODI century to his name. If the Aghans are to spring a shock, much will depend on him getting them off to a good start.

AFP/Getty Images

2/10 Pat Cummins, 21, Australia

With his wonderful action and searing pace, Cummins burst onto the scene when he took seven wickets as an 18-year-old Test debutant against South Africa. Terrible injuries have prevented him from adding to his solitary Test cap, but now the stage is set for Cummins to re-establish himself as one of cricket's hottest talents.

Getty Images

3/10 Mominul Haque, 23, Bangladesh

A compact left-handed batsman, Haque will occupy the No.3 spot in the Bangladeshi batting order. He has already made 24 ODI appearances, but thus far has enjoyed more success in the longer format - in 12 Test appearances he has plundered almost 1200 runs at 63.05, with four centuries.

AFP/Getty Images

4/10 Jos Buttler, 24, England

One of the genuine box-office talents in the England squad, Buttler's 121 against Sri Lanka last summer was the most eye-catching innings of the season. His keeping needs work, but as a mid- to lower-order batsman he has the talent to change the course of a game in the blink of the eye.

Getty Images

5/10 Akshar Patel, 21, India

One of the few positives of India's disastrous recent Tri-Series with Australia and England was the consistency of Patel, who was miserly and probing with his tight left-arm spin. He enjoyed a superb 2014 IPL season with 16 wickets and an economy rate of just 6.22 for Kings XI Punjab.

AFP/Getty Images

6/10 George Dockrell, 22, Ireland

Despite having been a mainstay of the Ireland side since his debut in 2010, and with four county seasons at Somerset under his belt, Dockrell is still only 22. The canny spinner was named the ICC Associate Player of the Year in 2012, and he has been touted to follow Eoin Morgan into England colours.

AFP/Getty Images

7/10 Kane Williamson, 24, New Zealand

Williamson is the most consistent performer in a dangerous New Zealand batting line-up, his devastating recent form in all forms of cricket cementing his reputation as one of the most exciting, talented batsmen in world cricket. Having recently had his action cleared, he can now resume bowling his useful off-spin.

Getty Images

8/10 Ahmed Shehzad, 23, Pakistan

Despite his tender age, Shehzad boasts a wealth of experience, with over 50 ODI appearances and six centuries to his name. More of a classical, patient opener than a David Warner-esque pinch-hitter, he will lay the foundation from which Pakistan's big-hitting middle order can tee off.

AFP/Getty Images

9/10 Quinton de Kock, 22, South Africa

Since making his debut just after his 20th birthday, De Kock has been an aggressive, punchy performer at the top of the South African order, plundering six hundreds in just 36 matches. A tidy gloveman, who by taking over keeping duties has allowed AB De Villiers to focus on his batting, to devastating effect.

AFP/Getty Images

10/10 Tendai Chatara, 23, Zimbabwe

An athletic opening bowler with a curious, idiosyncratic action, Chatara takes the ball away from the right-hander at decent pace and is Zimbabwe's key strike bowler. His maiden Test five-wicket haul set up a famous victory over Pakistan in 2013.

AFP/Getty Images
"It's disappointing to lose, especially in a quarter-final," he said, "but to win against a side like South Africa we have to do really well. We have to compete.
"There was a stage, even – when we were four wickets down – where we probably could have gone through the powerplay and maybe got to the 240-250 mark. And we were expecting, as much as anyone, of ourselves. But we weren't good enough today."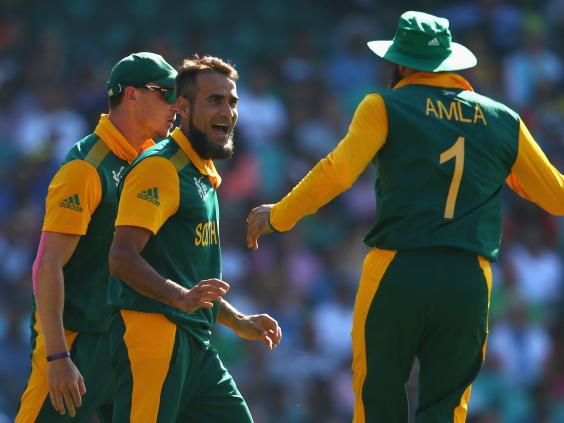 Sri Lanka won what seemed to be an important toss. But that was the best it became for them all day. Fatally, it seemed, they changed their batting order, splitting up the opening partnership that had seen them reach this stage. Boldly, they included a fast bowler, Dushmantha Chameera, who had played two one-day matches, and a spinner, Tharindu Kaushal, who had played none.
South Africa were fierce at the start. The veins in Dale Steyn's forehead bulged, which is always a sure sign he means business. He did.  He and his new ball partner, Kyle Abbott, were helped by two early, magnificently athletic catches which defined South Africa as much as anything else.
The spinners, from whom Sri Lanka thought they might profit, were instead suffocating. Sangakkara, who had scored four successive hundreds before this, needed all his experience but was never fluent or settled. Imran Tahir, a leg-spinner with a devilish googly, was mesmerising, J P Duminy, an off-spinner expected to go for plenty, took a hat-trick.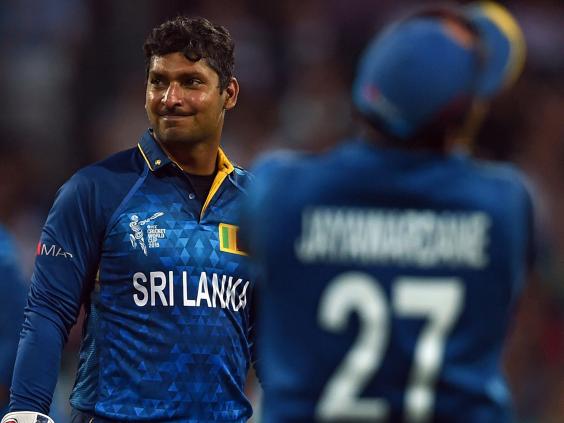 South Africa clattered their way to the 134 target in 18 overs. A B de Villiers had said they would not follow their forebears by choking, has spoken indeed of when, rather than if, they win the World Cup. He can be believed.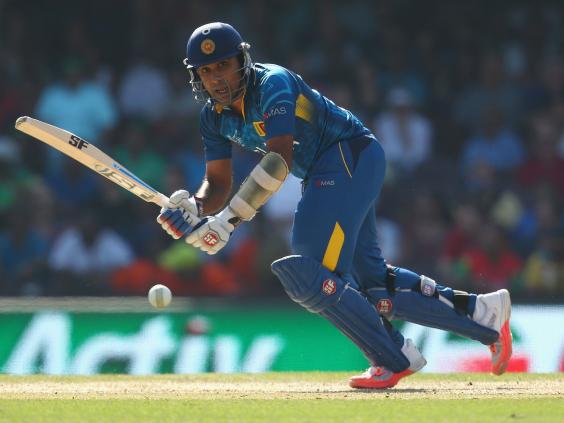 Sangakkara was asked how he would like to be remembered. "Oh, if anyone can say that they've enjoyed playing against me and playing with me, I'll be more than happy." It was a typically dignified sign-off.
Reuse content