After six weeks and 49 run-filled games that yielded 38 centuries (including two doubles) Australia have been crowned world champions.
While the final was slightly anticlimactic, as New Zealand finally ran out of momentum against their clinical co-hosts, the World Cup was a carnival of thrilling encounters and superb, record-breaking individual performances.
Here is The Independent's team of the tournament (spoiler alert: no England players were selected):
1. Martin Guptill (NZ)
547 runs @ 68.37 (SR 104.58)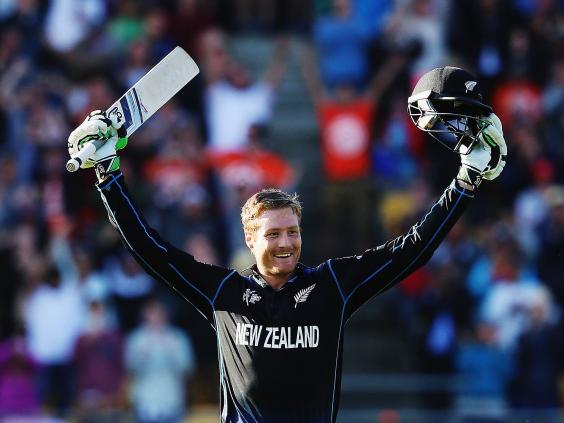 Overshadowed by his opening partner in the opening matches, but burst into life with 105 against Bangladesh in New Zealand's final group stage clash. His 237 not out off 163 in the Quarter Final against West Indies, a World Cup record, was freakish, the innings of a lifetime, and led to Guptill becoming the tournament's leading runscorer.
2. Brendan McCullum (NZ - captain)
328 runs @ 36.44 (SR 188.5)
Even in an era of huge hitting and astronomical run rates McCullum stands out. Adopts the same, hyper-aggressive approach regardless of the match situation, and came off in thrilling fashion against South Africa, Australia and, most spectacularly of all, England (Steven Finn: Two overs, 0-49). His attacking, dynamic captaincy was the driving force behind New Zealand.
Cricket World Cup final
Cricket World Cup final
1/10 Cricket World Cup final

David Warner of Australia stands in the outfield

GETTY IMAGES

2/10 Cricket World Cup final

Australian cricketer Mitchell Starc (R) celebrates the wicket off New Zealand batsman Luke Ronchi during the final. Starc was named player of the tournament after the match

GETTY IMAGES

3/10 Cricket World Cup final

James Faulkner of Australia celebrates getting the wicket of Corey Anderson

GETTY IMAGES

4/10 Cricket World Cup final

New Zealand batting pair Tim Southee (C) and Trent Boult (R) walk back to pavilion at the end of their innings

GETTY IMAGES

5/10 Cricket World Cup final

New Zealand players celebrate the wicket of David Warner

GETTY IMAGES

6/10 Cricket World Cup final

Daniel Vettori and Ross Taylor of New Zealand looks dejected after Steve Smith of Australia had the ball roll on to his stumps but fail to knock the bails off

GETTY IMAGES

7/10 Cricket World Cup final

Australian batsman Michael Clarke acknowledges scoring his 50

GETTY IMAGES

8/10 Cricket World Cup final

Steve Smith and Shane Watson of Australia celebrate victory after Smith hits the winning runs

GETTY IMAGES

9/10 Cricket World Cup final

Australia lift the Cricket World Cup

GETTY IMAGES

10/10 Cricket World Cup final

Australian captain Michael Clarke and Australian players celebrate winning the 2015 ICC Cricket World Cup final

GETTY IMAGES
3. Kumar Sangakkara (SRI - wicket keeper)
541 runs @ 108.2 (SR 105.87)
The tournament provided the perfect swansong for the 37-year-old, who bowed out of ODI cricket after Sri Lanka's World Cup defeat, as he plundered four consecutive centuries. His innings against England was vintage Sangakkara: 117 off 86 balls without breaking sweat, as his side chased down 310 for the loss of just one wicket.
4. AB de Villiers (SA)
482 runs @ 96.4 (SR 144.31)
The best batsman in the World over the past year lived up to the pre-tournament hype with a series of extraordinary innings, most notably his 162 off just 66 balls as his South Africa side posted 408 to annihilate the West Indies.
5. Steve Smith (AUS)
402 runs @ 67 (SR 91.57)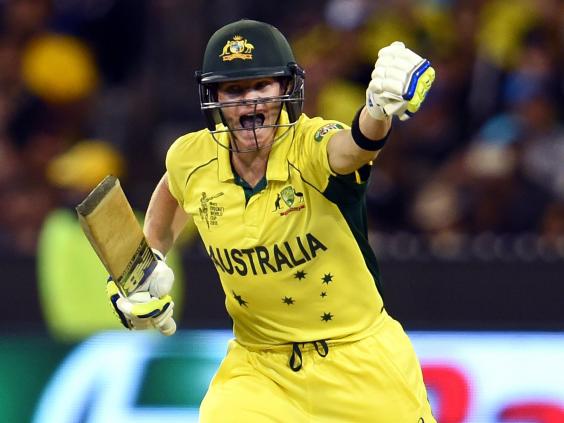 After failing in his first two outings, Smith hit form when it mattered and passed 50 in each of his last five innings in the tournament. Hit the winning runs in the final after a calm, unbeaten 56, but his best came in the semi, where his mature 105 laid the groundwork for Australia's victory over India.
6. Glenn Maxwell (AUS)
324 runs @ 64.8 (SR 182.02), 6 wkts @ 36.33
The explosive middle-order batsman has developed a reputation for inconsistency, but he came good time and again here. Just ask England, against whom he smashed 66 off 40 balls in the opening match or Sri Lanka, who he plundered for 102 off 53. Has an uncanny knack for picking up wickets with his innocuous-looking off-breaks.
7. Corey Anderson (NZ)
231 runs @ 33 (SR 108.45), 14 wkts @ 16.71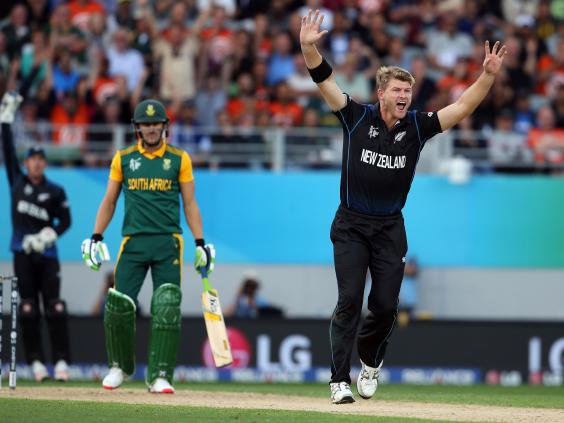 Provided able support for the Black Caps' top-order and frontline bowling attack with his trademark big-hitting and left-arm seam that is often expensive, but usually yields results. His performance in the semi-final against South Africa summed him up: went for 12 an over but picked up three wickets, then ably supported Grant Elliot with a run-a-ball 58 in New Zealand's thrilling chase.
8. Mitchell Starc (AUS)
22 wkts @ 10.18 (econ 3.5)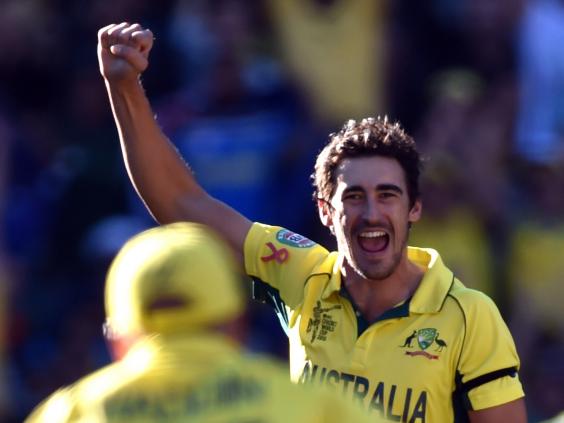 Deservedly named man of the tournament after bowling with pace, aggression and astonishing consistency: he took at least two wickets in each of Australia's fixtures, and only conceded more than five an over once (against England, of all teams). Ironically, his best performance came in defeat, when his heroic 6-28 against New Zealand almost inspired his side to defend 151
9. Trent Boult (NZ)
22 wkts @ 16.86 (econ 4.36)
At any other tournament Boult would have been the standout bowler. After Starc's displays, he wasn't even the best left-arm seamer. Formed a potent, pacy new-ball partnership alongside Tim Southee to lay the foundation for New Zealand's performances, and produced one of the great spells of fast bowling when he came back into the attack to claim five wickets for three runs in five overs against Australia in the group stages.
10. Imran Tahir (SA)
15 wkts @ 21.53 (econ 4.23)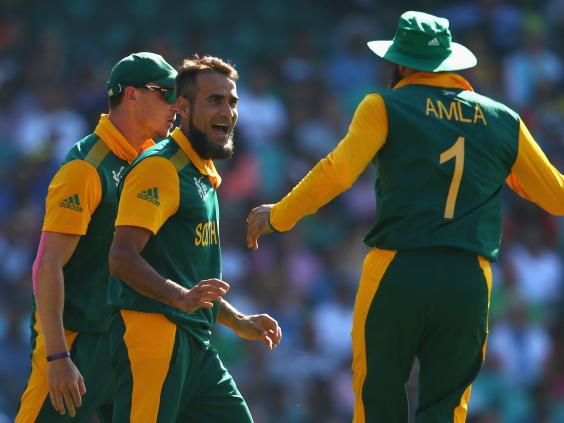 Just pips the New Zealand veteran Daniel Vettori, who took the same number of wickets as the South Africa leg-spinner but faded towards the tournament's latter stages. By contrast, Tahir saved his best performance for the knockout stages, ripping through the Sri Lanka middle-order to claim 4-26 in the quarter-final.
11. Umesh Yadav (IND)
18 wkts @ 17.83 (econ 4.98)
India were written off before the tournament after a disastrous tour of Australia, but rediscovered their form to reach the semi-finals. Much of this was down to the efforts of Yadav and his new-ball partner Mohammed Shami. The lively seamer got better as the tournament went on, taking four wickets in both the quarter-final against Bangladesh and semi with Australia, against whom he dismissed David Warner, Aaron Finch and Steven Smith.
Don't agree? Let us know in the comments below.
Reuse content