So, it's us against the West Island. The quiet men from the Land of the Long White Cloud against the loud larrikins from across the Tasman. The final that they all wanted.
Everyone back home will be stoked, as we like to say. Because there is nothing a New Zealander likes better than watching one of our teams play – or, dare we say, beat – an Aussie. Nothing except a cold crate of Waikato beer. Preferably to wash down (OK, I'll say it before anybody else does) a plate of fush and chups.
Don't be alarmed about all this fighting talk: we New Zealanders don't hate our neighbours from across the ditch – that is a common misconception that British people have. The rivalry has nothing of the animosity of England-Scotland sporting clashes; neither of us invaded the other for a start.
We're more like siblings – with New Zealand as the runt of the two-country litter. We have our disagreements (they call flip-flops "thongs", for instance, whereas we call them by their correct name, which is "jandals") and there is a certain amount of jealousy from us, the small-fry, aimed at the Aussies over the consummate ease with which they seem to approach, well, pretty much everything. But we usually get along fine. We both like barbecues and the beach – and each of us can lay claim to Russell Crowe.
But then there is sport, where the rivalry is something else – and a hell of a lot of fun. Except the Kiwis are often accused of having a tiny chip on our shoulders, on account of us ending on the losing side more than we'd have liked.
We've held our own in rugby union (and league, occasionally) and there was a time, in those beige-tinted halcyon days with men like Richard Hadlee, Lance Cairns and Martin Crowe on the cricket pitch, when we used to enjoy regular victories over the blokes in green and gold – when the Aussies weren't bowling underarm at us, of course.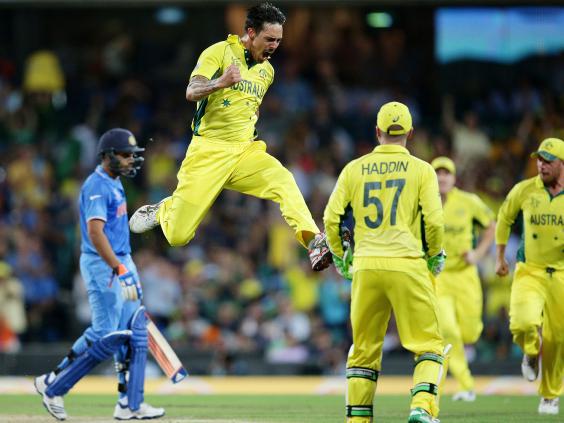 But those times are long gone. There are many living in Godzone country who have no memory of us being this good at cricket. Or more to the point, good enough to match the Aussies. Apart from anything else, given the crowded schedule, we  don't get to play each other nearly enough.
And when we do, it is quite an occasion. It is nice to come up against the big brother, just to see whether we can somehow get one over him, like we did in the group stage. Until Grant Elliott's six put us in the final earlier this week, that one-wicket win over Australia last month was the greatest moment in Kiwi cricket for many a year.
Sure, New Zealand would have had more chance in Sunday's final against India. And such is Australia's form, the Black Caps could be on the wrong side of a whipping at the MCG. But whoever wins, it's going to be a hell of a dust-up. I'd best chill the crate of Waikato.
Reuse content