England and Afghanistan are fulfilling their obligations on Friday. They will be there because the fixture list insists. It is a dead rubber. The World Cup is over for both sides since neither can qualify for the quarter-finals whatever the outcome of this final pool match.
Yet they come to it in entirely different moods. For Afghanistan this has been a tournament of unbridled joy and wherever they have gone they have been accompanied by perpetual fascination that they should be present at all.
For England, on the other hand, the competition has been one of unremitting gloom. Perhaps aware that the contemporary one-day game has passed them by, they have been consumed by the fear of failure and thus they have failed by losing four matches out of five.
It is unthinkable that England can lose this final match, which is different from proposing that it is impossible. Afghanistan will have watched the progress of their opponents, have noticed their trepidation and might suspect they can take advantage of it.
Afghanistan, then, can be expected to play, in part, as though it were an exhibition match (which, actually, it is). They have nothing to lose. But the same can be said of England. If there was a time to shed the hidden shackles that have inhibited them,  this is it.
There is a resonance to this match which should not be lost by the reduced significance of the sporting context. For Afghanistan to have been taking part here is truly a wonder of the modern world of games playing or anything else.
In 15 years they have come from nowhere after a few Afghans, seeking refuge over the border in Pakistan because of the turmoil afflicting their country, learnt to play the game. They took it back with them and it has spread  joyously.
That they should now be playing against the team representing the nation which has been an armed presence on their soil for the past decade is part of the beauty of sport and of its healing powers. The Taliban has approved the playing of cricket.
Both sides come into the match with a solitary victory apiece, against Scotland. But Afghanistan have not made a total above 232. England have not been quite that moderate. Samiullah Shenwari has been the Afghans' leading performer with the bat and has scored two fifties in his aggregate of 247. This puts him in 18th place in the runs list, ahead of any of Friday's opponents. Ian Bell with 210 is England's top scorer, but he, like so many others, has had a disappointing time.
It is also a cause for mild embarrassment that Afghanistan's leading wicket-taker, Shapoor Zadran, has 10 wickets, two more than Steve Finn, who has eight for England and has been dropped from the side. Shapoor is a left-arm paceman, a variety of bowler which England, among several other features, have sorely lacked.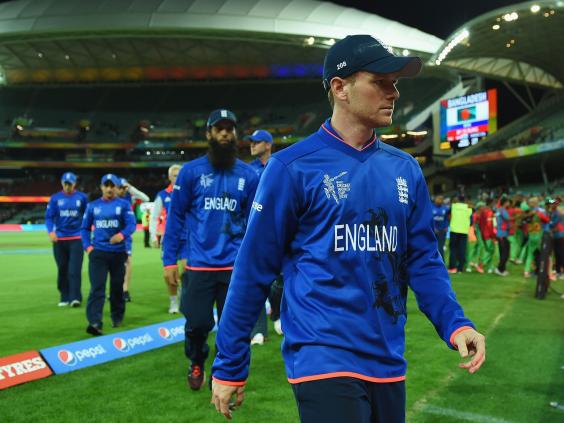 England will be forced to make changes in their side because both Moeen Ali and Chris Woakes have had to withdraw with side and foot injuries respectively.
They expect to announce on Tuesday their squad for next month's Test tour of the West Indies. Both players will have medical checks as soon as the squad return. The absences in the short term mean that James Tredwell and Ravi Bopara could play their first matches of the tournament.
It is a match that could easily spell the end for at least two members of the team. Both Jimmy Anderson and Bell would be wise to step back from the limited-overs game to prolong their Test careers. They have made considerable contributions to England over many years, though neither has quite fulfilled what he might like to have done in the one-day arena.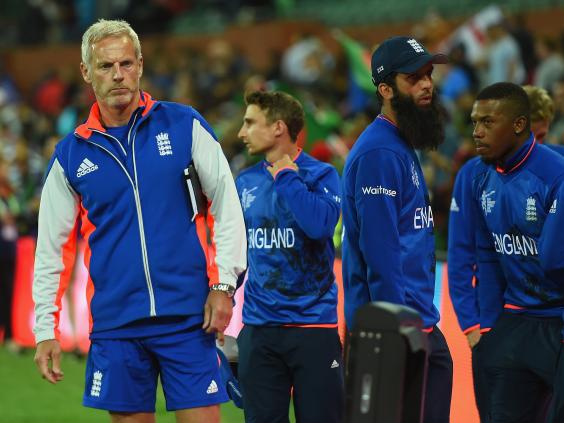 While it might be true that England have been ambushed partly because other teams have transferred their Twenty20 experiences – largely denied to England's players – to the 50-over game, it is not quite correct to say that England have been undone by inexperience.
Before the tournament began they had five players with 100 or more one-day appearances, with a squad total of 999 caps. That is only slightly fewer than Australia who had 1,085 but only four 100-cappers, and it is slightly more than South Africa on 932, with three men having played 100 times.
The most experienced side in the competition by far are Sri Lanka. They have six men with 100-plus appearances and a total of 2,144 caps. It was not inexperience that cost England, it was dread. Meekness replaced confidence. On Friday they may as well try to show what might have been.
Reuse content