For England, the World Cup is a recurring nightmare. Each of its four-yearly cycles follows a similar pattern, where the gallant men and true chosen to represent the country turn up and play cricket which is either behind the times or below standard.
The 2015 brigade are still in the 11th version of the competition and if they were to win five games in succession would win the thing, the most grotesque turn-up of all, considering the manner in which they have played in the last fortnight. That, of course, is what makes such a sequence as currently improbable as encountering a grumpy  New Zealander.
England suffered their third consecutive heavy defeat yesterday, this one to Sri Lanka, who won by nine wickets with 16 balls in hand. This was despite a measured, largely understated hundred from Joe Root, his fourth in one-day internationals in the past year.
Unfortunately, his endeavours were overshadowed by two Sri Lanka hundreds, one a glittering example from the canon of Kumar Sangakkara in 70 balls, the other less composed but still mightily effective from Lahiru Thirimanne. It was another cake walk at the Cake Tin following the battering at the stadium by New Zealand a few days earlier, which came after the crushing by Australia in Melbourne in the opening fixture.
Only Scotland have provided England with succour so far, a vote for the union if ever there was one. To ensure a wretched, ill-deserved qualification for the quarter-finals, England need to beat both Bangladesh in Adelaide and Afghanistan in Sydney. Neither can be taken as read. England are one more cock-up from disaster.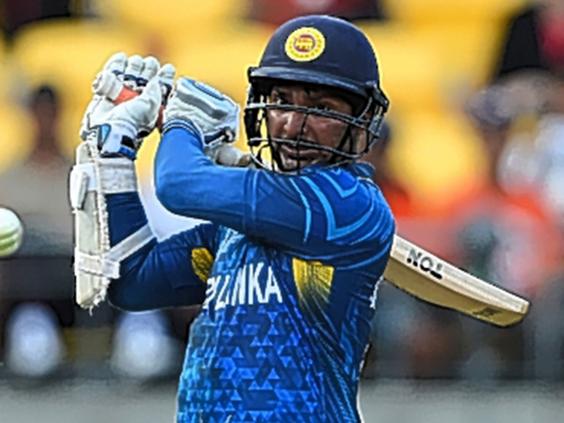 At the interval yesterday, England assumed in their naivety that their total of 309 was somewhere in the region of formidable. They have been banging on about 300 being the sort of score they need for weeks, as if making it was the height of their ambition.
It also assumed their bowlers would avoid the plethora of ill-directed, ill-conceived balls they produced. This overwhelming defeat was perhaps more disappointing than the others both because England felt they competed for half the match and also that Sri Lanka were lesser opposition, if only because, unlike Australia and New Zealand, they were not playing at home.
Eoin Morgan, England's captain, said: "When we don't turn up for a race, like those first two games, it's scratched but when we turn up, like we did today, and get beaten in the fashion we were it's harder to take. Going in at halfway I think we were probably 25 above par and stats backed it up. Root put in a great performance, showed his class again, but when you bowl one bad ball every couple of overs you're going to be punished. We created a couple of chances which went down and that's always disappointing. It hasn't been happening."
To have the remotest expectation of preventing a successful Sri Lanka run chase, England had to take wickets throughout. Instead they created only one early chance when Root shelled a regulation slip catch with Thirimanne on three.
As Morgan ruefully observed, it would have brought Sangakkara to the crease earlier, with a correspondingly higher chance of getting him out. With Sangakkara, of course, these things are relative and he was once more peerless.
He shepherded Thirimanne when necessary, reminded him of precisely what was needed. When the gas needed to be stepped on he did so. England persevered recklessly with a short ball attack, which Sangakkara especially pulled to his heart's content.
At some stages, Morgan might have been bolder in his field settings since he needed wickets but his bowlers found swing, seam and gumption in equally short supply.
Thirimanne was asked to compare England's bowlers with those of Afghanistan, who ran Sri Lanka much closer in Dunedin a few days ago. Out for a duck then, he was able to be cheeky.
"That day the Afghanistan bowlers bowled really well," he said. "There was a little bit in it for the seamers in the Dunedin wicket. Today it was a little bit easy for me, to be honest."
England could have done with a few more than they mustered. After a rapid start, their innings tootled along in the middle overs, which meant Root and Jos Buttler had to up the ante towards the end. This was done with more effect than at any stage in the tournament, but England showed they are still off the 2015 pace.
They do not play again until next Monday, when they meet Bangladesh. It gives them and us plenty of time to reflect on how this World Cup is turning out like its five immediate predecessors.
"It's not a big deal getting the guys up," said Morgan. "It's a World Cup, everyone is like a kid at Christmas, wants to play, wants to win, that part of it is easy." It's the playing that's hard.
Reuse content