At last, the Australians felt able to mention the A word. For weeks, months, they had been told to bottle it up, to keep to themselves all their deep-seated feelings about the impending quest to retain the Ashes.
But suddenly, their business against West Indies complete in every way, with two resounding Test victories, they could unburden themselves. It turned out, not unnaturally that while they were sworn to silence during their trip to the Caribbean, they had been thinking about England, their oldest enemy, all along.
"I'd be lying to say it hasn't been in the back of everyone's mind," said their captain, Michael Clarke. "But the fact we've been really disciplined on playing really good cricket in these conditions against this West Indies team is a really good achievement from the boys.
"But we're all excited about what lies ahead. I've spoken a lot about consistency away from home, I just hope this is the start of it."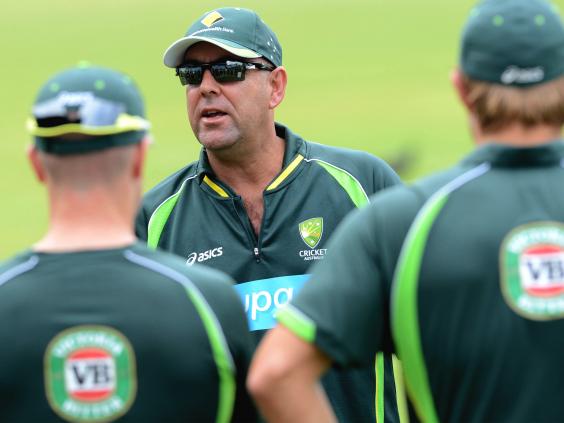 Australia arrive in England on Wednesday. The swagger in their step, invariably pronounced when they come to these shores, will have been exaggerated by their disdainful play in the West Indies.
They won the two Tests in a total of under seven days, by nine wickets and 277 runs. It will be lost on no-one that only a few weeks earlier, West Indies held England to 1-1, coming from behind to do so.
Darren Lehmann, the Australia coach, is expecting his opponents to be much more dynamic than in the past and for all Australia's favouritism is too wise to suggest it will be a pushover.
Lehmann made all the right noises on Monday as the squad left Jamaica but of course the tune may change after their arrival.
"They'll probably play a bit like we play," Lehmann said. "That's what they are trying to do. So it's going to be one for young and old. It's going  to be entertaining for everyone and it's going to be an exciting series."
Australians, no less than the English, are fascinated by the fact their opponents are to be coached by one of their own, Trevor Bayliss (though Australia will arrive before him). They know and respect Bayliss. Clarke first came across him as a teenager with New South Wales when Bayliss was coach there.
Lehmann said: "They're going to be tough over there as we know and if they're going to play that way it's going to be the team that handles that pressure the best.
"They've got some things they're trying to work on and Trevor will have them getting the way they want to play and he has got to do that pretty quickly."
Although Australia will undoubtedly be uncompromising – they will not, for instance, play with the sunny disposition of New Zealand – they will not take it to extremes off the field. Lehmann said he would not ignore Bayliss as Allan Border, a former captain, once blanked opponents. "Nah," Lehmann said. "We're playing a game aren't we? He's a good mate of a lot of people in our room. We know how he wants to go about it. We can only do what we can do on the ground."
Good to hear, but on the ground Australia can be expected to bring plenty of noise. They have been in  good voice against West Indies and they are not about to put a sock in it.
However, it would be pleasant if most of the time they could let their cricket do the talking since there is every chance that it will speak  volumes. Australia are not yet a patch on the great side of the 1990s and early 2000s but they are on their way. Unlike  England, when they have opponents down they keep them there.
The form of Australia's bowlers in the Caribbean was so potent as to give rise to the theory that Mitchell Johnson, the scourge of England in the 5-0 crushing of 2013-14, may not start these Ashes.
It remains unlikely but the young speed merchants, Mitchell Starc and Josh Hazlewood and the rapid Ryan Harris, who has been preserved in aspic to be fit for this tour, are all frighteningly accomplished.
Both Starc and Hazlewood terrorised West Indies. They may have considered it a mere starter.
Reuse content