When it became apparent that the short ball from Varun Aaron had seriously hurt Stuart Broad, Virat Kohli was the first to come and check on him. MS Dhoni, the Indian captain, signalled quickly to the dressing room, asking for attention. Given the incident at Trent Bridge that cast such a shadow over the first three Tests, it was quite the sight for sore, cynical eyes.
To use the word that David Warner, the Australian opener, used to describe Jimmy Anderson, Kohli is also an "instigator", the player most likely to get in the opposition's face with a choice word or three. But when it came to a horrific injury to a fellow professional, there was no gloating from India, just genuine concern. It did make you wonder if Alastair Cook had been telling the truth on the eve of the Test when he said: "I think the way both sides have played this series has been fantastic, apart from that one incident which has been blown up. Both sides have been very competitive and played it in the right way."
It's not possible to ignore what happened between Anderson and Ravindra Jadeja, though. The alleged fracas and the response to it said much about cricket's changed power equations. The Board of Control for Cricket in India (BCCI), convinced that their man was an innocent, were prepared to query the match referee's verdict and even that of the judicial commissioner in their quest for "justice". The England and Wales Cricket Board (ECB) saw such behaviour as more evidence of India trying to bend everything to their will.
The new power dispensation at the International Cricket Board has the Indian board and the ECB as uneasy bedfellows. The mutual suspicion is as evident now as it ever was. There are still officials in the BCCI who see the board's current status as the most powerful in the game as an opportunity to get their own back for perceived slights in the past. "Do you know that there was a time when we had to pay England and Australia guarantee money to come and play us?" a BCCI official told this correspondent. "If we wanted to, we could also treat people the same way."
This individual wasn't even old enough to watch cricket when top players from England and, sometimes, from Australia refused to tour the subcontinent. But he, like millions of others, has grown up with those stories.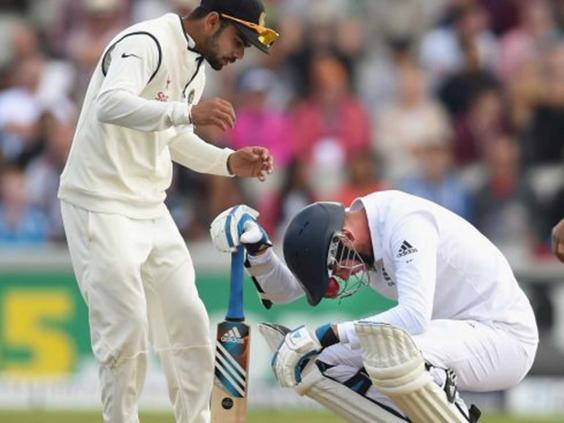 Much has been said about Dhoni's insistence on pressing charges against Anderson. Those that know the Indian captain well speak of how his determination had everything to do with the firm belief that Anderson did actually shove Jadeja, who, in Dhoni's eyes, had not provoked him in any way. "I did something that was right, and I stand for what's right," he said in Manchester. "If something wrong is happening, I will go against it irrespective of who's doing it. If one of my players gets fined and he's within the boundary lines, I'll definitely go [to the match referee] and defend him. If he crosses that line, he will go alone and face the consequences."
That Jadeja was the target of Anderson's ire is perhaps no coincidence. Ever since Chennai Super Kings splashed out $2million at the Indian Premier League auction in 2012, he has been a lightning rod for criticism and abuse from Indian and opposition fans alike. Accomplished Test cricketers who went for far less, or who went unsold, also couldn't believe that a cricketer of such limited gifts could command such a premium price.
In England, the suspicion and resentment of the IPL runs deep. A player capped by England in all three formats summed up the frustration within the playing ranks when this tour began. "Had I been allowed to set my reserve price, I would have pegged it lower so that franchises showed genuine interest. At the price my county team wanted, there was never any chance of me being bought, especially with English players missing the final fortnight of the competition."
The popular perception of Indian cricketers as overpaid, overindulged superstars isn't helped by the BCCI's media policy, or lack of it. Several of the players have surmounted huge obstacles to get this far. But thanks to the attitude that no access to the media is the best way of controlling the message, few apart from Indian cricket tragics know of these stories.
Jadeja, for example, lost his mother as a teenager, in a domestic accident. She had been his primary source of support. As small boy, he would walk to practice, with less than 10 Rupees (10p) in his pocket. Nothing in his life has come easy. As for Kohli, he went out and made 90 to save a Ranji Trophy match for Delhi hours after his father had passed away. Yet, in most circles, he's seen as the poster boy of Indian cricket's arrogance.
Dileep Premachandran is the editor-in-chief of Wisden India
Reuse content