There are wickets that inconvenience a side and then there are those wickets which demoralise them - the kind England suffered twice with the dismissal of their openers on the second day of the 2nd Test against India.
England would have begun their first innings feeling slightly relieved that India had made 455 instead of the 600 that looked possible at the start of play. But that feeling would have turned quickly to dread after Alastair Cook, England's captain, had his off-stump broken in half by Mohammad Shami and then Haseeb Hameed was needlessly run out.
The sheer, dramatic violence of breaking the stump would certainly have caught the attention of England's batsmen to come. But it was the unexpected nature of seeing Cook, a doyen of batting in Indian conditions, being bowled so comprehensively by a pace bowler, when all the danger was expected to come from India's spinners, that would really have set the jitters running.
Shane Warne's "ball of the century" to Mike Gatting at Old Trafford in 1993, was only dubbed such because Warne was unknown at the time and this was his first ball in Test cricket in England. Although remarkable, the leg-break which turned at least a foot and half to clip Gatting's off-stump was replicated several times throughout his career though those deliveries didn't even make ball of the month so well established was his brilliance by then. 
Shami's ball was what is known in the trade as a "rip-snorter." Cook did not move his feet beyond the front crease (never easy when it is travelling at 88mph), but even if he had, the ball, nipping back off the seam, would have had him lbw. Unless he could somehow anticipated the movement, impossible off the seam, the ball was unplayable.
As such England should have cast it from their collective minds, Shami being unlikely to produce such a pearler again in his career. That Joe Root and Hameed were so tentative suggested they didn't, something that transferred into full blown hesitation soon after when Hameed was run out for 13.
Root clipped Ravindra Jadeja's left-arm spin to leg and ran hard calling for two. He changed his mind, late, when Jayant Yadav pulled off remarkable pirouette and throw while off-balance, but by then Hameed was committed to the second run.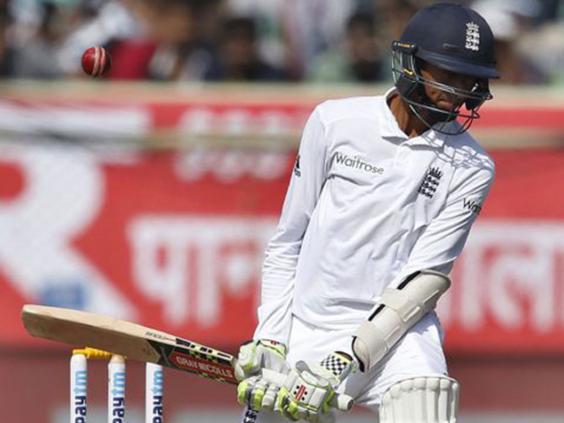 With Jayant's throw to wicket-keeper Wriddiman Saha being a few yards from the stumps it looked like Hameed might still make his ground, but Saha effected a back hand flick which broke the wicket and Hameed was given out without the on-field umpire consulting with the TV umpire, unusual unless the batsman is well short of his ground. 
It was a brilliant piece of fielding by Jayant, who was making his Test debut, but nothing is as wasteful of resources in Test cricket as a run-out. Suddenly, England were two down for 51 and the main threat, spin, hadn't yet been utilised.
They say the really great players possess a selective amnesia and can put such events from their mind at a stroke, but Root looked contrite. With Cook gone cheaply England needed him to make a big score to stay in the match. But having batted with due care and attention to reach his fifty, he decided that the best way to atone was to dominate -  
a decision that ended as soon as it began when he miscued a lofted drive off Ravichandran Ashwin to Umesh Yadav at mid-off.
For a man revered for his clarity of thought at the crease, it was a poor decision by Root. There will be those who credit Virat Kohli for the wicket, citing his decision to bring long-on up to save the one as the reason Root played the shot he did. Root is not so naive, and it looked more like a need to dominate and make amends for stitching up Hameed.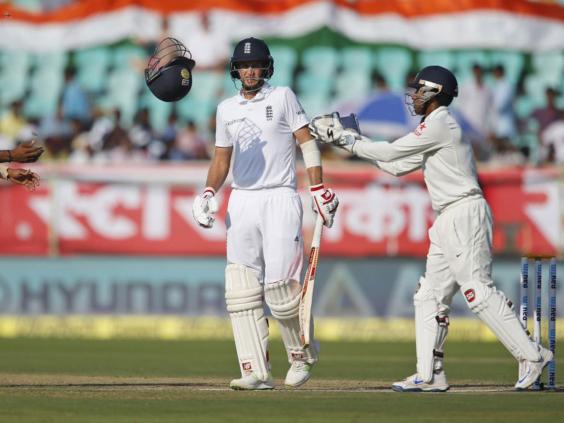 Dominant though India's position was always likely to be, after they'd scored 455, England largely contributed to their parlous position of 103 for five, a deficit of 352.
While Cook was powerless to prevent is downfall, most of the other wickets were avoidable. Indeed, with spin perceived as the main threat, only Ben Duckett was dismissed by one that turned though culpability for that must be handed to his iffy defensive technique.
Instead, rather than play the ball or the situation, England's batsmen have allowed the demons that inevitably gather within during times of duress to dominate their decisions and that has played straight into India's hands.
Reuse content