England have suffered an embarrassing 15-run defeat to Bangladesh to confirm their early exit from the 2015 Cricket World Cup after they fell at the first hurdle in their campaign in Australia and New Zealand.
The defeat sees them bow out of the competition at the group stage for the third time in their history, and comes as the latest humiliation in a period of cricket that has fallen well below expectation since the successful 2013 Ashes Series. England also made an early exit at the World Cup in both 1999 and 2003, but today's defeat comes as their earliest ever exit as Peter Moore's side cannot qualify for the quarter-final stage with a game still to play.
The concerning thing for English supporters' is that game comes against the other side to have already been eliminated from Pool A, Afghanistan, and defeat to the association members would undoubtedly be the lowest point in English history.
In 1999, England managed to record victories over Sri Lanka, Kenya and Zimbabwe, but defeats to South Africa and India meant they suffered group stage elimination on net run-rate when just the top three teams made it through to the then Super 6 stage.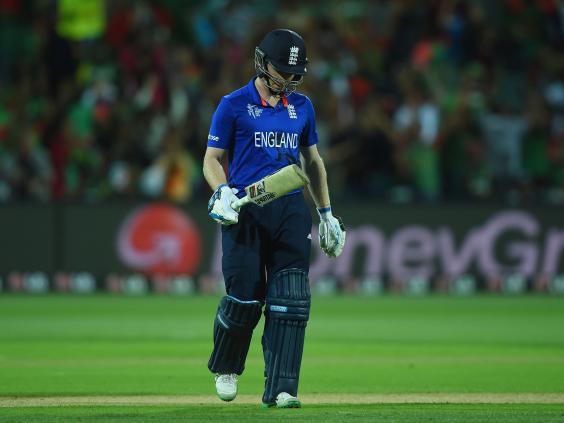 In 2003 when the second round expanded to eight teams, England again won three games against the Netherlands, Namibia and Pakistan, but the decision to boycott the match against Zimbabwe on a moral decision in protest to the political situation in the African country ultimately cost them a chance at reaching the latter stages of the tournament.
England have never lost four matches in the group stages before today, and they have also never failed to win at least two matches. At best, England will return home with just two wins, having beaten Scotland earlier in the tournament and facing Afghanistan on Friday.
However, a draw or defeat against Afghanistan would beat the unwanted record for the least number of wins in a World Cup campaign - although that can already be argued given that teams played a one match less in the 1996 tournament which stands as the only time England have ever recorded just two victories.
Reuse content