In England, in May, knowledge of the conditions is crucial. The ball jagging this way and that off sporting surfaces invariably ensnares unwary touring sides who have never seen the like.
How Sri Lanka must have groaned when the schedule for the one-day series was revealed. Their opponents, most of them with a lifetime of negotiating seam movement, were handed an obvious advantage. Bearing this in mind, it is slightly baffling, or some might presume inexcusable, that England contrived to be dismissed for 99, losing the second one-day international by 157 runs. They never recovered from a top order collapse in which they lost four wickets for 10 runs in 22 balls. It levels the series at 1-1. Neither match has been close.
Any criticism of England's performance must be  tempered by praise for Sri Lanka's bowling, which liked what it saw. England duly obliged by providing a hapless response which in many cases suggested that they had never before encountered lateral movement. Instead of playing forward too many of them were stuck in the crease, making them hostages to  fortune.
It was England's lowest score at home since being dismissed for 86 by Australia 13 years ago and their largest one-day defeat at home batting second. In all, it was a dumb exhibition which confirmed that England have not yet recovered from the regular pummelings they received in the winter.
This really is a rebuilding job rather than a quick refurbishment.
Sri Lanka's total of 256 for 8 after being put in seemed a serviceable total – the sort that would win some and lose some but not something on which a hammering could be predicated. It was constructed around patience and a refusal to be ruffled into doing  anything rash by accurate, experienced seam bowling, and it was aided by two dropped catches which could easily have reduced the total by 40 runs.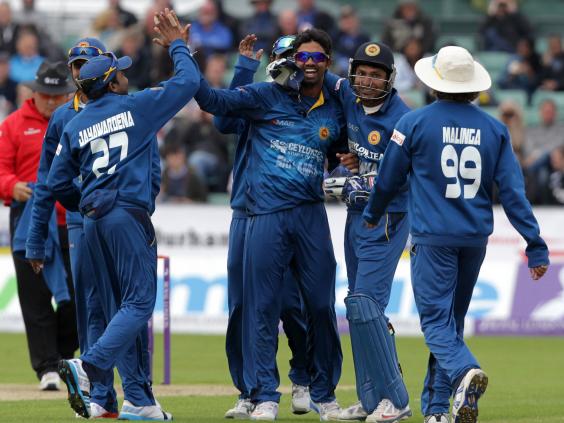 England started greedily as the tourists struggled to find the appropriate length. But when Nuwan Kulasekara and Lasith Malinga settled it was all but done in a flash. Michael Carberry, restored to the team in place of the captain Alastair Cook, who withdrew because of what was described as "groin tightness", pushed forward to a ball which went across him and left him.
If he was at least on the front foot it was not in assertive manner. There had been some musing about what England would do if Carberry, who has been voluble in expressing disappointment at his treatment in the past, made a substantial score. The conundrum may not arise again soon.
The next to depart and the most significant of all was Ian Bell. Looking as usual like a million dollars, his timing was imperious until he attempted a touch too casually to run a ball to third man which was too close to Kumar Sangakkara, who took a sharp catch diving to his right. Two Yorkshire players, who are hotly tipped to be in the middle order for the Test matches, were then accounted for in worrying fashion. Both Joe Root and Gary Ballance are notable batsmen off the back foot but they have a tendency to stick to the crease as if it were a comfort zone they dare not leave.
Root was planted when he was beaten by a ball from Malinga which curved past the outside of his bat. Had he been forward as he should have been he might have kept it out. If Ballance was not so extreme, he was back and across and caught plum in front of Kulasekara.
The rest was a procession to the off spin of Sachithra Senanayake whose action can delight no purist, to put it mildly, but whose variations, flicking the ball out of his fingers, are perplexing. He bowled Ravi Bopara and mystified three of the lower order.
Only a couple of late sixes by Eoin Morgan and an improbable reverse hit for four by Jimmy Anderson ensured that England avoided their lowest score. Anderson had bowled with admirable control at the start and the end of Sri Lanka's innings.
He is made for England in the early summer, a master of all he surveys, and it is to be hoped he can retain this freshness and zest for the seven Test matches ahead. The tourists, however, were not to be easily dislodged.
After Lahiru Thirmanne pushed Anderson to second slip, the second wicket pair of Tillekeratne Dilshan and Kumar Sangakkara played with due diligence. It was the 63rd time they had been second wicket partners in a one-day international and they were headed for their 13th hundred partnership when Sangakkara misjudged a leg side swipe against James Tredwell. Dilshan went for 88, which included one of his "dilscoops" and this pair set up the total.
If England assumed they had done well in restricting the score, it was as if Sri Lanka had deduced something around 250 was what was wanted. Everything they did was aimed at securing that. It was more than enough.
Reuse content