Anybody wondering how this series might receive an infusion of life has their answer. Dullsville has been replaced by the mean streets of the wild west.
It might not have been the way in which cricket generally would have preferred to grab the attention of disinterested passers-by but there is nothing like a dose of ill will and a spat to generate awareness that something is happening. Whatever occurred or did not occur between Jimmy Anderson and Ravindra Jadeja  during the first Investec Test at Trent Bridge, the rest of the summer is suddenly alive with possibilities.
Clearly, it would help hugely if the pitches were somewhere near as lively as the protagonists in the Nottingham altercation which has led to both being up before different beaks for misdemeanours alleged to have brought the game into disrepute. All three Tests so far this summer, the first two against Sri Lanka and the opening match against India, have been marked by long passages of distinctly unexciting play.
In the medium to long term the surfaces on which they have been played can do the health of Test cricket no good at all. A Lord's Test, as ever, brings with it the promise of much else besides the cricket and the match now has undoubted additional spice.
England, distinctly patchy so far, must avoid being distracted by the Anderson issue. Their captain, Alastair Cook, seemed to think that it might galvanise both the fast bowler and the team after nine matches and 11 months without a Test win.
He said: "I don't think the side will need any more motivation because we're desperate to win. We haven't won one for a while but, if anything, if it does bring us tighter, even more closer together and supporting each other more during the tough times then that can work really well for us."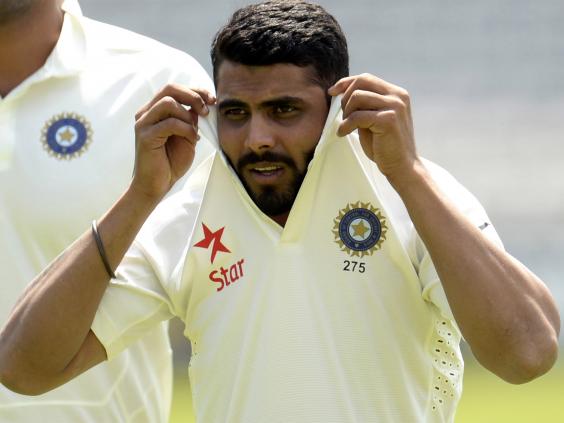 Given the look of things today it is highly improbable that England will choose Simon Kerrigan for his second Test match after a first which could not have proceeded along worse lines, though Cook could not dismiss the notion. A month ago, the pitch changed overnight and although England eventually came within a wicket of winning, they would have preferred a full-time, front-line spinner in their ranks. If Kerrigan's day is not now, it will be soon.
"I think at some stage we will definitely need a specialist spinner," Cook said, confirming what everyone else recognises. "We know that and it is a case of getting Simon in and around [the team] as well. Obviously what happened in his first Test match he needed a bit more time around the environment rather than just throwing him in.
"So that's why he's been around and as always when selectors are talking about people you don't get the chance to see them playing for their counties. It's nice to get a look at him yourself. He's bowled really well in the nets actually, really well."
But not well enough for him to be entrusted with the task of trying to give England control at one of the smallest Test grounds, slope or no slope. Cook wants the ball to swing and carry to wicketkeeper and slips. These are hardly tall orders but neither has been forthcoming so far this summer.
He will probably lead an unchanged side with shortcomings identical to those it has had all summer. The batting has been worryingly bereft of gumption at important times and Cook himself is so short of form that it is becoming reasonable to ask if it will ever return.
Considering his travails – and the last thing he wanted was to be dragged into a serious ICC complaint involving one of his senior players – Cook has been remarkably relaxed. Somehow his captaincy, so derided against Sri Lanka, was full of wit and invention last week. There was almost too much of it for those who would prefer to see a bit of reactive captaincy, so that plans have time to work out.
Cook has virtually been the one constant in a senior position in English cricket in the last year. The resignation this week of the chief executive, David Collier, follows the departures, imminent or complete, of the marketing director, the cricket managing director, the chairman of selectors and some blue riband players. Only the chairman, Giles Clarke, and Cook survive. Perhaps they will be appointed for life if England start winning again.
India look in a much more composed frame of mind than on their last visit here in 2011 when they made some rash selections, played accordingly and lost 4-0. There were occasions, however, even then when they challenged and it was only England's resilience and refusal to lose the close sessions that turned the series.
This has already become a contest between two brittle sides, as was demonstrated in Nottingham last week. Both teams had a batting collapse of sorts but were then revived by implausible 10th-wicket stands, partly because of the lifeless pitch but partly because neither knew how to finish matters off.
The captaincy of MS Dhoni was fairly uninspiring last week but he is a phlegmatic character who always conveys the impression that he has seen it all, done it all and nothing will bother him overmuch. That might not stem entirely from earning $30m last year but it probably does no harm. Still, the numbers of those suggesting it is time for Dhoni to step aside for Virat Kohli is growing.
If the pitch plays like Lord's in the recent past – before this April, that is – England might fancy their chances of breaking their lean run. They may not dwell on the fact that although Anderson and Stuart Broad have played prominent parts in the sequence of eight victories in 10 matches at the ground from 2009 with 47 and 46 wickets respectively, the off spin of Graeme Swann brought 40 at an average of 24. The lack both of a spinner and runs for Cook will continue to stalk their ambitions.
No Ballance action: Shirtless in Nottingham
Gary Ballance was not breaking team rules when he was pictured shirtless in a Nottingham bar following last week's drawn Test against India, but coach Peter Moores has reminded his squad to "uphold the best possible image for England cricket".
Ballance, who made 71 in the game, went out following the end of the series opener on Sunday night along with several team-mates. Moores had given them permission ahead of a rest day on Monday.
Moores said: "As the players had been released at the end of the first Test and were not due to meet up to begin preparations for the second Test until Monday evening, and there were no suggestions of impropriety, there is no need for any disciplinary action."
Reuse content