Jimmy Anderson ended what should have been a perfect 32nd birthday today by receiving a ticking off from umpire Rod Tucker after yet another verbal joust with an opponent.
Anderson celebrated his big day by taking his first five-wicket haul in Tests since the opening Ashes match at Trent Bridge last July. But after he had delivered the final ball of the day, Anderson exchanged words with the India batsman Ajinkya Rahane and the Australian official Tucker saw fit to step in.
Anderson was charged by the International Cricket Council (ICC) with a level three offence for his alleged involvement in an altercation with India's all-rounder Ravi Jadeja during the first Investec Test at Trent Bridge. He could be banned for up to four matches if the ICC's judicial commissioner, Gordon Lewis, rules against him. This is hardly the ideal preparation for tomorrow's hearing.
England's consistent line about Anderson's behaviour is that he would be only half the bowler he is were he less confrontational, and batsman Joe Root was firmly on-message. Asked about the significance of Anderson's in-your-face attitude, Root said: "It is obviously massive. Not only does he bring that, he brings his statistics.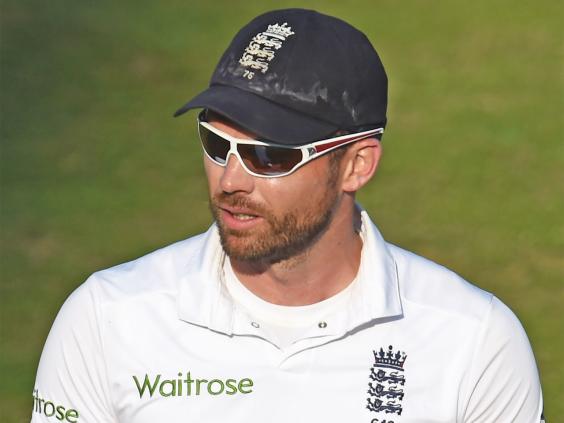 "He is the leading wicket-taker in the history of English cricket across all formats. Hopefully, he can play a big part on the final day, alongside the rest of the guys.
"He has had it [the aggression] all his career. He has done fantastically well and, hopefully, he can continue to take wickets. He has shown that throughout this game and throughout the summer.
"As for his birthday, he is grumpy because he is a year older."
Shikhar Dhawan, the India batsman, declined to speak at length about the Anderson-Rahane incident. "If he had words with him, it's normal in cricket. It happens sometimes," he said.
Dhawan's was one of four second-innings Indian wickets to fall as England closed in on victory. They begin the final day needing six more to secure their first Test win since last August and level the Investec Series 1-1 with two matches to play.
If they can finish the job, England will reflect that this has been their best Test performance for some time. It has been an improvement on that produced for their last victory, the Ashes-clinching triumph over Australia at Durham nearly a year ago, as the tourists matched them for long periods of that one.
India have barely had a sniff in this game and, more importantly for England, their captain Alastair Cook has returned to form, with the bat and as a leader. For their part, India need an unlikely 333 more runs to complete a world-record chase.
Cook's unbeaten 70 on day four followed the 95 he made in the first innings and, while his knock was rarely memorable, Root was keen to underline its importance.
"You have to give Cooky credit for the way he set the game up," he said. "He judged his innings to a tee. The way he played allowed me, Ian Bell and Gary Ballance to play freely at the other end.
"We also wanted to have a good session with the ball and the way we were able to make inroads into their top order was really pleasing. I'd like to think that this Test will be a turning point for the summer, but the most important thing is that we're in a really good position in the game."
The sole note of disappointment for those who have an investment in English cricket was the size of the crowd. Fewer than 5,000 were at the Ageas Bowl for an absorbing contest which, notwithstanding the problems posed by a Sunday start, is a disappointing number.
Perhaps it is a reflection of the difficulties a new Test venue must face in selling games like these, yet it was a surprise to see the ground so empty, especially during the school holidays.
"It would be nice to play in front of the biggest possible crowd, but we just want to win," Root added.
Shot, ball and moment of the day
Shot of the day
Joe Root played the perfect innings for England with foot on the throttle from the off. His version of the scoop against Bhuvneshwar Kumar, with the wicketkeeper standing up, embodied his intent, brought him four and persuaded M S Dhoni it was time to stand back.
Ball
England needed to end India's first innings quickly. On his 32nd birthday, Jimmy Anderson obliged. The breakthrough was the wicket of Dhoni, who fenced at a well-directed, fast bouncer. Pitching it is essential sometimes but this showed the short ball has its moments.
Moment
Gary Ballance, motoring along jauntily, was wrongly given out for the second time in the match, not close to touching the ball he was adjudged to have clipped to short leg. There have been too many obvious errors in this match to make the use of technology anything less than compulsory.
Stephen Brenkley
Reuse content