Finally, Alastair Cook has had enough. After years of sniping, barbs and general derision about his captaincy of England he responded to the latest round with an air of puzzlement and hurt.
It may or may not repel his critics and he must know that the latter is the more probable. Cook could take the England team to No 1 in the world, recapture and retain the Ashes, field five slips, a gully, a short leg and silly point with a mid-wicket for good measure for most of the day in most Tests, then win the World Cup and still be disparaged for negativity, reactivity and inactivity by his critics among the pundits, led by the Australian Shane Warne. He went so far as to say, without expanding, that he thought some of the criticism was personal.
Cook did his usual round of interviews with the media ahead of the second Investec Test against Sri Lanka, which begins at Headingley on Friday. He had spoken to the newspapers and explained there were always different ways of looking at tactics.
"It's trying to get the best result at the end of the day," Cook said. "Everyone will have a different view from it. That's cricket. I'm doing it the way that feels right to me on the pitch and that is the end of it."
However, between then and his usual pre-match discussion with Jonathan Agnew of the BBC's Test Match Special, his attitude hardened. Cook may as well have watched Howard Beale in Network, saying: "I'm as mad as hell and I'm not going to take this any more."
Asked what he thought of the latest criticism, with champion leg-spinner turned agitator Warne particularly voluble after England's tense draw at Lord's when most of the anti-Cook sentiment was aimed at the lateness of the England declaration, Cook said: "Something needs to be done because for the three years that I've been England captain I have, in my eyes, been criticised for a hell of a lot of that time.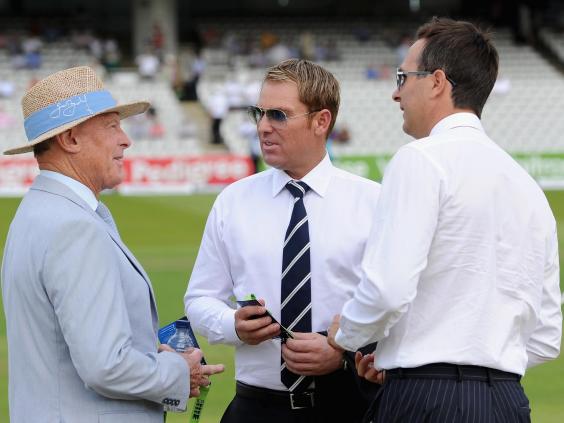 "Yes, when we lose games of cricket as captain, you will be criticised. But I've also won a lot of games of cricket for England and more one-day games than anybody as England captain. I've won an Ashes, I've won in India away, and that's what I'm very proud of.
"So to be criticised for three years totally with those results I find quite hard to take, to be honest with you. Support and positivity is what this England team needs. The crowd at Lord's were brilliant and the public were fantastic behind the lads and they really drove off it. A bit more support like that will hold everyone in good stead."
He was asked if it sounded almost personal and replied: "Yeah, I think it is." Cook's problems recently have been compounded by his own lack of runs. There can be no more potent combination for pundits seeking to undermine a captain than poor team results and personal lack of form.
Cook appears to have surrendered any hope that more runs would relieve the pressure on his leadership. "It probably won't change anything, which is sad but hopefully for the good of this England side it will," he said.
It is 22 innings since Cook made a Test hundred, though 20 of those have been played against a rampant Australia attack. England have not won any of their past seven Tests matches and lost the Ashes 5-0 in Australia during the winter.
Warne has constantly criticised Cook's captaincy for its largely defensive mood and last November he called for Cook to be replaced by either Kevin Pietersen or Graeme Swann, both of whom are no longer part of the England set-up.
The regular Ashes tormentor was scathing when Cook did not declare England's second innings at Lord's sometime on the fourth afternoon. In the event, England were just one wicket short of claiming victory on the final day.
Under Cook, England  have won nine and lost six of their 22 matches, a lower  winning proportion than two of the more recent incumbents, Michael Vaughan and Andrew Strauss, but greater than most of the present cast of pundits including Michael Atherton, Nasser Hussain and David Gower.
Doubtless, he is aware that he needs to start winning soon. It is clear that he is responding to some of the scrutiny by deliberately coming up with unconventional field settings.
There is no point at all in his speaking to Warne, who may feel he is shooting from the hip but is a paid pundit doing that job to perfection. Cook may learn far more in how and what England need by speaking to obviously sound judges like Hussain, whom he knows well from Essex. Surprise, surprise, he did just that a few days ago at a benefit match.There is a perception, not yet shrugged off under the new regime, that England are still too insular and impervious both to advice and criticism. The truth of the matter is that former captains and players may well have wisdom and advice to impart and even if they have not, keeping them on side might be advisable.
The difficulty with that, of course, that so many are making their living out of giving opinions and comments in public. They cannot expect to have it all ways. Equally Cook, resolute of mind though he is, has to recognise that no captain is an island.
His last hundred was at Headingley a year ago, against New Zealand when the landscape looked different. It was the last of a sequence of five centuries in 16 innings, since when a combination of Australia and the cares of the job have got to him.
England persevered at Lord's in a match that did not come to life until the last day. If it was triumph for the entity of Test cricket, it would be as well if Leeds provided more round-the-clock appeal. The pitch certainly looks more lively and that should encourage England, who have the superior bowlers.
Lurking behind all England do at present is the lack of a spinner, which could come to affect them deeply before too long. For now, they can rub along without one and, especially if Cook contributes at last, they should have too much for the summer's first tourists. If not, the  questions and the barbs will only increase.
Headingley details: Second Test preview
Probable teams:
England A N Cook (capt), S D Robson, G S Ballance, I R Bell, J E Root, M M Ali, M J Prior (wkt), C J Jordan, L E Plunkett, S C J Broad, J M Anderson.
Sri Lanka A D Mathews  (capt), J K Silva, F D M Karunaratne, K C Sangakkara, D P M D S Jayawardene, H D R L Thirimanne, L D Chandimal (wkt), K M D N Kulasekara,  H M R K B Herath, R M S Eranga, A N P R Pradeep.
Umpires S Davis (Aus) & B Bowden (NZ).
Pitch report With a covering of grass and some pace and carry, it may make for a spicy encounter. England's bowlers will be encouraged to be aggressive and spin should barely feature.
TV Friday, 10.30am-6.45pm, Sky Sports 2 (Highlights 7pm, Channel Five).
Weather Early sunshine gives way to cloud by lunchtime. Maximum temperature: 21C.