The field was set back, three men stationed deep on the leg side, the ball was banged in short and England's batsmen tumbled into the trap. One by one they fell.
The only problem with Sri Lanka's masterplan, with its roots no doubt in England's tumultuous time Down Under, was the four after four that came in between the wickets.
Matt Prior and Stuart Broad were both undone by the short ball as they had been throughout the winter. So, too, were Chris Jordan and Liam Plunkett, making a full house of English wickets to the short ball yesterday.
But this performance could not have been more different to the last time England took to the field for a Test, in Sydney, and nothing better illustrated that this was an altogether more comfortable and familiar world than Jimmy Anderson reverse sweeping to the point boundary to get himself off the mark and take England past 500.
It took England until their fourth innings of the Ashes to gather 500 runs at a cost of 34 wickets. They were nine down yesterday when Anderson dropped to one knee and swished Rangana Herath for four. Home sweet home.
Jordan had taken England past 400 with a glorious check drive, the high point of a brief but jaunty debut Test innings. He swung happily, and so did Plunkett, who plays with admirable correctness for a member of the lower order. Sri Lanka bowled, and fielded, increasingly shoddily – "village cricket" was how Shane Warne branded it – and it permitted a gentle paddle in the shallows of Test cricket for Jordan and Plunkett, who had got his feet wet once before.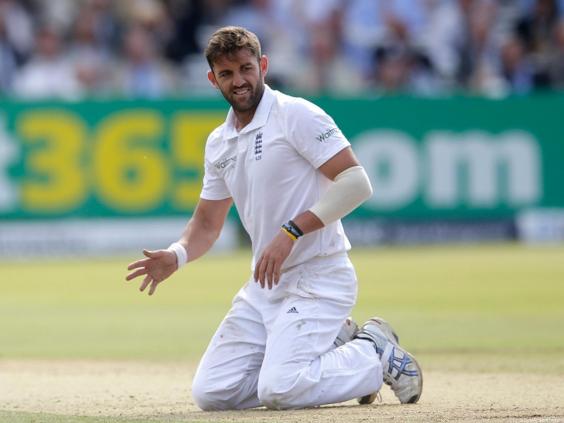 The adopted man of Sussex and requisitioned Yorkshireman are contrasting cricketers. It is Jordan's nature that he appears instantly at ease at this level. This natural confidence can only have helped persuade Alastair Cook to turn to the 25-year-old as his first change bowler. Jordan leapt into his one-day international career and has done likewise in Tests. Big and broad-chested, he runs in with the bounciness and light feet of a heavyweight boxer dancing over a skipping rope. His first ball was a bouncer that whistled over Dimuth Karunaratne's head. His third drew Karunaratne, batting breezily on what is a pancake-flat Lord's surface, outside his off stump and there was a first Test wicket.
Plunkett had to wait a little longer to bowl, but then he has become used to waiting. It is nine years since he delivered his first ball in Test cricket – only Ian Bell survives from that debut in Lahore – and it is seven years and six days since his last Test wicket. It came two months before Jordan made his first-class debut.
Plunkett's first go for England, nine Tests spread over two years, was hampered by nerves. It translated itself into a fussiness about his action and an inability to relax into his usual game.
Stuart Broad spoke last week of the importance of providing a team environment that helps incomers replicate the form that has earned them the call and the need for  senior players as well as captain and coach to help create that. Broad and Jimmy Anderson were the two fielders closest to Plunkett during his opening spell and both  had words.
The most telling advice offered to Plunkett though, in helping him return to this stage at the age of 29, came from Jason Gillespie, his coach for the last two years at Yorkshire since his switch from Durham. The Australian instructed him to worry about one thing only: getting the ball down the other end as quickly as possible.
Pace is what earned Plunkett his recall and he was quickly up into the high 80mph – a handful of mph faster than Jordan. He, too, nearly had a wicket with his third ball of a decent if occasionally erratic first spell. But there was no touch from the edge of Kaushal Silva's bat and his wait goes on.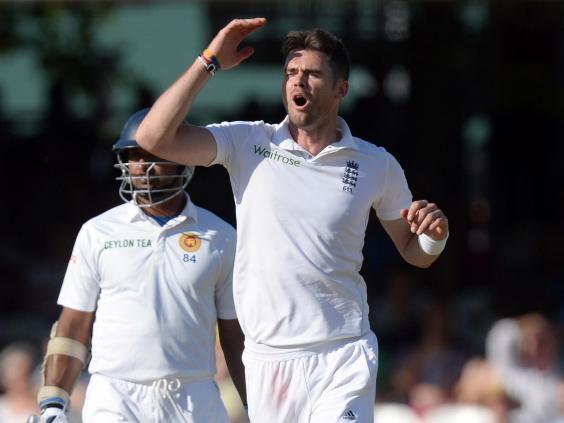 Shot, ball and moment of the day
Stephen Brenkley
Shot
For sheer chutzpah and improbability, Jimmy Anderson's reverse sweep for four off Rangana Herath took the biscuit. It was bold, snappy, a model of timing. Anderson did not attempt a repeat, either resting on his laurels or afraid of mucking it up and costing Joe Root his double hundred.
Ball
In an uncrowded field, all one of England's bowlers had to do was get something off the straight. The sixth ball of Anderson (left) was a classic. His first three to Dimuth Karunaratne had gone across the left-hander, this one swerved in late. The lbw was overturned but it was morally out.
Moment
It had been three years since an England player made 200, and at 120 for 4 it looked out of reach again. But with a calm approach Root did it. He reached the landmark with a fine sweep for two, kissed the helmet, punched the air, the sort of thing young men do these days.
Reuse content