Never, ever underestimate Test cricket. It surpasses all understanding and all explanation. A match that seemed to be going nowhere last night provided a breathtaking climax in which England drew with Sri Lanka.
England tried. How they tried. To the end of the affair, they never surrendered hope that they could somehow prise a victory from the most unpromising circumstances. They were denied by a whisker, by one wicket, by a surface that steadfastly declined to recognise that it had a duty to bowlers as well as batsmen, by some resolute Sri Lanka late batting and by their own limitations.
There was a moment in the final over of the match when England had the first Test won. To the penultimate ball, with nine Sri Lanka wickets down, their No 11 was given out lbw to a searing, snorting, inswinger of good length from Stuart Broad. England celebrated, the tail-end Charlie, Nuwan Pradeep calmly signalled for a review.
As soon as the victory was handed to England it was taken away. The replays showed that Pradeep had edged the ball on to his pads and the umpire Paul Reiffel reversed his decision. The drama was still not done. Pradeep edged the last ball of the proceedings to the slip cordon but it fell a foot short of Chris Jordan.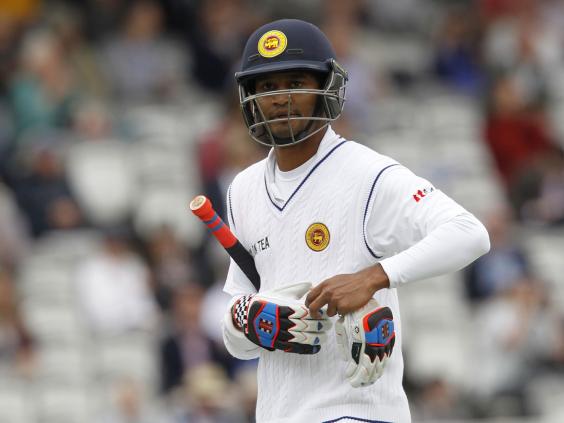 A draw it was and the teams head to Leeds for the second and final match starting on Friday. Before the pulsating end, there were fleeting passages on the fifth day when it seemed that England might extract an improbable win. At 170 for 5 in mid-afternoon the tourists still had 31 overs and a ball to negotiate. At 199 for 7 they still had six overs and four balls. Both their great batsmen had gone, England were infused with adrenalin and belief, their much-maligned captain, Alastair Cook, was thinking of gambits quicker than a chess grandmaster on speed, the crowd was alive.
Men were studded round the bat, barely five yards away. Bodyline bowling was reborn. The outcome that eventually arrived had looked likely from pretty early in Sri Lanka's first innings on the second day – earlier than that for particularly percipient readers of pitches and form. Maybe it would have been different had Cook declared his team's second innings 30 minutes earlier, on the fourth afternoon instead of before play on the last morning.
Maybe a specialist spinner would have made the crucial difference in dismantling a wobbling opponent when it mattered. Maybe had the teams not contrived to lose 17 overs of the match through dilatoriness and general time-wasting (where does it go?) there would have been time to reach a proper conclusion, because on a dead pitch lively performances are a prerequisite.
Instead, Sri Lanka held out. They were 201 for 9, still 189 adrift of the by then nominal 390 they needed to extract a still more improbable win of their own. They should have held out more comfortably than they did on this surface, but that estimation should take nothing away from the endeavour of England's seam attack, who persisted in trying to extract some semblance of life, bounce, movement, pulse from the surface.
Jimmy Anderson, who like the rest was innocuous throughout most of the Australia tour last winter, was renascent here. When he managed to persuade the ball to reverse swing in the afternoon he was inspired and when he came back with the same new ball he revived England's aspirations immediately. He was genuinely quick.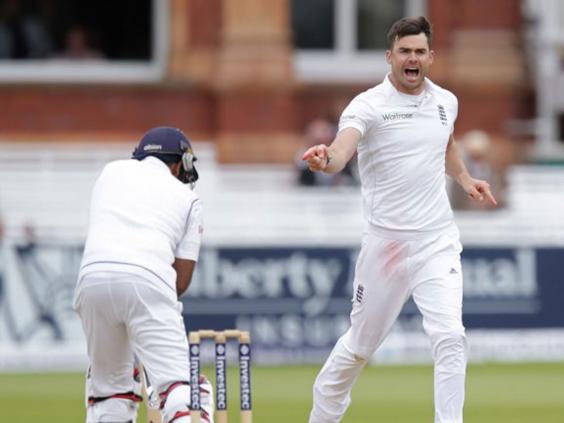 If Broad was less probing here, he is a big-game player who can always be relied on for something a little extra. Broad it was who bowled the last over, Broad it was who so nearly delivered – but he had to settle for one wicket instead of two at the death.
England declared at the overnight total of 267 for 8. A Sri Lanka win was distant but not completely out of the question; an England victory was possible but unlikely. A draw was what most observers expected.
For long enough the match proceeded along the expected trajectory. An early wicket to Anderson was followed by a long period of resolution. For all the world, it looked as though Kumar Sangakkara would make his second century in a Lord's Test, having made his first at the seventh attempt in the first innings. These things are like Colombo tuk-tuks – you wait ages and then they are unstoppable.
England needed to make something happen and Jordan seems to be an all-purpose chap for this kind of thing. He had Kaushal  Silva caught behind glancing down the leg side. The two old warriors were now in, Sangakkara and his long time friend and team-mate, Mahela Jayawardene.
It was one of those days when Jayawardene never settled and he edged Anderson behind. But still Cook's new England needed Sangakkara and plenty more besides. At tea it was 164 for 3: 34 overs, seven wickets, an academic 226 runs.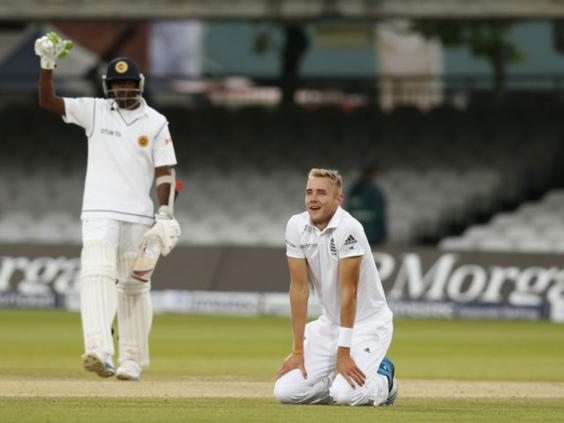 Cook came up with one of the strangest fields ever seen. To one of the world's greatest batsmen he had a mid-off, a silly mid-off, a silly extra cover, a silly cover, a silly point, a slip, a gully, an offside ring.
Whether it was this that did for Sangakkara may never be known but without warning he chopped a ball on to his stumps. The game was opened up. Lahiru Thirimanne was undone by the position of the match. Five were down.
Angelo Mathews, Sri Lanka's captain, played a wonderfully diligent hand for his side. Nothing seemed as if it would pass. Just before the second new ball was taken Prasanna Jayawardene was lbw to Jordan, though England needed a review to earn the verdict; just after it Nuwan Kulasekara was  lbw to Broad.
Mathews was still there – until Anderson in the 87th over found his outside edge. Two more wickets were needed. Broad accounted for a stoic Rangana Herath,  although he appeared to have one hand off the bat when he edged down the leg side. The batsman walked, the umpire did not call him back. What controversy would have ensued. But Pradeep survived, not by much, but by enough. Thirty-four overs in the session, 37 runs, six  wickets. Bliss.