Alastair Cook believes England do not have a specialist spin bowler capable of playing Test cricket after his team were denied victory over Sri Lanka in a thrilling conclusion to the first Test.
England thought they had taken a 1-0 lead in the two-match Investec series when Nuwan Pradeep was given out lbw to Stuart Broad from the penultimate delivery of the match. But as England celebrated, the Sri Lankan No 11 was reprieved after he reviewed the decision and replays showed the ball had hit bat before pad. Pradeep survived the last ball to ensure the tourists hung on for a draw.
Jimmy Anderson led the way with 4 for 25 but, with Graeme Swann having retired midway through the winter Ashes series, England's slow bowling was provided by debutant Moeen Ali, as well as Joe Root, and Cook admitted the lack of a top-class spinner had cost his side. "Possibly we missed a main-line spinner," he
We have to go with players we have, says Cook said. "It could have made a difference but with the players we have available, this is the way we've got to go, but I can't praise the players enough.
"It was a flat wicket that didn't do anything for the majority of the time. We had to wait longer than we thought for the ball to reverse swing, but Jimmy was fantastic and it gave us a chance."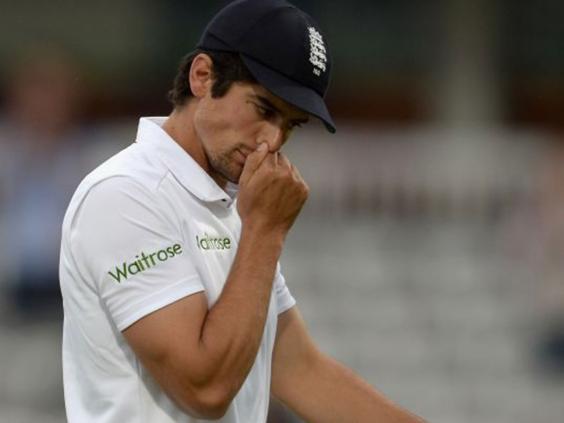 Asked if he should have declared earlier Cook said: "Three hundred and twenty would have been a fair chase on that wicket, especially when they were 99 for 1 at lunch. It was only because we scored quickly on the fourth evening that we were able to set them a higher target."
He went on: "The players laid everything on the line, so to come up short is incredibly frustrating. We scored at more than four runs per over during the first innings, Joe Root scored a double century and Gary Ballance got a hundred in the second innings.
"We're a bit disappointed, but we take a lot of credit from this game. We lost wickets on the fourth afternoon and that stopped us declaring on Sunday night."
It was an encouraging return to Test cricket for a new-look England team, who have changed considerably since the 5-0 whitewash in Australia over the winter. Moeen, Chris Jordan and Sam Robson made their Test debuts in this match.
Root was named man of the match for his unbeaten 200 in the first innings and, after the team were criticised last summer for their negative style of play, the Yorkshire player believes England are ready to excite supporters again.
He said: "We were told we were playing dour cricket but I don't think anyone can say that now. This is a great start to the summer."
The door was left open for England when Rangana Herath walked after he was given out caught behind off Broad, to leave Sri Lanka nine down – even though he had removed his hand from the bat handle when the ball struck his glove. Had Herath reviewed the decision, it would have been overturned, and his muddled thinking so nearly cost his team.
Captain Angelo Mathews said: "I don't think he was aware of the rules. That is a lesson learnt for us."
Both captains were in danger of being punished by the match referee, Andy Pycroft, for slow over rates. Ultimately, England's lack of discipline in that area surely denied them the win. Had they bowled their full complement throughout the game, it is unlikely Sri Lanka would have survived.