For an uncomfortably long period yesterday, England were in serious danger of reprising familiar errors. The background music, which is de rigueur in so much Twenty20, would have been Tell Me The Old, Old Story as they slipped calamitously and with unfathomable daftness to 57 for 6 against Afghanistan.
Visions of the Netherlands – twice – in this competition and Ireland in the World Cup, 50-over variety, loomed so large that they could be touched. Defeat and elimination from this tournament were distinctly possible. Same old England after all, the doom-mongers were lining up to accuse. An inept approach against slow bowling, seen so often before, led to the fall of three wickets in an over, and five for a mere 15 runs. They must have wondered, as did many other observers, why they chose to bat first.
But this is not the same old England. This is the brave new England, whose self-belief does not wane and whose nerve does not crack at the first – or even second or third – sign of trouble. They recovered sufficiently to win by 15 runs. In its way, this performance was as uplifting as that against South Africa, when they chased down 229 to win.
This was a different category of opponent, it was a different kind of victory but it said just as much about the need to dig deep. It was a significant testimony to the quality in England's batting order, though Afghanistan, bristling with intent at the start and letting England know they were in a contest, may wonder how it went so wrong.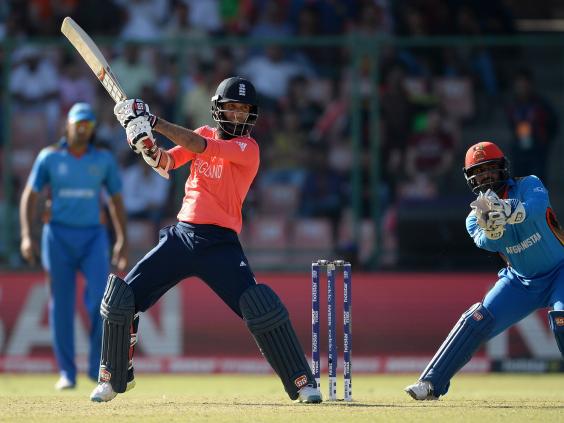 England were eventually able to sustain realistic aspirations of a place in the semi-finals largely because of an unbroken eighth-wicket partnership of 57 between Moeen Ali and David Willey. The pair had to play cautiously at first but accelerated rapidly in the last three overs, which yielded 44 runs, 25 of them in the match-turning 19th.
Afghanistan were second favourites now and if it was not by much, their chances probably depended on a flying start. Instead, they lost three wickets in three overs, from which there was to be no comeback.
The removal of the talismanic and productive opener Mohammad Shahzad was the key. He edged the first ball from Willey for four but was lbw two balls later when beaten by late inswing. Willey lacks high pace but his ability to swing the ball, bowling left-arm round the wicket, makes him a handful for the top order in the power-play overs.
The Afghan captain, Asghar Stanikzai, followed when he parried at a ball outside off stump that bounced more than he liked and edged to slip. It was a smart move by England's captain,   Eoin Morgan, to have a slip in place. When Willey altered his length and had Gulbadin Naib caught at cover, Afghanistan were always chasing the game thereafter.
There were flurries of scoring but if they were never quite out of it, they were never quite in it either. Samiullah Shenwari and Shafiqullah both bludgeoned towards the end but it was not a pitch for hitting boundaries consistently. England bowled as well as they had done in the tournament so far.
The man of the match award went to Moeen but Willey must have been a close contender after  his unbeaten 20 and 2 for 23, both invaluable considering how precarious England's position was.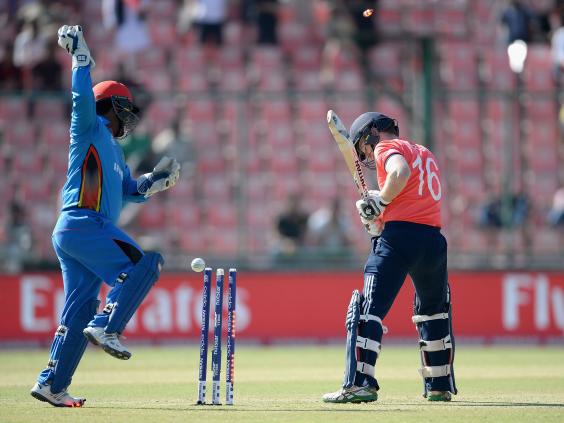 There was little indication of the perils to come as England started their innings briskly. Jason Roy was bowled in the third over, coming down the wicket a tad carelessly, but James Vince and Joe Root went swiftly about their business. Vince was in the side in place of Alex Hales, whose stiff back prevented his appearance, and looked perfectly at home.
But he was fooled by a quicker ball from Mohammad Nabi and drove it back off a leading edge.  Morgan, in one of those form troughs which are a little too regular for such an accomplished player, then unaccountably chose to leave his first ball, which went on to hit his off stump.
For Afghan cricket these days there is no glory in heroic defeat
Before the sixth over was out, Root, who had hit a six and a four as if to announce that it was business as usual, was sent back by Ben Stokes, who decided wrongly that there was not a single. Nabi removed the bails without the ball in his hand but then gathered it and removed a stump, all before Root could regain his ground.
Jos Buttler was well caught at cover driving on the up, Stokes was bowled essaying a lunging sweep at a short googly that kept low. England were in a mess. When Chris Jordan offered another return catch, to Rashid Khan, it was 85 for 7 and time was running out.
Moeen and Willey rightly decided to bide their time before both launched sixes in the 19th over and England – at last – had enough runs to play with.
Reuse content