First the good news: England posted their highest one-day score in 20 matches, with Ian Bell's 141 making him the national side's highest one-day runscorer.
The bad news? They lost, largely thanks to an unbeaten 102 from the Australia captain, Steve Smith.
All is not over in the Tri-Series, as victory against India next Friday would put England into the final against Australia, already there with a match to spare after yesterday's win here in Hobart. They could even get through with a defeat, depending on the outcome of Australia's game against India on Monday.
But the fact remains that England could not keep their opponents in check. The match was tenser than it should have been, with the hosts in Hobart taking until the penultimate ball to get over the line, having been three runs short with two overs to go. But the suspicion that England's score was around 40 runs shy of a winning total proved to be true.
Eoin Morgan, the England captain, insists his sid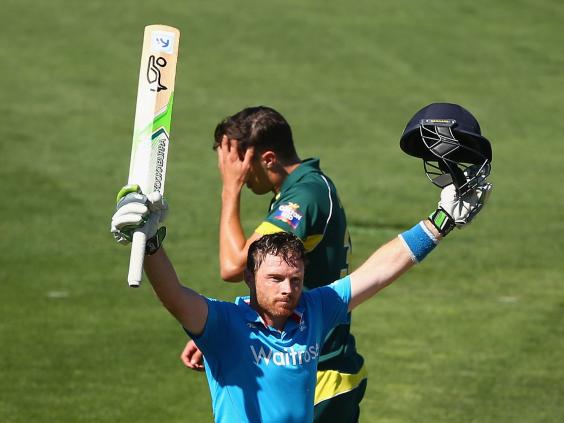 e are moving in the right direction ahead of the World Cup, which begins in three weeks, despite the loss. While he was right to point to signs of progress, he was also quick to highlight his team's late first-innings stumble as the decisive phase of the game. With 10 overs to go, England stood on the cusp of a formidable score at 244 for 2, but managed to add just 59 more runs for the loss of six wickets.
"I think the template is right but executing it is going to be a challenge throughout the 100 overs," said Morgan. "I see us making huge steps; if you see where we were against Sri Lanka before Christmas and where we are now, I think the skill level we're showing is much better.
"We were very dominant in the first 40 overs and set ourselves up for a commanding total. Somewhere around 340-plus would have been the score we were looking for but we didn't manage to get there. It is frustrating but it's still very early in the trip and we are making strides.
"One of the areas we'll look at again is those last 10 overs against high-quality death bowling. Today is a learning curve for us."
Bell's wonderful form is a cause of significant satisfaction for England after the 32-year-old was picked ahead of Twenty20 blaster Alex Hales at the top of the order.
His fourth ODI century was of the very highest order and, fittingly, he usurped Paul Collingwood's previous runscoring mark of 5,092.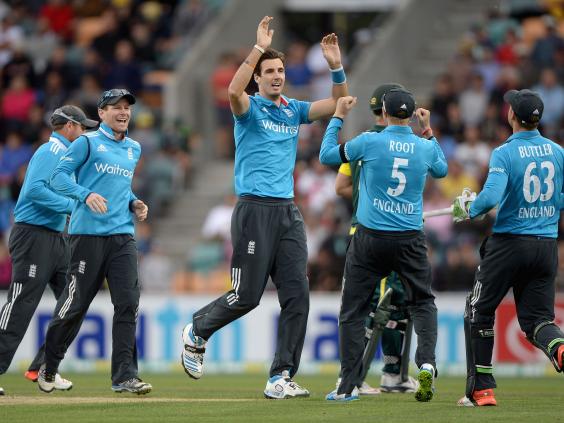 "It is a privilege for us to have someone like Belly within our squad and we want to utilise his experience as much as possible," Morgan said. "He's been awesome. Since we've touched down he's really shown his huge experience and his class. He leads from the front in training and it's really paid off, which is great to see."
When Australia won the Tri-Series opener in Sydney, man-of-the-match Mitchell Starc suggested the result would reopen "old scars" from last winter's nightmare Ashes tour.
England's apparent inability to get to grips with the side they will take on in the World Cup opener on 14 February must now be a concern, but Smith declined to fan the flames.
"England are a quality side and on their day they can beat anyone," the Australian captain said. "I'm just really satisfied we were able to chase down 304 tonight and win another game and get ourselves into the Tri-Series final. It got a little bit tight in the end but it was great to get over the line."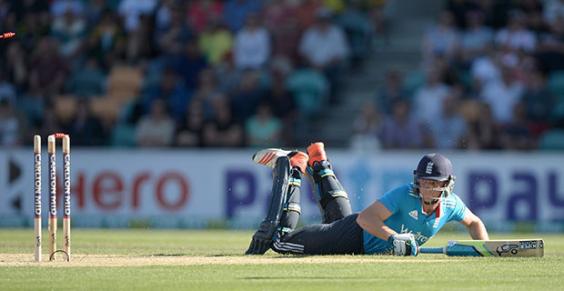 Smith has now scored six centuries in his last nine matches in all formats and is hopeful he can ride his good form into the World Cup.
"I'll never forget this summer, that's for sure," he said. "I've really enjoyed it and while everything is going well I've just got to try to keep going. The game can turn pretty quickly on you, so I've got to keep scoring runs while I'm going well."
Morgan, who was dismissed first ball, insisted his involvement as the victim of a failed blackmail plot had not been a distraction. The England & Wales Cricket Board revealed on Thursday that an Australian man had demanded money over details about a brief relationship Morgan had been involved in.
"It hasn't been distracting at all," Morgan said. "I spoke with the ECB and I was very happy for them to deal with it. They told me just to focus on the cricket 100 per cent and I've done that."
Reuse content