England are the winners of the Ashes. Nothing can change that or the fact that at key moments in this series they have had Australia on toast.
These were important points to remember on Friday as the tourists cum party poopers mounted a belatedly proficient response of the sort that would have served them well in the provinces. For the three hours that they were at the crease, England batted as if they would rather be anywhere else, cavorting round Kennington with replicas of the terracotta urn perhaps.
Australia bowled well enough but it was woefully inadequate batting. At the end of the second day in the fifth Investec Test, England were 107 for 8 in response to Australia's first innings of 481. Not a man among them demonstrated much will or application.
When the rump of Australia's squad depart for home next week, alongside their traditional victory ditty, Under the Southern Cross, if it gets that far, they may care to adapt Hubert Gregg's folk anthem, Maybe It's Because I'm a Londoner.
Only in the capital have these tourists found the proper rhythm required for Test cricket or their batsmen seemed remotely comfortable. They dominated at Lord's, they are dominating at The Oval.
A powerful protest group was launched this week determined to change the way international cricket is governed. While they are about it, they might as well try to find out why players seem to have forgotten how to play Test cricket. It is one thing to seek to attack and entertain, quite another to donate wickets to bowlers as if on a golden platter. 
The Ashes - Fifth Test
The Ashes - Fifth Test
1/15 Day 2

Steve Smith of Australia walks from the ground at stumps during day two

GETTY IMAGES

2/15 Day 2

Mitch Marsh of Australia and team mates celebrates after taking the wicket of Joe Root

GETTY IMAGES

3/15 Day 2

England batsman Jonathan Bairstow reacts after being dismissed

GETTY IMAGES

4/15 Day 2

Alastair Cook walks after losing his wicket on the second day

GETTY IMAGES

5/15 Day 2

Ben Stokes successfully appeals for the wicket of Adam Voges on day two

Getty Images

6/15 Day 2

Adam Voges passed his half-century early on Friday morning

Getty Images

7/15 Day 2

Steve Smith resumed day two on 78 not out

Getty Images

8/15 Day 1

Michael Clarke following his dismissal in the Fifth Test

GETTY IMAGES

9/15 Day 1

England give Australia captain Michael Clarke a guard of honour as he walks out for his first innings

Getty Images

10/15 Day 1

Ben Stokes acrobatically stops a ball from running past him

Getty Images

11/15 Day 1

Mark Wood celebrates the wicket of Chris Rogers (right)

Getty Images

12/15 Day 1

David Warner on his way to a half-century in the first innings

Getty Images

13/15 Day 1

England bowler Mark Wood unsuccessfully appeals for the wicket of Chris Rogers

Getty Images

14/15 Day 1

Australia batsman David Warner avoids a short ball during day one

GETTY IMAGES

15/15 Day 1

Australia captain Michael Clarke

Getty Images
The outstanding feature of this series has been that the side who have made the early running have easily sustained the gap, often going away again. The first morning has almost dictated the terms of the contest.
Much of the batting has been pitiful, as far removed from the proprieties of Test cricket as any manual could imagine. England were quite as lamentable as their opponents had been in Cardiff, Birmingham and Nottingham.
Had Australia been invited to play in the proper north as they should have been – instead Trent Bridge is as far as they have been making a nonsense of the ECB's mission statement - it might have been carnage throughout. Steve Smith, their captain elect, added an innings of 134 to his 215 at Lord's, the chief contributor to their innings.
England's response was terrible, helping to convey the impression that they are longing for that moment when the trophy is handed over and they can once again enjoy the rapturous cheers of a grateful nation. They may not be as prolonged as they once hoped. In many ways it would have been more acceptable to come here at 2-2 and win than to have won the series already and be trounced.
The side, promising great things for the future courtesy of their captain, Alastair Cook, came here as clear favourites, anxious, nay desperate, to win a fourth match in a home Ashes series for the first time. But when it has come to it they have found that their work has already been done. Gusto has been almost non-existent which has helped competence to go into hiding.
The donkey work for Australia was done on the first day of this match when their opening batsmen compiled a careful partnership of 110 from almost 34 overs. It set a pattern for the rest and Smith, taking his time to settle, followed it spirit.
He is hard on the eye because there is far too much going on before he thinks of hitting the ball. But he was mightily determined at the start of the second day, and it took him 63 balls to add the 22 he needed to reach his 11th Test hundred, his fifth against England and his second of the series.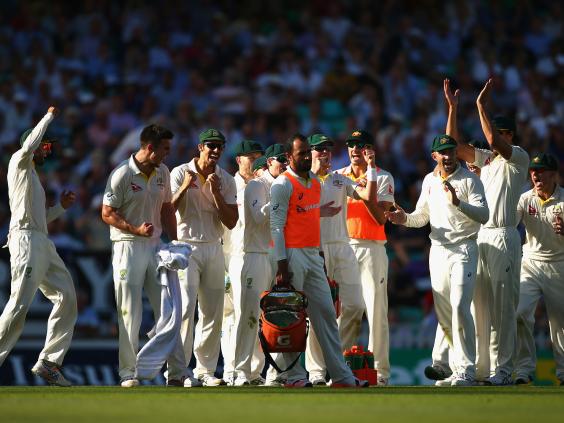 He might have been out on 92 when he flailed at Steve Finn and edged behind but replays showed that it was a no ball. I is becoming an increasing concern that too many of these are going undetected in the general run of play.
Smith's fourth wicket stand with Adam Voges reached 146 and he then put on another 91 with Mitchell Starc after England had a spurt of wicket taking before lunch. Finn eventually got his man when Smith dragged on a ball from outside off.
England started their innings 30 minutes before tea. On the stroke of it, Alastair Cook was bowled by Nathan Lyon by a ball which turned a fraction and was met by a puny defensive push. Cook is rightly the hero of the country but he has had another moderate Ashes series with the bat.
Shortly after the break, Adam Lyth, almost inevitably, followed. It was a weak shot in any circumstances and for a man playing for his Test career unimaginable. Lyth made a hash of pulling a short ball from the returning Peter Siddle which came off the top edge and spooned to mid-on.
He has shown himself as an considerable county batsman but the poor chap may be proving the point that it is not enough to succeed in the upper echelon. His top score in eight innings in this series is 37.
For a while, England's star men, Ian Bell and Joe Root threatened to assemble a proper resistance. But something was not quite right about Bell, whether it be timing, footwork or mood. He was beaten by a good ball from Siddle that held its own, breached the defences and hit the top of off. But good batsmen have to keep out good balls.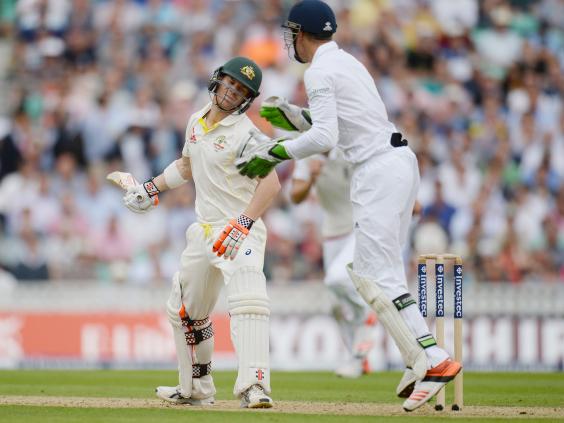 Root went next after Australia reviewed an appeal for a catch behind and were found to be justified. It was the second successful review of the day (after Ben Stokes had an lbw decision reversed against Starc) and only the third of the series.
There was an inexorable sense to what followed. Jonny Bairstow played a hack of a hook, Jos Buttler propped timidly forward and was bowled by Lyon, Stuat Broad guided one to slip. It was another rumbustious day of Test cricket but of course it was not Test cricket as we should know it.
Reuse content