When he has settled into this captaincy business and had time to reflect, Steve Smith will realise that he was wrong. It is possible to sense the apology on around page 23 of his memoirs 10 years hence in the chapter called "Early Days As Leader".
Of course, he should have been saved from himself at Lord's on Saturday by either the on-field umpires or the third umpire, Joel Wilson, who made the historic decision to recommend that Ben Stokes be given out for obstructing the field. It is and may remain a mystery how Wilson could be certain that there was enough evidence to suggest that Stokes was deliberately preventing the ball from hitting the stumps as he turned to regain his ground with the second one-day international intriguingly poised.
Perhaps he deduced it from the look in his eyes combined with the movement of an outstretched arm.
Maybe Stokes would have been better advised to try to duck Mitchell Starc's bullet-like throw, but self-preservation is instinctive. He acted, as did Starc, in the heat of the moment. The field might not have been obstructed. Justice was.
Certainly, the television commentators were bemused at what was happening. There was not the semblance of a thought initially that Stokes' action was deliberate. Replays seem to demonstrate that the fact that he was facing the oncoming missile as his hand shot out served as significant evidence.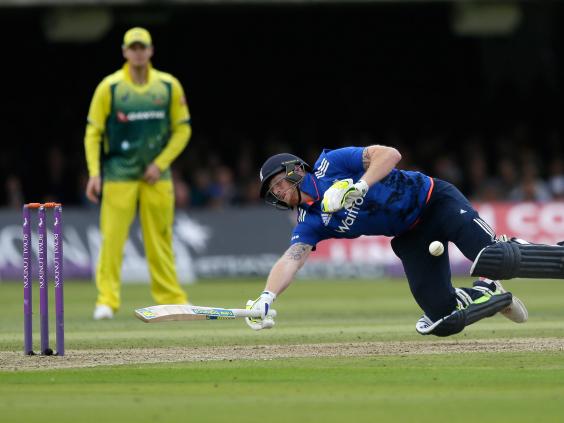 As with most, though not all, of these unusual dismissals in the modern era there were several opportunities to ensure that it went no further. Smith, early in his tenure and eager as a boy scout to impress, might have been advised not to proceed with the appeal but, after he had done so, the umpires might have saved him from himself. The law is pretty unequivocal, stipulating that a player must have made "a wilful attempt to obstruct or distract the fielding side". If Starc, Smith, Wilson and the on-field umpires, Kumar Dharmasena and Tim Robinson, were certain of that there will be other arcane dismissals where this one came from.
The news travelled fast. Watching a club game some 250 miles away it took seconds for someone to ask what on earth obstructing the field meant. Not this, as it happens.
The captains agreed to disagree afterwards. But no one should doubt that England's captain, Eoin Morgan, meant it when he said that he would not have allowed a batsman to be dismissed in such circumstances. Another way of looking at it is that he will always have to observe such proprieties from now on.
It may be a forlorn wish that the incident will not have a festering effect on the rest of the series. It may be as well if the captains have a quiet word with each other at the toss in Manchester tomorrow, when England will have the devil of a job to prevent Australia winning the series with two matches left.
And what of the main protagonist in the proceedings? This was conclusive evidence of one thing. Controversy and incident will stalk Ben Stokes throughout his career. He is simply that kind of personality, that lovely type of player. It will be fun.
Reuse content