Ian Bell's trial as an opener proved a stunning success today as England prepared themselves for Friday's first Tri-Series one-day international against Australia. England's highest one-day score of 391 for six saw off a Prime Minister's XI by 60 runs in Canberra in a warm-up match for the Tri-Series (which also features India) and the World Cup opener against Australia on February 14. But there was a warning shot from Australia's Glenn Maxwell who scored 136 in Australia's 331 all out in which England's Chris Woakes took an amazing catch to dismiss Lega Siaka.
Bell, who would not have been in the side had England kept faith with Alastair Cook, turned in a classy innings of 187 in 145 balls that looked to put his side on course for a mammoth victory.
England's total equalled the high watermark set in 2005 against Bangladesh, though that came in a one-day international rather than a tour match, with Bell's superb 145-ball stay providing the backbone.
But Maxwell gave watching PM Tony Abbott plenty to smile about with a boundary-strewn century in reply. The 26-year-old bludgeoned 136 in just 89 deliveries to bring a fanciful chase briefly into the realms of realism.
England can expect to see more of him in Sydney on Friday and in the World Cup.
Both Bell and Maxwell hit 20 fours on a benign Manuka Oval surface, with the Englishman outscoring his rival three sixes to two.
Bell's late flourish took him clear of the 167 Robin Smith scored against Australia 15 years ago, though that remains England's top ODI score, and surely inked his name into the World Cup XI.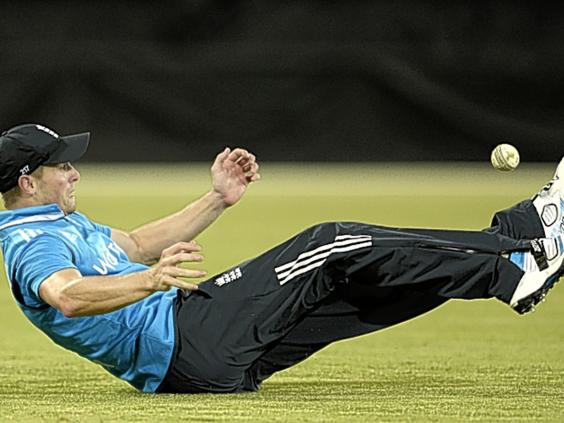 England will also have been pleased with Moeen Ali and James Taylor, who each contributed 71.
Afterwards, Bell admitted he has fallen short of match-winning efforts too often as an England opener, but is ready to put that behind him
Bell was not required for England last five matches in Sri Lanka before Christmas but earned a recall in the aftermath of Alastair Cook's departure as captain.
Bell knows a record of three centuries in 150 one-day internationals is not enough for a player of his calibre and intends on changing that for the better in the forthcoming Tri-Series and World Cup.
"One thing I've probably been guilty of in the time I've been opening is getting to 60, 70, 80 but never really gone on and enjoyed myself the way I did today," he said.
"I've been guilty in one-day cricket of getting a lot of 50s and not converting enough, but this is what I can do if I bat 45.5 overs or whatever it was.
"I've spoken to (coach) Peter Moores about that and I believe I can play at the top of the order for England. The thing is converting starts into match-winning scores.
"Today was pretty much perfect template-wise and that's how I'd like to play in one-day cricket.
"If I can do that a couple of times this winter, that's great for the team."
Reuse content