England's renaissance is almost complete. In one of the most dramatic reversals of fortune that Test cricket has seen, the ragtag bunch of no-hopers catastrophically led by Alastair Cook to defeat at Lord's barely a month ago is now on the brink of an emphatic series victory against India.
The transformation has been as startling as it was unpredictable, as if the team and their management had been reading one of those self-help manuals which forever insist that the darkest hour is just before the dawn.
On 21 July, England went 1-0 behind in the Investec series with three to play, having turned in a half-witted exhibition of batting, bowling and catching.
By the close of the second day in the Fifth Test last evening, they were 385 for 7, 237 runs ahead. Joe Root had reached a seamless 92. He has scored a fifty in each of the five matches of this series. Only Wally Hammond and Peter May had done that before. That is the quality of the company that Root keeps these days.
England v India, 5th Test - in pictures
England v India, 5th Test - in pictures
1/14 Joe Root takes the applause after another half-century in the fifth Test against India

Joe Root takes the applause after another half-century in the fifth Test against India

Getty Images

2/14 England captain Alastair Cook surpassed his half-century on day two of the fifth Test against India

England captain Alastair Cook surpassed his half-century on day two of the fifth Test against India

Getty Images

3/14 Alastair Cook wins the toss and elects to field first

Alastair Cook wins the toss and elects to field first

Getty Images

4/14 Stuart Broad plays despite the facial injuries he received at Old Trafford

Getty Images

5/14 James Anderson celebrates the early wicket of Gautam Gambhir

Getty Images

6/14 Cheteshwar Pujara is bowled by Stuart Broad for 4

Getty Images

7/14 Virat Kohli leaves the field after being dismissed by Chris Jordan

Getty Images

8/14 Chris Jordan celebrates taking the wicket of Ajinkya Rahane

Getty Images

9/14 Chris Woakes celebrates with teammates after dismissing Murali Vijay

Getty Images

10/14 Murali Vijay leaves the field after he is caught by Joe Root for 18

Getty Images

11/14 James Anderson celebrates dismissing Stuart Binny

Getty Images

12/14 Chris Woakes celebrates dismissing R Ashwin

Getty Images

13/14 Varun Aaron is hit by a high ball

Getty Images

14/14 Mahendra Singh Dhoni plays a shot for four

Getty Images
It is possible that India, who are running out of luck as well as enterprise, may rediscover both in time to effect a last-ditch recovery of their own. But all the rational indications are that England will secure their third consecutive win sometime tomorrow. Maybe today if India's batsmen continue to be as lamentably obliging as they have been in the past fortnight.
The tourists have found the rigours of a five-match series all too much. The thrilling Lord's victory seduced them into thinking that it might be all done and dusted when actually it had hardly started. That was England's 10th Test without winning, Cook could not buy a run but it also stirred something in them. They knew they could go no lower.
Since then, his side have barely lost a session as India have gradually lost the will to survive. When they found the edge yesterday either it did not go to hand or the hand failed to hold it. The catalyst for all of this was perhaps on the first morning at Southampton when Cook, on 15, was badly dropped in the slip cordon. He went on to make 95 in a total of 569 for seven.
The conviction which had become understandably elusive has coursed through England's approach to each of the disciplines. Whether it means much in trying to assess their chances of regaining the Ashes next year is doubtful. India are notoriously poor travellers who barely pay lip service to Test cricket.
Their bowlers are reasonably skilled and in Varun Aaron they have the fastest man on either side, but they are hardly destructive. They are not Mitchell Johnson and Ryan Harris.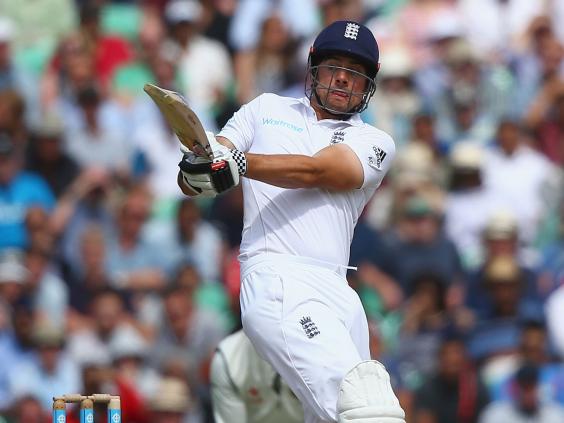 But England have made huge advances in a month with a largely inexperienced team. Six of the side in this match have still played fewer than 10 Test matches. Most of them have taken admirably to their elevated status. The selectors can give themselves a guarded pat on the back.
England's primary task yesterday was to bat for most of it. Doing that alone would ensure a lead substantial enough to put India out of the game. It was a good pitch for batting, it was not perfect. England had all wickets standing.
Only one went down before lunch. It was almost inevitably that of Sam Robson, who is having a run of form almost as bad as that which bedevilled Cook. Unfortunately, he does not have anywhere near as much credit in the bank and the manner of his dismissal yesterday reflected badly on a Test opening batsman. He played an unconvincing drive against a straight ball from Aaron which he simply missed. It was a big day for Robson, who is said to be an equable presence in the dressing room, and sadly he fluffed it.
But Cook and Gary Ballance, the find of the summer, went to lunch in an untroubled style. Ballance oozes authority at the crease and this was his sixth score above fifty in his seven Tests this season.  After lunch, Cook suddenly lost his way. Batting became an alien occupation but he when he was dropped twice at slip, India appeared to be paving the way for his first hundred in a year. He spurned his lives, however, by chasing a wide one from Aaron and Murali Vijay held on to the edge low down.
There were to be three more wickets in the afternoon session. Briefly, India offered the merest hint of a suggestion that they would not go lightly. Ballance, untroubled, inexplicably prodded a ball to short leg, Ian Bell received a ball that swung in, straightened a little and bounced more than he would have liked, and Moeen Ali was bowled off his bat as he tried to leave. Moeen is taking more wickets than could be reasonably expected but scoring far fewer runs.
Root and Jos Buttler repelled any threat of a collapse. Buttler is an uncertain starter but he is so far having a decent share of good fortune in the early stages of his Test career. Like his immediate predecessor in the wicketkeeper-batsman's berth, Matt Prior, he is always eager to keep the board ticking along.
Buttler and an extremely adept Root put on 80 for the sixth wicket which all but put India out of it for the series. It has been some turnaround.
Reuse content