It might have taken almost a year but after locating the road to redemption England have taken rather a shine to the landscape. In 14 compelling minutes, the team that had forgotten how to win dismantled India's top order to take control of the fourth Test.
While it would be pushing it to suggest that the match was over barely before it had begun, the early collapse was so dramatic and damaging that the tourists will always be chasing the game. The ball swung prodigiously and in Jimmy Anderson and Stuart Broad, England had a consummate combination to seize the advantage.
Four wickets fell for no runs in 13 balls, two each to England's most durable opening pair sharing the new ball for the 45th time. If Anderson was particularly potent, it was Broad who finished with the superior figures of 6 for 25.
India recovered slightly from these early travails, led by their stoic captain, MS Dhoni. All out for 152 in mid-afternoon this was a total of almost untold riches considering the calamity that threatened to befall them. But having lost their first four wickets with the score on eight, they added only 23 runs for the last four.
England's response, in conditions which still granted occasional favours to bowlers prepared to pitch the ball up and allow it to swing, was not quite perfect but it tightened their grip. With Sam Robson failing again and Alastair Cook also out cheaply, they were 113 for 3 at the close. Ian Bell was batting sublimely, Gary Ballance with utter certainty until he was out lbw in the day's last over.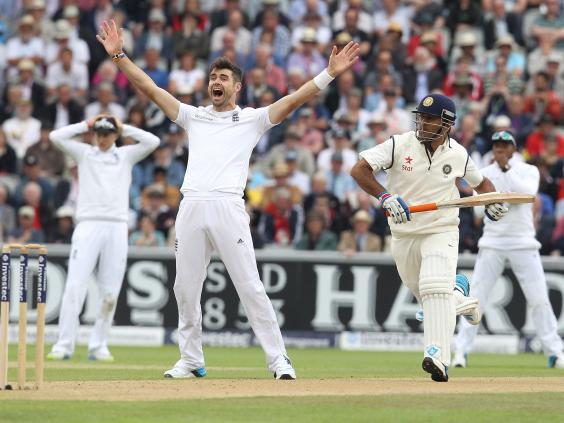 Robson needs a score soon for he does not have Cook's credit in the bank. Cook, having rediscovered his form last week, was culpable in hooking a short ball innocuously down square leg's throat. It was the sort of stroke which invites bad form to come stalking once more.
There is work to do and the prospect of batting fourth against a side with two spinners never fills anyone's heart with joy. But this is still England's match to lose now and in those early minutes, they demonstrated that the victory in Southampton last week, breaking a sequence of 11 matches, had given them a conviction that this Investec series is there for the taking.
The day was damp, warm and muggy. Play was delayed for 30 minutes after a heavy shower. India decided, not least because they had two spinners among three changes to their side, that they must bat. England were perhaps pleased to have lost the toss. The sun was still resolutely declining to come out over Manchester.
It was evident from the start that the ball was swinging. This meant that Anderson, in trouble recently for his loose-tongued tirades against all and sundry, could also let it do the talking.
On mornings like this bowlers must offer prayers of thanksgiving. This is when they have to strike quickly and incisively. Eight runs came in the first three overs, four to the returning Gautam Gambhir, with two clips off his legs, four in byes.
Broad struck with the first ball of his second over as Gambhir fenced at one shaping away to gully. Anderson took two wickets in the next over. Murali Vijay edged a magnificent late away swinger to first slip and Virat Kohli nicked another searing delivery in the same direction. Kohli's soaring reputation has plummeted somewhat in the last month. England's fast bowlers have had him on toast.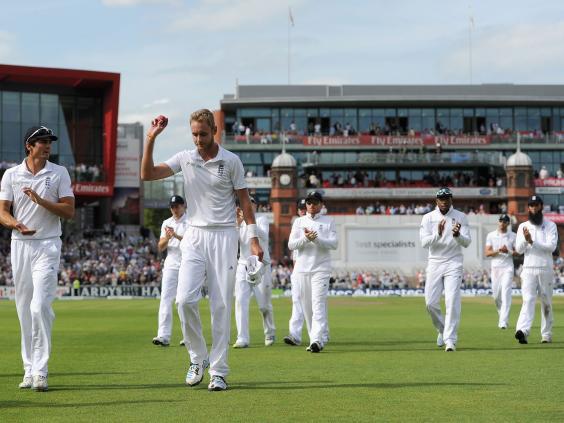 When Cheteshwar Pujara edged Broad to fourth slip, where Chris Jordan nonchalantly clung on to an extremely sharp chance, India were in trouble the like from which it is difficult to escape. Back in 1952 at Headingley they were 0 for 4, brought low by the express pace of Fred Trueman in all his youthful bloom.
But this was the worst start to the opening innings in a Test since England were 2 for 4 in Johannesburg in 1999 (eventually mustering 122 but still losing by an innings and 21 runs). The odd, if perhaps irrelevant, common factor is that Duncan Fletcher should be coach of the collapsing team on both occasions.
For India to have any hope of acquiring a serviceable total, it needed some prolonged vigilance and some occasional luck. Briefly they found it as Dhoni and Ajinkya Rahana took them to the verge of lunch. It was noticeable that England were less probing when Anderson and Broad were rested.
Doubtless, there is something psychological in this. Batsmen are likely to be much less worried by the likes of Chris Woakes and Chris Jordan and accordingly do not get out to them. Woakes, however, is not having his share of fortune. For the second match in a row he bowled well enough to take a wicket, for the second match in a row, so far, he has not been rewarded with one.
In the over before lunch, Jordan broke the budding partnership when Rahane drove a full length ball to second slip where Bell took another deceptively simple catch. England's catching in the cordon was exceptionally sure-footed and sure-handed, though Jos Buttler, the wicketkeeper in his second match, had an innings which showed that he is still serving his apprenticeship.
Dhoni was in truth ill-equipped to survive in these circumstances, given his reluctance to move his feet much. But his temperament is, of course, ideal. If he flashed he flashed hard and was quite content to let the ball hit his body.
With his iron wrists he flicked four after four, 11 of them in his 71. It was his 11th score of fifty against England, more than anybody against another country without going on to a hundred. After Ravi Jadeja was trumped once more by Anderson with a lovely in-swinger, Dhoni and the instantly aggressive Ravichandran Ashwin put on 66 for the seventh wicket. But it ended quickly with Broad now coming in from the Brian Statham End and if India had more than they might have done it was nowhere near enough.