At 11.56am on Friday, close enough to High Noon to have a chilling pertinence, the end of an era loomed unerringly into view. Alastair Cook, the present England captain, hung his bat outside off stump, edged and was caught behind.
It was not the first time he had made such a lapse of judgement in his international career, it may be the last for some while. Cook probably has one innings left to save his jobs both as skipper and opener.
If he fails in the second innings of the second Investec Test, whatever the result, his time may be up. He is not scoring enough runs, his team are not winning. It is hardly a combination on which gloss can be put, even by his bosses, men like Paul Downton, the managing director of England cricket, and James Whitaker, the chairman of selectors, who sometimes convey the impression that they see Cook as the incarnation of astute tactician and natural leader.
The captain is the big story, he always is now and there is a sense that it is reaching the endgame. It was his demise that grabbed the attention rather than the superbly measured innings by Gary Ballance, which almost but not quite turned round the second day for England.
Runs would definitely offer Cook a reprieve, a win without runs would probably provide a stay of execution, the lack of both would seem to offer only one possible outcome. Importantly for Cook and everyone else connected with England, there is life in this match.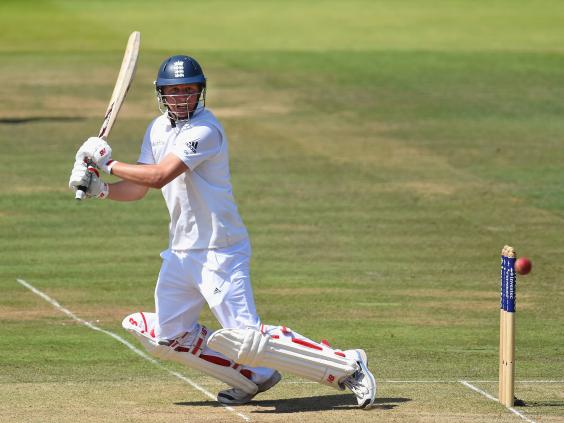 Ballance, who found a reliable ally in Moeen Ali, guided them from the depths of 113 for 4 when India's exemplary seam bowlers threatened to seize control, but not quite into the comfort zone.
By the close, the match was indeed in the balance on a pitch distinctly different in tone from that proffered for the bowlers' delectation on the opening day – and duly spurned by them. England had threatened to gain the ascendancy but India finished the stronger, a reward for bowling of a high calibre, especially by Bhuvneshwar Kumar, which should have made their English counterparts blanch.
The pair had put on 98 when Ali, having played with handsome caution, was out badly when he missed a half-volley from the innocuous off-spin of Murali Vijay. It was almost like being lbw to himself.
Ali has had a reasonable start to his Test career, impressively enhanced by his heroic century against Sri Lanka at Headingley, but his modes of dismissal are worryingly casual. His departure left England to negotiate eight uncomfortable overs, which was beyond them. Ballance, who is anything but casual, flicked at a ball down the leg side and was caught behind for 110 off 203 balls. The job was not done and England finished the day on 219 for 6, 76 runs behind.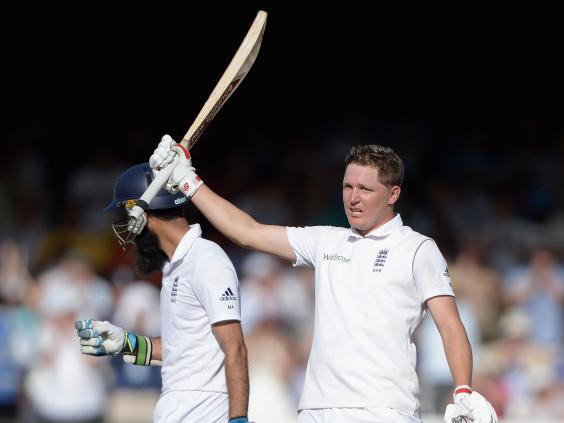 True, Ballance should have been caught on 32 when he edged between wicketkeeper and slip, neither of whom deigned to move, but otherwise he played with calmness and control. There is no dazzle about Ballance while he is building his innings and he is an old-fashioned Test batsman in the way that he is prepared to wait for his opportunities.
Earlier in the week, Ballance must have been embarrassed when photographs were published of his excessive behaviour in a Nottingham nightclub after the Trent Bridge Test. Actually, waving his shirt above his head while wiggling his hips was an aspect of his character that hitherto he had kept well concealed in his time around the England dressing room.
A true extrovert would have repeated the action upon reaching his hundred as Ballance did in the evening. He is the eighth player and the third England batsman, after Andrew Strauss and Jonathan Trott, to score hundreds in his first two Tests at Lord's, which means that no player born in England has yet done so.
Names are being openly bandied around for who might succeed Cook if either he or the selectors decide enough is enough. Cook's record is becoming more wretched on every visit to the crease. Since the start of the Ashes series last summer he has scored 616 runs at an average of 23.69 and this summer, which was supposed to herald a new dawn with a batch of new faces alongside old faces which had picked themselves up and dusted themselves off to start again, he has 93 runs in six innings at 15.5. England have gone nine Tests without a win, it may yet be 10.
While there is somebody else, even when it seems there is nowhere to turn, the options are not immensely attractive. Ian Bell is the senior professional but his run of scores, while not Cookesque, make his elevation improbable. He was out cheaply again yesterday, trying to leave a ball which swung and lifted on him, and while he is tactically acute, he is not obviously leadership material.
Joe Root's name has somehow been pencilled in as a future England captain almost since he made his debut for Yorkshire but though the fearlessness of youth can be mightily effective, taking over in these circumstances at 23 would be an onerous burden. 
Turning to the counties might be bold to the point of foolhardiness but these are times which demand decisive action with a view to the here and now. Chris Read of Nottinghamshire, who played the most recent of his 15 Tests seven years ago, is captain of the county who currently sit on top of the Championship, and a brilliant wicketkeeper throughout that time.
Discussions will certainly have to take place imminently unless Cook does what is beginning to seem impossible. England have it all to do this morning after mucking it up yesterday. Cook was swiftly followed by his fellow opener Sam Robson, who had already been dropped once, as Kumar made the ball talk on a hazy morning after India's last wicket fell to the 10th ball.
When Root was wrongly adjudged lbw – he got a thick inside edge – England desperately needed a long partnership. It was not quite long enough.
Reuse content