It ended the way that had looked certain five minutes after it started. There was a fleeting moment yesterday when it seemed that the impossible might happen but that soon passed.
The first Test between England and India was duly drawn. The tourists survived early scares on the fifth day to finish their second innings on 391 for 9 declared, which gave them a lead of 352, when the teams shook hands. Only a timeless Test would have permitted a positive result and nobody would have had the stomach for it.
Alastair Cook, the England captain, was spared the ordeal of batting again, though he had something to smile about at last in the match's final stage. With proceedings long since done as a meaningful contest, he put himself on to bowl and, lo and behold, took his first Test wicket by having Ishant Sharma caught low down on the leg side by Matt Prior.
It was the last curiosity in an otherwise drab match. Although there were moments of imperishable individual brilliance it was a dreadful advertisement for Test cricket. The pitch invited, nay demanded largely dull play, of which there was an abundance between the alluring passages.
Both sides were left to offer up a prayer that such a stalemate did not tire the players, especially the fast bowlers, beyond repair. The second Test begins at Lord's on Thursday, with the third at Southampton only six days after that one ends. The toll on minds and bodies will begin to tell.
England (and probably India, it is fair to reflect) were left with as many questions as answers.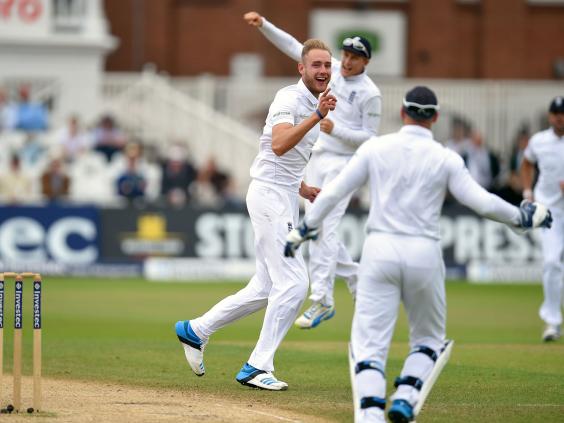 In an attempt to resolve one of them, they have included Simon Kerrigan, the Lancashire left-arm spinner in a squad of 14 players for Thursday. He will be pulled out of Lancashire's Championship match in Liverpool. There must be a chance that he will appear in the XI, though how he will be fitted in given the balance of the side will provide the selectors with some difficult choices.
Moeen Ali is clearly not quite up to the task of front-line spinner, though he deserves to keep his place in the side as a batsman. Whether Kerrigan is up to it remains to be seen, though the auspices are not necessarily promising after his fraught debut against Australia at The Oval last year when he was disdainfully smashed out of the attack in no time. It is not England's only flaw but it is a substantial one. 
This draw has not helped. Perhaps it is correct that Test cricket is as much a trial of stamina as of skill, perhaps that is the intention but this series is taking it to extremes. England have been through it before. In 2004-05 in South Africa they played five Tests in 39 days, which they managed to negotiate by using four of their bowlers, including three pacemen, in all five.
But this summer they have already played three Tests, embracing the two against Sri Lanka and this moribund affair against India. On each occasion the surfaces have been the sort to break bowlers' hearts.
Of course, Test matches are entitled to end in draws and throughout the 1960s it was more or less a compulsory result. But the game has changed significantly for the better in the last 20 years and while modern mores mean that most of us are probably less tolerant of bore draws,  modern spectators have become accustomed to positive play and results.
Watching events unfold at Trent Bridge, it was difficult to imagine that barely a year ago a match took place that was constantly enthralling and ultimately gripping. England beat Australia by 14 runs but not before a series of gut-wrenching thrills and turns.
This was at the other end of the spectrum. There was glimmer of hope at the start of the fifth day that England could rattle their way through the rest of India's batting order and leave themselves enough time to pursue something between 200 and 250 to win a famous victory.
In the first hour, Jimmy Anderson, from the Radcliffe Road End, and Stuart Broad, from the Pavilion End, were as effective a pair as they have been for at least a year. The spring in Anderson's step was doubtless enhanced by his wonderful innings of 81 in a world-record Test 10th wicket stand of 198 on day four.
Perhaps he thought that having salvaged England's position (aided and abetted by Joe Root's admirably mature innings of 154no) he ought to try to press home the advantage. Broad, as he is from time to time for no apparent reason, was irrepressible. The pitch was still its old lifeless self but maybe there was something in the air.
Within 14 overs of the start, India's overnight 167 for 3, 128 comfortable runs ahead, had become 184 for 6, 145 distinctly insufficient runs to the good. Broad removed both overnight batsmen by having Virat Kohli lbw to one that moved in as he played round it and Ajinkya Rahane caught by Prior pushing forward.
Prior continued a match of mixed returns by dropping MS Dhoni to his right. On the first day of this match he had kept with sterling concentration when others might have been much more hesitant, taking a lovely diving catch into the bargain, but this was his second drop of the Test.
He also shelled two against Sri Lanka in Leeds. Unlucky to be given out before his innings was properly underway here, Prior will again be feeling the discomfort of vultures pondering whether to circle on his Test career.
Dhoni, however, did not stay around long, bowled by Liam Plunkett's first ball of the day. Somehow, Ravi Jadeja survived a blistering working over from Anderson but when soon after lunch Anderson rightly got his man, the door to victory was ajar again. It was soon shut by an upright innings from Stuart Binny and another fifty from Bhuvneshwar Kumar. If the end was mildly amusing it was also merciful.
England squad for the second Test against India, starting at Lord's on Thursday:
Alastair Cook (captain), Moeen Ali, James Anderson, GaryBallance, Ian Bell, Stuart Broad, Chris Jordan, Simon Kerrigan, Liam Plunkett, Matt Prior, Sam Robson, Joe Root, Ben Stokes, Chris Woakes.
Shot of the day
Ravindra Jadeja's charge down the wicket to Jimmy Anderson early in his innings when India were trying to save the match defied credibility. He deserved to  be dismissed but somehow he survived and played an important part in India's revival.
Ball of the day
Stuart Broad's morning spell was not quite as irrepressible as some that he has produced down the years, but he wobbled the ball around disconcertingly and his effort to dismiss a hapless Virat Kohli as he played fatally across  the line was from his top vintage.
Moment of the day
By the end everybody needed something to cheer them up and it was Alastair Cook who provided it. He brought himself on to bowl and in his second over of offspin cum slow medium pace filth, produced a legside swinger which Ishant Sharma could only glove low to Matt Prior.
Reuse content