You can talk of new eras and of executing plans, you can banish troublesome players and turn all the dials on your PR machine up to 11, but it seems with England and cricket you can never escape the collapse.
Like rainy picnics, the Archers or a postman's penchant for wearing shorts in February, the batting collapse remains a never-ending facet of life in England – its grim familiarity only making it slightly worse on every occasion, like a tiresome relative who only knows one joke.
It is the evil older brother of that other peculiarly English trait, eternal optimism, and it always wins their fights, a dark cloud to silence even the most vociferous cries of "I think it's brightening up".
And so it proved once again at Lord's.
After the blow of losing a wicket to the last ball before lunch, England had come out from the break positively.
Suddenly the target was down to just 121 with five wickets still in hand, and with Joe Root well set and a deep batting line-up, the murmur of optimists began to grow around the ground.
Of course they should have known better, we should all have known better, but then everything is so much simpler in hindsight and a batting collapse by its very nature defies logic, even at the frequency with which this England side produces them.
This though was incompetence on an unprecedented scale, as Ishant Sharma, always the punchline never the punch, knocked over four of England's batsmen in quick succession with a spell of short-pitched bowling that was more obvious than it was hostile.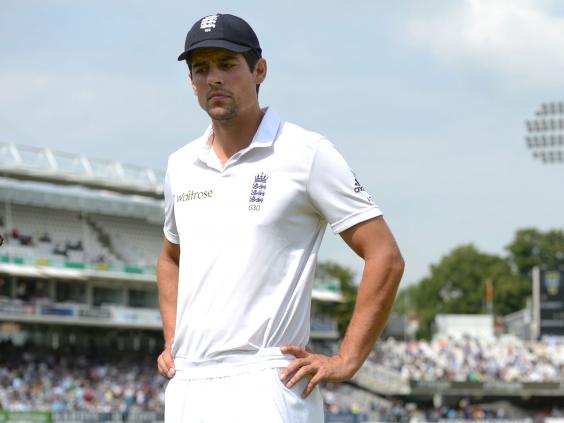 The coup de grace though could not have been more perfect. Ravi Jadeja – India's  moustache-curling, bat-twirling, irritator extraordinaire – running out his Trent Bridge sparring partner James Anderson with a direct hit.
At 1:57pm, England looked like they might pull off an unlikely win. By 2:46pm, they had lost the match – in less than an hour they had lost five wickets for only 25 runs.
Even for a nation whose history is littered with famous batting meltdowns, from the one that spawned the Ashes to the 2006 defeat in Adelaide via countless mishaps against West Indian pace attacks, this is a particularly dismal run for England who have suffered collapses now in nine successive Tests.
Perhaps in fact the thing it most resembles is a batting collapse – each consecutive crumbling somehow managing to be both increasingly predictable and yet even more unbelievable with every passing game.
From losing 8/54 and then 7/49 in successive innings at Brisbane, back in November, to losing 6/68 in the last Test at Trent Bridge, this England side are taking collapsing to all new highs – or should that be lows?
There was the loss of 6/61 in the first innings at Perth, the 5/18 against Sri Lanka at Headingley in June, or perhaps the connoisseur's choice, the 5/6 in the second innings at Melbourne.
As the team reflects on another Test without a win, there will be blame for captain, coach and anyone else who cares to stand in the firing line, but as changes are made and new strategies planned, they would all do well to prepare against that oldest of foes, the English batting collapse.
Reuse content