A humdrum pitch equals a monotonous match. Yet from this unpromising combination, unforgettable deeds have sprung. The latest and most extraordinary of them – unless there is to be a remarkable added twist, which in Test cricket can never be entirely unexpected – was performed today.
It was epic in its scale and, on any surface, wholly unpredictable. On the fourth day of the first Investec Test, Joe Root and Jimmy Anderson shared a Test record 10th-wicket partnership of 198. Root scored an exemplary 154 not out, overcoming a patent lack of rhythm at the start of his innings to bat magisterially.
But it was Anderson, a fast bowler born to bat at No 11, who earned the plaudits and won the hearts of the crowd. He made 81, comfortably the highest score by any England last man, and played with such authority and pizzazz it was a surprise when he essayed an errant drive to slip which ended this improbably exuberant affair. That England led on first innings having been 202 for 7 was the real statistical measure of its worth.
It was genuinely rip-roaring, uplifting stuff, enough to melt the flintiest soul. But it could not conceal the drudgery of the match and the probability that it is drifting towards a draw. The taking of two wickets by England late in the day to remove Murali Vijay and Cheteshwar Pujara, who seemed bedded in, offered the glimmer of an opening that there might after all be somewhere for it go.
At the close, India were 167 for 3, 128 runs ahead, and will feel the need to bat for most of today to secure a certain draw. Any side would and should have struggled to take wickets on the sort of surface provided, though Matt Prior dropped a fairly straightforward offering to give England an early breakthrough. It is becoming increasingly clear that England are in need of a spinner.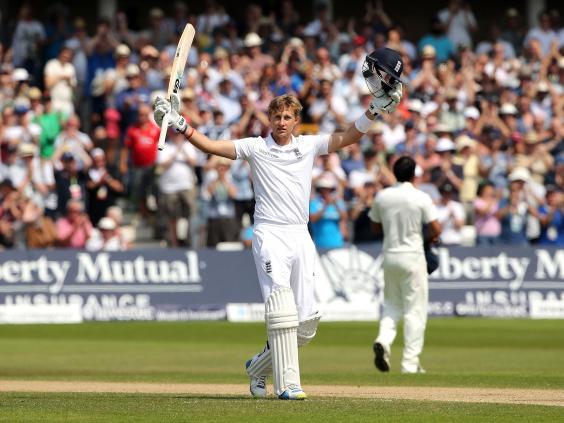 Moeen Ali is not up to the front-line role despite his two wickets today and Simon Kerrigan, of Lancashire, will probably come into the party for the Third Test starting at Lord's on Thursday. After his horrific experience when he made his debut against Australia last year, Kerrigan is not a shoo-in to play. He is having a reasonable but hardly spectacular season for Lancashire, but he was with the squad at Nottinghamshire last week.
England, it is plain, have to do something. Throughout this morning none of this mattered as, somehow, the match provided its second glittering 10th-wicket interlude. India, who began the day still 105 runs ahead, were left bereft of ideas and staring down a tactical black hole, which is where both sides might have wanted to drop this pitch. Such a benign surface as this demanded pinpoint strategies but their celebrated captain, MS Dhoni, stuck for far too long with an umbrella field and short-ball attack.
For several overs his supposed short leg was so far from the bat he may as well have been standing at deep mid-wicket. It should have taken Dhoni about five minutes to work out that more bounce could be extracted by dropping marbles into cold custard.
But it would not do to dwell on Dhoni's squandered ploys. Anderson, who had played with studious aplomb the night before in reaching 23, recognised that this was his big chance. In 210 previous first-class innings he had never made more than 37, in all senior cricket for Lancashire, England and his hometown club, Burnley, his best effort was 49 not out, which was for the latter against Todmorden 12 years ago.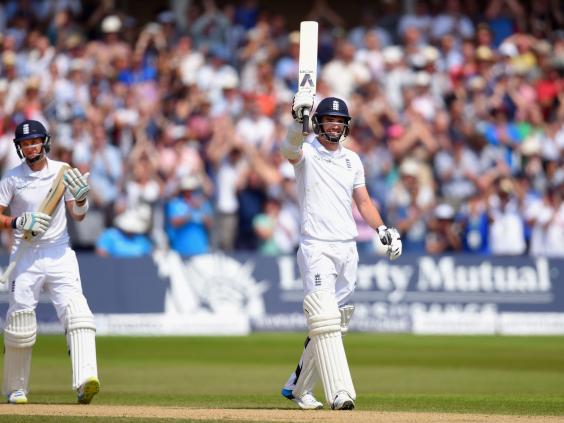 This was of an altogether different hue. Anderson's first, indeed primary, job was to bat long enough for Root to reach his fourth Test hundred. By doing that he would not only help a colleague achieve a significant milestone but the team to cut their deficit.
Root exuded canniness. He protected Anderson from the strike when necessary, turning down copious singles, but he found the gap for twos and hit the bad balls for four. Anderson did not waver in his duty. Root reached his hundred with his 12th four, drilled accurately through the covers.
The next target now was for Anderson to reach his maiden fifty. When he was 45 he prodded to gully, where Vijay did not react quickly enough to take a low chance. It seemed that Anderson might yet be undone by his lack of a pull stroke, but just as the musing on this shortcoming was reaching its zenith he unfurled a classic of the genre, standing tall at the crease, which sped to the mid-wicket boundary.
Had Joe Hardstaff Jnr, the most prolific of Nottinghamshire's former Test batsmen, scored a triple hundred, the crowd could not have been more generous. They rose to Anderson in a genuine outpouring of admiration and jubilation. To a man, woman and child they were happy for him.
There was a little more where that came from. The pair went on and looked like going on some more. Pace, medium pace, spin, occasional spin – nothing worked for India. The pair sailed past England's Test 10th-wicket record, which was set 111 years ago in Sydney, and then overhauled the world record of 163 set on this very ground only last year by Australia's Phil Hughes and Ashton Agar.
The 200 partnership and Anderson's hundred both beckoned. But the fairytale and Anderson's vigil ended with a tumbling catch at slip. This has been an unsatisfactory match, but it has been adorned with moments to cherish.
Reuse content