It could have been Ashley Giles in charge of the mess England are in. On the other hand they might not have been in it. Who knows what might have happened had Giles been awarded the job of coach, for which he was favourite until Peter Moores came up on the rails?
Moores is finding the going harder than he might have expected in April, Giles has had time to become accustomed to being overlooked. There is no gloating from him, only sympathy for a fellow coach and enthusiast. Equally, there is no point in trying to put a gloss on affairs.
"The quick win thing would have been important for England after such a long winter," Giles said on Friday.  "Although the one-dayers were always going to be tough, if it were me it would have been all about settling everyone down and getting some quick wins and getting us back on an even track. At the moment that has just not happened.
"There are still three Test matches left and I can still see England winning this series but they're going to have to play much better, much more consistently and smarter. I'm sure they wouldn't mind me saying that after their performance on the last day at Lord's. To fall for that trap with the short ball was really disappointing.
"It wasn't the last roll of the dice by India but it's probably the penultimate roll of the dice going for the short ball – let's see if we can get a reaction and they did. You know what they're trying to do, get out of the situation, move on. I was disappointed and surprised. It shows a lot of fuzziness going throughout the team."
Giles is having a break from coaching after England decided he was not the man to take them forward and is soon to embark on a masters degree in sporting directorship in Manchester. But the England team are still in his thoughts and, though he tries hard not to think what might have been, England's form this summer is hardly conducive to that.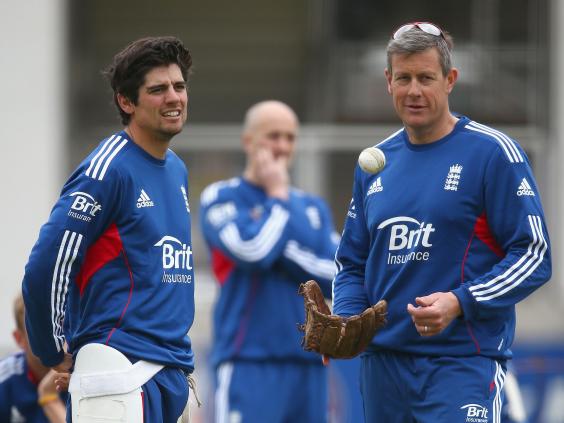 "I think the nub of the thing is that they're not as good as we think they are or we'd like them to be," he said. "The expectation is high on them winning all the time and I don't think we're that team at the moment. Results are showing that.  And it's not an overnight thing.
"Winning in India was fantastic but the series that followed against New Zealand was not good. We won the Ashes here but I don't think England were at their best. Ian Bell pretty much pulled everyone through with the bat and we were up against an Australian side which at the time was completely upside down. It is a phase of rebuilding."
The big question is does Giles think he could have done better? He will not be drawn on that but his view is that England had an opportunity in English conditions against sides who do not much like playing in them.
"I didn't expect absolutely smooth sailing," he said. "But perhaps I wouldn't have expected it to be this difficult. It was an opportunity to win a couple of Test series at least. Play on wickets you want to play on, get our best players back in, bully them into submission. It has not worked, unfortunately. But while you can talk about tactics and mindset and all sorts of other things, ultimately it's the players. They have to do it on the field and think on the field."
Maybe they have become too unaccustomed to thinking for themselves. But there is one player, of course, who is probably having to think too much. The spotlight is on him perpetually. Alastair Cook's progress as opening batsman and captain is being charted in minute detail. The endgame is in sight but the management and Cook are giving him every chance to bat and plan his way out of it. It seems to be a case of nobody being willing to make the first move.
Giles, working as an analyst for ESPN Cricinfo's Match Point, said: "Cooky will know soon. He has given a bit of an insight in saying that it wouldn't be right to step down in the middle of a series. He is clearly feeling the pressure and he would do. And I feel for him because it's a bloody tough environment when things aren't going your way.
"I think he has to make a decision on if it's impacting his own game to a degree where he can't do it properly and then he really has to consider doing the job in the future. He is a solid bloke, a strong character, but his worth to the side as much as anything is his 25 hundreds. He is looking like he's burning himself out. Obviously, he's under a lot of pressure."
In the end, Giles thinks that it is quite simple. England might not be much good, they might be in a rebuilding phase, but if Cook, with greater support from his senior players, was performing, it would not have come to this.
"I am sure Pete and the coaches are trying to promote this internal leadership thing where the players take more responsibility, which is really important. That starts at the top and works its way down.
"The bottom line is Cook isn't playing very well. If he was scoring runs that would solve most of his problems. He would still get a poke about some of his captaincy but  if he was getting big scores you're much more likely to win Test matches. Then down the line he can make a much more even decision on whether he wants to captain the side."