England are in a grim struggle for survival. Their captain, Alastair Cook, is once more fighting to save his job. All perfectly normal in the home dressing room then.
How long it can go on like this – more than a year and counting - is up to the new director of cricket, Andrew Strauss, who is at present assessing candidates for the coach's vacancy (Jason Gillespie, step right this way, please). Strauss bravely took the plunge into the maelstrom because as he put it he wants to make a difference.
He made some bold decisions before his signature was dry on the contract. Now he has had a week or so to reflect he may have to make a few more. For long periods yesterday it did not seem as bad as it might have been for Cook and England. But these things are relative in cricket as in life.
The lead of 134 they conceded to New Zealand was far from being as great as they feared on a sunny morning but conditions changed. The bowlers were back in the game. At the close of the third day of the first Investec Test, England were 60 runs behind.
It could have been much, much worse. They lost Adam Lyth, caught at slip after three crisp boundaries, and his fellow Yorkshire player, Gary Ballance, bowled while stuck in the crease to a full length swinging ball. Cook and Ian Bell took saw out the proceedings without undue further alarm.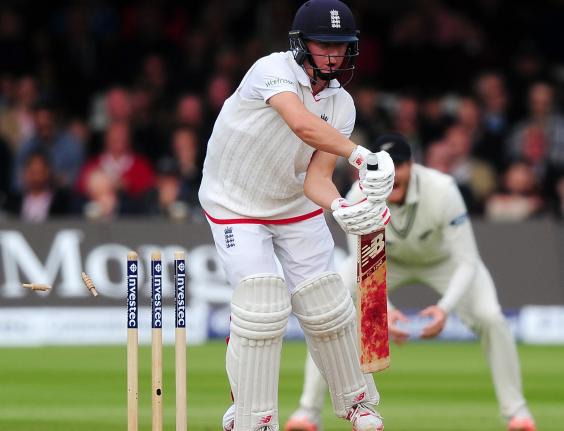 All of Cook's obduracy was on display here. He is admirably philosophical about his prospects of remaining as captain. He intends to enjoy it while it lasts, knowing it may not last long. He will probably not resign (though if England were to lose here and again at Headingley next week that might change). Bell, short of form, exhibited much of his true class. There is work to do. New Zealand will still be far the happier of the sides.  
One of the side-effects of this is that Australia are doubtless licking their lips with glee. If New Zealand, highly competent, driven, inspired but not yet quite a team for the ages can do this to England it hardly bears imagining what might happen later in the summer when the Ashes are at stake.
England did not have the rub of the green yesterday. Edges failed to carry to the fielder, the ball went past the edge without taking it, close decision went against them. It might have occurred them that top sides make their own luck.
The nature of the way the Test was being conducted changed dramatically after the first hour. Cloud cover and a touch of humidity gave the bowlers movement which had not existed before. The margin of the deficit shows that England did not take full advantage.
The contrast was exemplified by the batting of Kane Williamson. On the previous day and in the first part of the morning as he went to his 10th Test hundred at the age of 24 he delivered a junior master class in his craft. Thereafter he found it a struggle.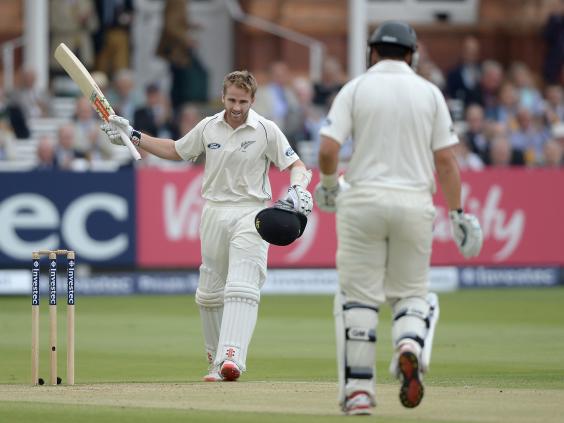 The century came from 148 balls in the third over of the day. He added 12 more in the 64 balls he faced until lunch. Crucially, England could not dislodge him.
There were heartening moments for the home side, containing two debutants, for more with barely a handful of Tests and three others who have played more than a hundred. Mark Wood, playing his first Test as well as his first Test, bowled a fast, accurate spell after lunch, bursting to the crease and regularly giving batsmen the hurry up.
He deserved his three wickets after the disappointment of being denied his first the previous day by a no ball. Of course, he will have bowl in circumstances that are a little less conducive to movement but he was still bowling at a team which had amassed more than 400.
With the second new ball, Stuart Broad bowled his most incisive spell for several matches. It was vigorous and purposeful and removed Ross Taylor to end a third wicket partnership of 189. Taylor, never quite at home, flicked a  ball down the leg side which was superbly taken by Jos Buttler, diving up the Lord's slope. It was the sort of catch a wicketkeeper takes every 20 matches or so.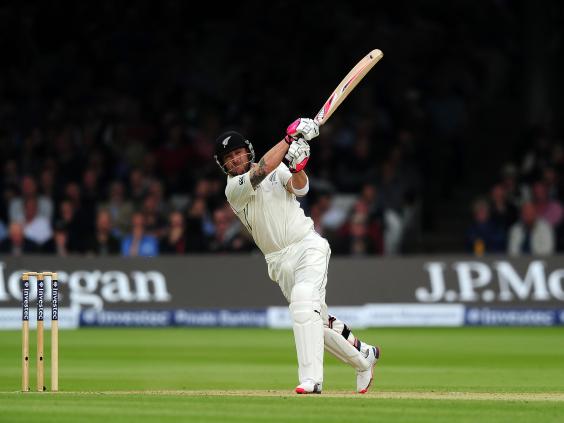 When Brendon McCullum arrived he typically ignored that the balance had shifted from bat to ball. McCullum's bat whirled, he charged the bowlers, he made 42 from 38 balls. He became Wood's first wicket, caught off a top-edged pull at third man.
Williamson, his innings suddenly precarious, could, probably should have been out lbw to Wood's next ball. The appeal was turned down, England reviewed and replays showed that the ball was not hitting enough of off stump to alter the verdict.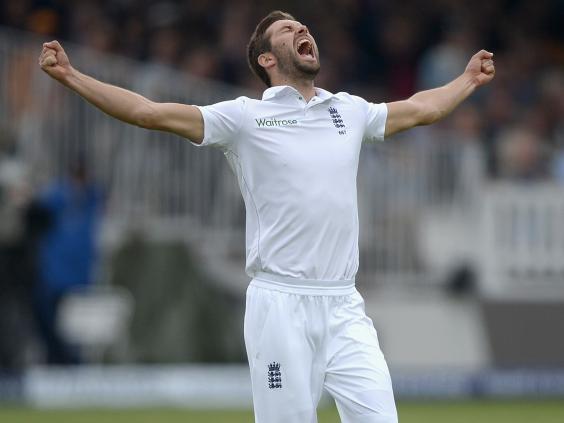 His innings of 132 was eventually ended by Moeen Ali, caught at backward short leg off bat and pad. Moeen, too, too three wickets while going at almost four runs an over. He was adequate but it remains difficult to shake the feeling that he is not genuinely a front rank spinner in a Test team.
The last five wickets fell for 53, the latter stages of the innings being shepherded by the wicketkeeper, BJ Watling. Five of the tourists made fifties. For a warm-up act they are quite something.