England's intention, as outlined by their new supremo Andrew Strauss, is to be No 1 in the world again. How long ago it seems that this dream was reality. Strauss has defined it almost in the way that political parties bang on incessantly: aspiration leading to achievement.
Had he been present yesterday, he would have spotted that there is a long way to go before England attain their previous heights of 2011 (perhaps as long as some political parties are thought to be from power again). They have slipped to fifth in the world rankings, pretty low in what is essentially an eight-horse race, and while the position does not flatter them, nor does it lie.
They were made to labour yesterday as everyone feared would be the case on a typically amenable Lord's pitch. New Zealand (third in the rankings and that does not flatter them either) were always pragmatic, often stylish.
The first tourists of the summer have not come here to be anybody's whipping boys and it does not do to imagine what the second tourists, Australia, might be capable of. The second day of the first Investec Test did not possess the sheer delight of the first when everything seemed to happen and fortunes veered this way and that.
This was primarily about New Zealand trying to consolidate and build an advantage. England, no longer the free spirits of Thursday, had to hang in there grimly, hoping to prevent them without much sustained cutting edge, though they have cursed the conditions at Lord's before and will have felt entitled to do so again.
New Zealand are well in pursuit of England's total of 389. A first-wicket stand of 148 was followed by an even more substantial one for the third. They bat a long way down and they have set on a determined course for a large lead.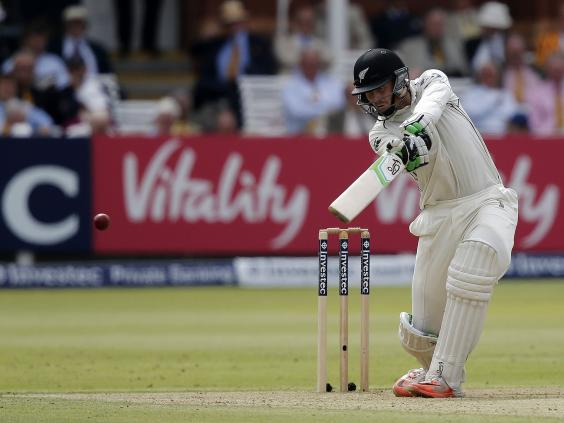 The openers Martin Guptill and Tom Latham did the groundwork and in the afternoon and evening, Kane Williamson and Ross Taylor took over. It was batting that dovetailed. Well as all his colleagues did, Williamson was best in show. He is delightful in action, beautifully composed at the crease with one of the most handsome cover drives around. His offside play anywhere is assured and he had made an unbeaten 92 of his side's 303 for 2 at stumps.
England did not get much help, they did not do enough to help themselves. They have two experienced seam bowlers and two raw ones. The latter pair, Mark Wood and Ben Stokes, are going to need patience and help from the former, Jimmy Anderson and Stuart Broad. What seemed likely to be a quick finish on the opening morning was beginning to feel like a much longer contest.
New Zealand took less than an hour to take the three wickets they needed to finish off England's first innings. To go past 400 or approach 500, the likelihood was that the home side would need Moeen Ali to bat most of the morning. He failed to endure beyond the fourth over, playing one of those casual forcing shots which have become too prevalent in his time with England and edging behind.
The rest gathered what they could. There were two more wickets for Trent Boult but he was denied a place on the Lord's honours board, for which five in an innings are needed, by Matt Henry, the debutant, who took the final wicket.
One of Boult's victims was Stuart Broad, a shadow of the batsman he was since being hit in the face by a ball at Old Trafford last year. It was hard to believe that Broad made 169 in a Test match on this ground five years ago. He is an old-fashioned tail end Charlie now and he seems to doubt how to approach the job of batting, which may be affecting his primary task of bowling.
Guptill, the senior man, was more prominent than the more unobtrusive Latham as New Zealand put on 148 for the first wicket, but both played some attractive strokes. There was little threat from England with the new ball, though Guptill was reprieved on 24.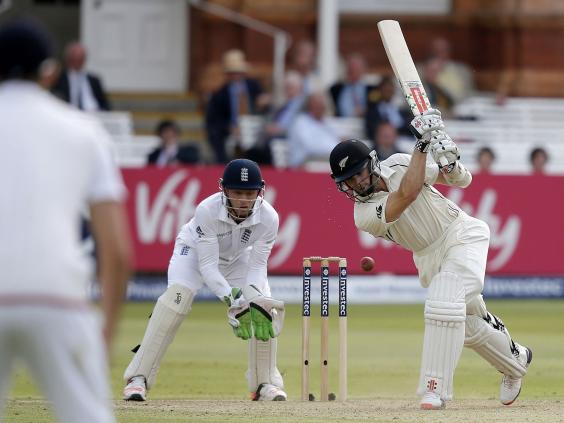 Wood, making his England debut along with Adam Lyth, was on the money immediately, bursting to the crease as if released by a catapult. He persuaded one to lift and Guptill edged to slip, where Alastair Cook took the catch. The celebrations were curtailed and Guptill stopped on his walk back to the pavilion while replays were checked for a no ball.
They showed that Wood had overstepped by perhaps a millimetre, but it was enough. There must be something in the air in Durham. Wood's county colleague, Stokes, was deprived of his first wicket in Tests in Adelaide two winters ago by a no ball and transgressed similarly again on the tour of West Indies.
It seemed to affect Wood, who remained pleasingly rapid but was never quite the same afterwards and was heavily punished at intervals. Shortly after lunch England also reprieved Latham, who edged Stokes to second slip, where Ian Bell muffed a routine chance to his left, failing to embrace the ball properly.
This was only New Zealand's ninth century opening partnership in 100 Tests against England, their fifth in England. For a while, so comfortable were they, and so eager were England to detain them, that it seemed that Guptill and Latham might threaten the record 276 put up by Stewie Dempster and John Mils at Wellington in 1930 in the second Test between the countries.
But they were both out within three balls, rather prosaically. Latham played across the line of an arm ball from Moeen and was lbw, Guptill drove to cover and was held by Gary Balance diving low to his left.
It was not ideal that both should fall so closely together but they had laid a splendid platform for Williamson and Taylor. Williamson was especially attractive while Taylor struggled at first to find fluency. Pouncing, if pouncing is what such a well-appointed batsman does, on anything slightly wide or too full, Williamson welcomed Wood to Test cricket, reminded Stokes of how hard it can be. Anderson and Broad already knew.
Reuse content