On rip-roaring people's day at the home of cricket, England began their long summer perfectly. They won the opening Test against New Zealand by 124 runs with fewer than 10 overs left in the final session of the match.
And they say Test cricket is done for. Which it might very well be, but this was a spellbinding antidote – from the spectacular opening last Thursday to the grand climax, with the sun having disappeared and the Lord's floodlights merely enhancing the excitement.
What MCC members sitting in front of the pavilion made of the constant cacophony made by the rest of the crowd can only be assumed. Maybe they took it in their stride. Having entered the 20th century just as the 21st was about to start, they have adapted to changing times.
This was a superb match. For five days it ebbed and flowed, initially towards New Zealand, latterly in England's direction. It was never less than engrossing and it was usually unputdownable.
England, 134 runs behind on first innings, fought back to leave New Zealand 345 to win from 77 overs, which was not quite academic considering their bravura approach. Alastair Cook's innings, which will still the dissenting voices against his captaincy for the rest of the summer, ended on 162.
His team's start to the pursuit of 10 wickets was sensational. With only seven balls gone, New Zealand were 0 for 2, both their opening batsmen out. Before lunch they were three down and, although it could not continue like that, England held their nerve and Cook changed his bowling with vision and daring.
Apart from the result, itself welcome considering the turmoil in which English cricket has found itself lately, it is just possible that two authentic Test players have emerged from the same county, Durham. As the Government talks of a northern powerhouse, cricket is ahead of the game.
Of Ben Stokes there can be no doubt. He embellished his buccaneering century of the fourth day with three wickets on the fifth. The crowd loved him and he loved them back. Like certain all-rounders before him he knows all about carpe diem all right.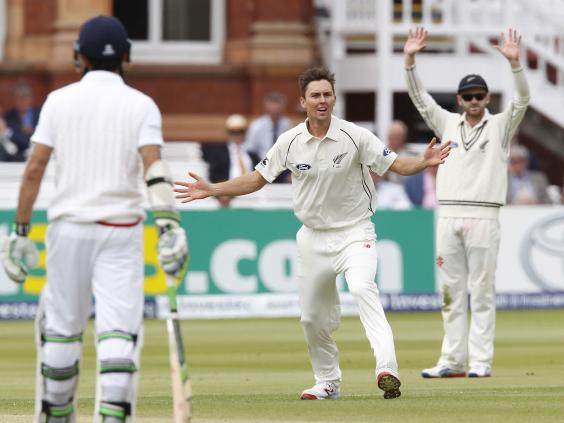 Then there was Mark Wood. He took only one wicket yesterday, out of four in the match, but it was vital. He is genuinely fast with an explosive action and if England use him adeptly, he could well provide the cutting edge they need.
Trevor Bayliss, the Australian who is soon to be announced as the new England coach, may find he likes the raw material.
The fifth day was as grippingly entertaining as the four before it, watched largely by a walk-up crowd, many of whom had neither visited Lord's nor watched a Test match. They will doubtless have gone away assuming it is always like this.
It helped that England were intent on trying to match New Zealand's positive style of cricket. In recent times, they have adopted a policy of hunkering down, waiting for an opening and hoping that they might be able to stick their foot in the door before it was shut in their faces.
Under the temporary coaching stewardship of Paul Farbrace for the first time they tended to adopt the siege approach, ready to smash it open with sledgehammers if necessary. With the marauding hordes wearing black caps coming in the other direction no quarter was given and, crucially, none asked for. The Test was played in a marvellous spirit: hard but fair is the old-fashioned term, now sadly out of use.
The talk among the excited spectators on the way to the ground was all about when England might declare. Fortunately, they saved themselves the bother.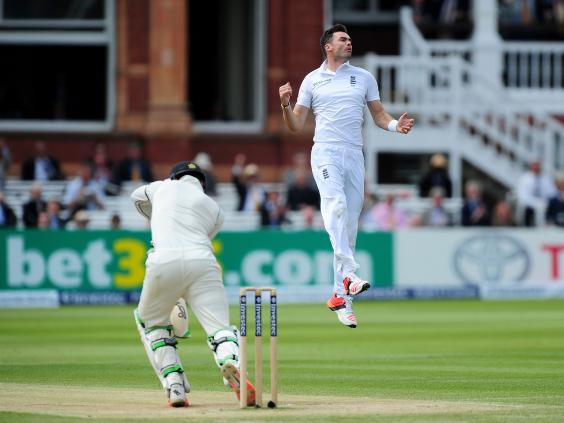 Cook was out first and the rest followed in a flurry of strokeplay. There were five wickets for the admirable Trent Boult. Few have more deserved their names on the Lord's honours board and his reaction when he ended the innings showed how much it meant. The crowd was at fever pitch as England entered the arena to field. There was an hour until lunch. Jimmy Anderson's second ball was pitched up, moved away late and edged by Martin Guptill to second slip. Stuart Broad's first ball was also full, caught Tom Latham on the crease and seared into his pads for a straightforward lbw decision. Three overs later, Broad had Ross Taylor in similar fashion.
The crowd wanted everything to happen at once. But there was a lull while the tourists regrouped. Enter Stokes. He bowled a fast, rising ball at Kane Williamson which he could only steer to gully, where Joe Root took the catch.
Next ball, Stokes produced another rapid delivery which swung in at Brendon McCullum and bowled him off his body. It was inspired stuff. The surprise was that Stokes did not obtain his hat-trick.
But the burly left-hander Corey Anderson counter-attacked. He took 20 off Stokes' next over and brutally hit Moeen Ali out of the attack in three overs.
Wood was summoned to steam in from the Pavilion End. With the sixth-wicket partnership worth 107 he produced a bouncer which went unerringly towards B J Watling, who had to play it but could only glove it behind. Six runs later Root, preferred now to Moeen, removed Anderson and now it was only a matter of time.
There was time for Moeen to redeem himself. Brought back into the attack, he immediately removed Tim Southee by taking a smart return catch.
Then as the last-wicket pair dug in, he held on to a splendidly judged effort at third man as Boult went up and under. The crowd went wild. The members joined them.
Reuse content