England planned meticulously for this World Cup. They rearranged the Ashes series, they ditched Test cricket for eight months, they concentrated solely on the matter of one-day cricket. They had 16 matches and days and days of practice in between to plot and plan and scheme. This time, after five woebegone tournaments in succession, they would be ready.
Two matches in to the 2015 version and they have been dismantled twice. England may as well have spent the time since August trying to work out how to negotiate heavy traffic in Dhaka or assessing the quality of their stamp collections. It could not have wasted more time. They have been anything but ready. The defeat by eight wickets to New Zealand on Friday was probably more of a humiliation than the loss by 111 runs to Australia on the opening day.
Apprehension, the sense of being overwhelmed by the occasion, played a significant part in Melbourne last weekend. In Wellington, they were swept aside by a side more confident in what it was trying to do, much more aware of what being a modern one-day international entails.
True, England were confronted by an outstanding exhibition of late out swing bowling by Tim Southee but they were ill-prepared to repel it. Southee and the other Kiwis seized the moment, England ran away from it.
It is said – because they keep saying it – that they are better players than they often show, that their skill levels are high. But this is what happened yesterday: the tie lasted for a total of 45.4 overs, England were bowled out for 123 in 33.2 of them and then New Zealand reached their target in the other 12.2.
When the draw was made for this competition, England were one of the top seeds based on performances at the time. But as two years have passed it became clear their opening matches against the two host nations, Australia and New Zealand, would present formidable obstacles.
Cricket World Cup 2015: 10 young players to watch
Cricket World Cup 2015: 10 young players to watch
1/10 Usman Ghani, 18, Afghanistan

At just over 18 years old, Ghani is the youngest player at the tournament, but the attacking opener already has an ODI century to his name. If the Aghans are to spring a shock, much will depend on him getting them off to a good start.

AFP/Getty Images

2/10 Pat Cummins, 21, Australia

With his wonderful action and searing pace, Cummins burst onto the scene when he took seven wickets as an 18-year-old Test debutant against South Africa. Terrible injuries have prevented him from adding to his solitary Test cap, but now the stage is set for Cummins to re-establish himself as one of cricket's hottest talents.

Getty Images

3/10 Mominul Haque, 23, Bangladesh

A compact left-handed batsman, Haque will occupy the No.3 spot in the Bangladeshi batting order. He has already made 24 ODI appearances, but thus far has enjoyed more success in the longer format - in 12 Test appearances he has plundered almost 1200 runs at 63.05, with four centuries.

AFP/Getty Images

4/10 Jos Buttler, 24, England

One of the genuine box-office talents in the England squad, Buttler's 121 against Sri Lanka last summer was the most eye-catching innings of the season. His keeping needs work, but as a mid- to lower-order batsman he has the talent to change the course of a game in the blink of the eye.

Getty Images

5/10 Akshar Patel, 21, India

One of the few positives of India's disastrous recent Tri-Series with Australia and England was the consistency of Patel, who was miserly and probing with his tight left-arm spin. He enjoyed a superb 2014 IPL season with 16 wickets and an economy rate of just 6.22 for Kings XI Punjab.

AFP/Getty Images

6/10 George Dockrell, 22, Ireland

Despite having been a mainstay of the Ireland side since his debut in 2010, and with four county seasons at Somerset under his belt, Dockrell is still only 22. The canny spinner was named the ICC Associate Player of the Year in 2012, and he has been touted to follow Eoin Morgan into England colours.

AFP/Getty Images

7/10 Kane Williamson, 24, New Zealand

Williamson is the most consistent performer in a dangerous New Zealand batting line-up, his devastating recent form in all forms of cricket cementing his reputation as one of the most exciting, talented batsmen in world cricket. Having recently had his action cleared, he can now resume bowling his useful off-spin.

Getty Images

8/10 Ahmed Shehzad, 23, Pakistan

Despite his tender age, Shehzad boasts a wealth of experience, with over 50 ODI appearances and six centuries to his name. More of a classical, patient opener than a David Warner-esque pinch-hitter, he will lay the foundation from which Pakistan's big-hitting middle order can tee off.

AFP/Getty Images

9/10 Quinton de Kock, 22, South Africa

Since making his debut just after his 20th birthday, De Kock has been an aggressive, punchy performer at the top of the South African order, plundering six hundreds in just 36 matches. A tidy gloveman, who by taking over keeping duties has allowed AB De Villiers to focus on his batting, to devastating effect.

AFP/Getty Images

10/10 Tendai Chatara, 23, Zimbabwe

An athletic opening bowler with a curious, idiosyncratic action, Chatara takes the ball away from the right-hander at decent pace and is Zimbabwe's key strike bowler. His maiden Test five-wicket haul set up a famous victory over Pakistan in 2013.

AFP/Getty Images
Deep down they knew that defeat in both was eminently possible but never, no matter how far into the depths of their souls they searched, would they or anyone else have thought that there could be two such old-fashioned thrashings. If it says little for the players' understanding of how to play in big-time contests, it perhaps says somewhat less for the retinue of coaches.
In its way, the Cricket World Cup, like the Olympic Games or the Football World Cup, is all about reaching a peak every four years. That is why England juggled with their programme, to give themselves the best chance of changing years of failure. When thing started to go badly wrong, they sacked their captain, Alastair Cook, six weeks before the tournament began and replaced him with Eoin Morgan.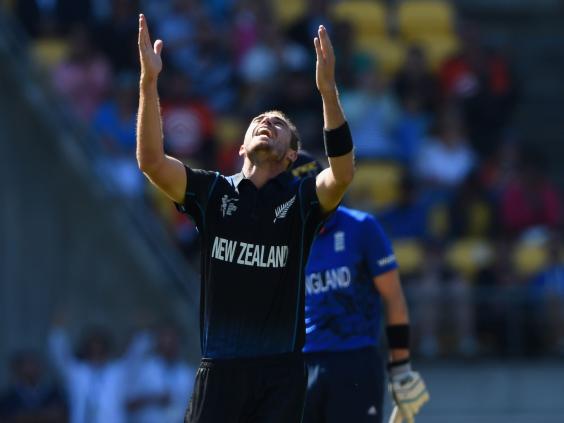 It is not exactly looking like a masterstroke. Morgan is badly out form and after events yesterday he was in something of a daze, perfectly accepting of what had just happened but unsure how it had and what might be done about it beyond improving as a team.
The next match is against Scotland in Christchurch on Monday and it is one that England should cruise. But victory will mean nothing i9n the bigger picture. Somehow, England have to assemble a display befitting the competition.
Their first and as it turned out catastrophic error yesterday was to bat on winning the toss. They like chasing targets but after their experience against Australia on Saturday when 343 proved well beyond them they were rather more relcuctant.
From the outset, Southee and his new ball partner, Trent Boult, swung the ball. Unusual perhaps in one-day cricket these days but nothing too untoward for English batsmen brought up to rebuff the swinging ball.
Southee was exemplary. He removed Ian Bell with a beauty and then tricked Moeen Ali with a bouncer, yorker combination. There was something of a recovery, a determination that they would not roll over and have their tummies tickled. Then they rolled over and had their tummies tickled.
Morgan, anxious to attack, desperate to stamp his imprint on proceedings, had scratched around for 40 balls, half a lifetime longer than he has lately occupied the crease. He essayed a straight drive, it was short of the ropes and Adam Mile clung on to a superb running, diving catch. Half a chance, Morgan mused later, but actually meat and drink to today's athletic fielders.
Southee, off after five overs, was instantly summoned back and just as quickly disrupted the rest of England's innings. Of his seven victims, the best return by a New Zealander in an ODI, four were bowled, all with late full swing. Those who say it is a batsman's game – which it is – also might fail to appreciate that the modern batsman is not necessarily equipped to deal with high calibre bowling of this quality.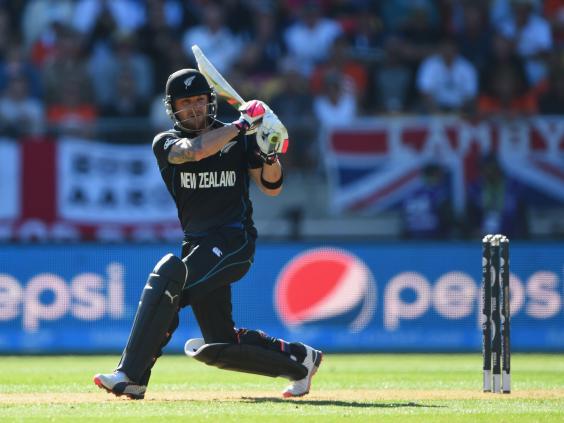 Mostly, they could not lay a bat on it and when they did it was slightly embarrassing. What happened after England were dismissed was entirely predictable. Brendon McCullum, one of the great sluggers of the modern era, slugged to his heart's content: 77 came from 25 balls which included seven sixes, four of them in successive deliveries from Steve Finn. 
This was a great New Zealand performance by a team who were indeed prepared for the World Cup. In the World Twenty20 last year, England were defeated by Netherlands in a match which had nothing riding on it. This felt worse. All the planning is hot air.
The players are not fit to compete against the better sides and results patently show it. One-day cricket has passed them by. They insist they are now playing a different brand of it but they can hardly emerge from the starting blocks to show it.
The quarter finals of the 2015 World Cup still loom, so generous is the price of failure given the composition. Then they would be only two matches away from the final. But that is not going to happen. The first task before any of that is to beat Scotland on Monday. The Scots have nothing to lose, the English can lose anything.
Reuse content