This is becoming silly. England, set an apparently daunting target of 350 runs to win, made them with delightful, dismissive ease with seven wickets and 36 balls to spare.
It could be said that they have joined the 21st century of one-day cricket, not yet part of the inner circle perhaps, but members of the club. Eoin Morgan, their captain, who had spent a year faffing about wondering where his next run was coming from, made a glorious 113 from 82 balls with 12 fours and five sixes, the fourth consecutive time he has passed fifty in  this series.
There was an unbeaten century too for Joe Root – no surprise there and his sixth in ODIs. His third-wicket partnership of 198 with Morgan effectively ensured that England levelled the series against New Zealand at 2-2. The decider, much anticipated now, is in Durham on Saturday.
Their approach to the matter in hand was made considerably more straightforward because Alex Hales and Jason Roy put on 100 for the first wicket. The 97 that came during their 10-over powerplay was a record for any England team.
But then records are being smashed at every turn, giving cause to wonder what took England so long. This was England's largest successful chase, overtaking the 304 they pursued in Karachi 15 years ago when Andrew Flintoff announced himself on the international stage.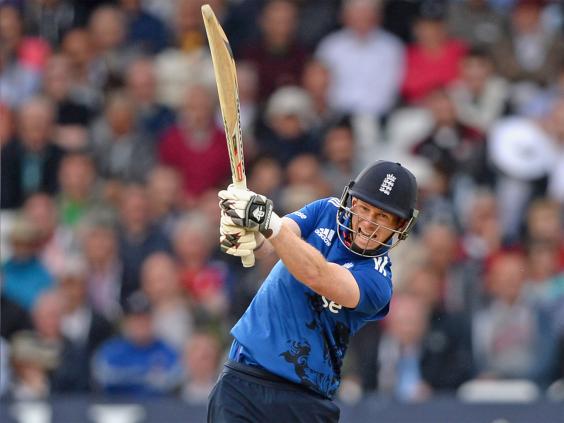 In 27 previous times of asking they had won only twice when set 300 or more.  And this was the fourth time in succession that they had passed that figure. What was once as rare as gold doubloons is now common currency.
It was an exemplary innings, not least because it never seemed in doubt. They began rapidly – how ironic it seems that the first over was a maiden – and then kept their foot on the gas.
Nor did they appear to be slogging. But Morgan ran down the pitch at New Zealand's seamers and Root's placement was superb. It was their obvious certainty that the target was so attainable that took the breath away.
This was not quite a perfect performance because they made errors in the field which might have proved costly. Equally, their target might have been higher but for some splendid bowling at a crucial time.
The course of New Zealand's innings was fascinating. For most of the first part they were in control and another total approaching, or above, 400 was in prospect.
This was aided and abetted by England dropping several catches. None was easy, all might have attracted a degree of praise but in these times of batting plenty every scrap offered has to be devoured as if they were crumbs to a starving man.
But England's attacking fields – intent, the word of the moment, written all over them – brought them key wickets and reduced the gallop to a canter. However, it left them short of bowling options at the end and the tourists capitalised.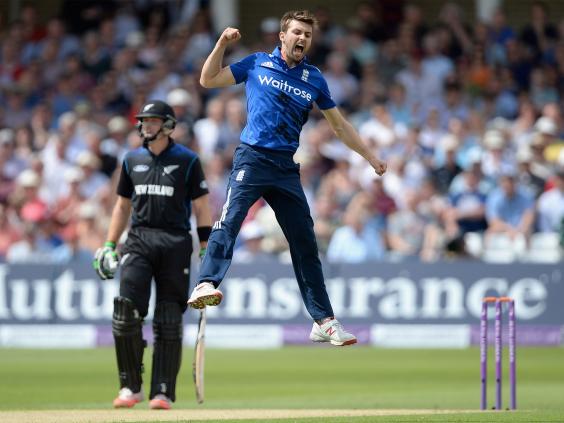 Even in these crazy times, a total of 349 can be expected to win many more matches than it loses. It was constructed around a brisk start and a characteristically dominant partnership which followed.
Brendon McCullum, short of his best this summer, and Martin Guptill, with his second fifty of the series, provided a solid base with an opening partnership of 88. When Guptill went at 116 in the 19th the stage was left, as it has been since the sides started their one-day business, to Kane Williamson and Ross Taylor.
Williamson is among the most watchable of all batsmen. He is operating in an era when anything goes, yet he relies largely on the old verities of timing and touch.
It was the ninth time that he and Taylor had shared a century stand in an ODI, the third in succession in this series. Morgan had to gamble on dismissing them or the damage might have been terminal (if that can now be said of any first-innings total under 400). The batting powerplay helped him.
Steve Finn, brought back for his second spell, dismissed Taylor almost immediately and then, wonder of wonders and almost as valuably, bowled a maiden in the 37th over of the innings. Between the 30th and 40th overs, New Zealand added 54 and when Williamson drove a slower ball from David Willey to  mid-off they were in mild trouble.
But the last 10 overs yielded 108 runs, the last five 68. Morgan, with his seam exhausted, had to summon Adil Rashid's leg-spin for two of the  last three overs. It has  often been surmised how  spin might fare in the closing overs. The answer came with 28, all struck by Mitchell Santner.
Rashid atoned in the final over – Morgan is to be commended for keeping the faith when he might have been tempted to turn to almost  anyone – by taking a wicket and conceding only five runs. In the event, it barely mattered.
Reuse content