Normal service was resumed on the second day at Headingley. Gone was the barnstorming stuff and in came Test cricket as it says it should be played on the tin. England, steadfastly declining (probably with stiff upper lips and all) to be carried away by New Zealand's wacky approach, brought back a semblance of familiarity.
Some in the shires would say it was welcome. While the tourists had rattled along at almost five runs an over, England settled down to bat at slightly under three. It allowed for the drawing of breath. It was only partially effective.
Having batted in measured fashion for most of the second day of the Second Investec Test, they were severely disturbed in the evening as the second new ball did its work under floodlights that came on for the first time in a Leeds Test. A score of 253 for 5 at the close from 88 overs (New Zealand would have made about 420 in that time) was not quite what they had in mind. The runs they wilfully conceded at the start of the day may come to haunt England.
They are now torn between careful rebuilding and stepping on the gas. The series could be level by tomorrow.
It was a superb response by the tourists, who had laboured long as England's opening pair of Alastair Cook and Adam Lyth both reached personal milestones in compiling a determinedly assiduous first-wicket partnership of 177 which was almost completely at odds with the batting that had gone before it.
Lyth, the new opener in only his second match, fashioned a crisp maiden hundred, which was important not only in the context of this match but for the Ashes, which are now only 38 days away. After being dismissed cheaply twice at Lord's on his debut he needed to make runs in the match for both his own peace of mind and that of the selectors. They are running out of openers to try.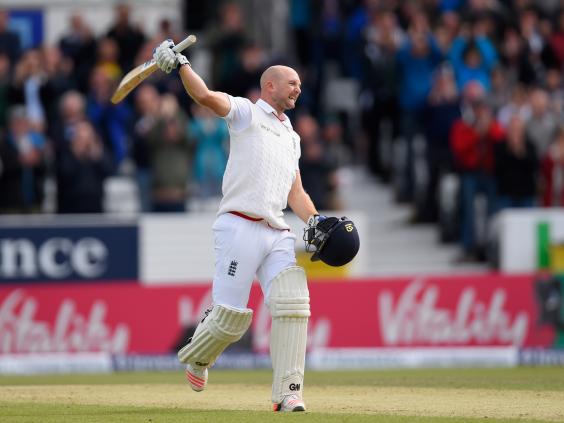 Cook passed Graham Gooch's record total of 8,900 Test runs for England which has stood for almost 22 years. This liaison was itself welcome and in the light of subsequent events vital, since it was the first century stand by England's opening pair at home since 2011, when the director of cricket, Andrew Strauss, was still Cook's sidekick.
It was neatly assembled against bowling which usually observed the proprieties – unlike England at the start of the day – but was possibly somewhat gentler than what Australia may have up their sleeve. Cook was the first to depart, sweeping against the tight off-spin of Mark Craig, who clearly enjoyed bowling to two left-handers from round the wicket. New Zealand needed a review for the verdict of S Ravi, who has not exactly been at home with the lbw law in either match of this series, to be overturned.
But it was the run-out of Lyth which created the crucial opening. There seemed every chance from the look of him that Lyth, who has been in cracking form for a year, would have gone on to add another 100 on a placid surface he knows so well. But his county colleague Gary Ballance served him poorly by calling for a dodgy single when he pushed to backward point. Lyth was run out by a foot by Trent Boult's swoop and throw over the stumps after facing 212 balls and hitting 15 fours. Ballance went on to play a fitful innings. He produced some corking back-foot shots but was as usual loath to come forward. He was undone by the second new ball, his feet planted on the crease as Boult's delivery bent away from the bat to hit off stump.
Next over, Tim Southee found some fierce away-swing to locate Joe Root's edge, and when Ben Stokes was held at second slip, fencing at another swinger from the excellent Boult, the advantage was with New Zealand. England had a poor first hour and a poor last hour – otherwise it would have been their day.
Lyth was admirably phlegmatic, waiting for the wayward ball, of which he usually took advantage. That apart, he was content to leave well alone. The influence of the Kiwi Cavaliers had not rubbed off. The 27-year-old became only the sixth Yorkshireman to score a Test hundred at Headingley, the second after Root only two years ago to score his first at the ground, and the first opener from the county since Geoff Boycott made 191 in 1977, his 100th hundred.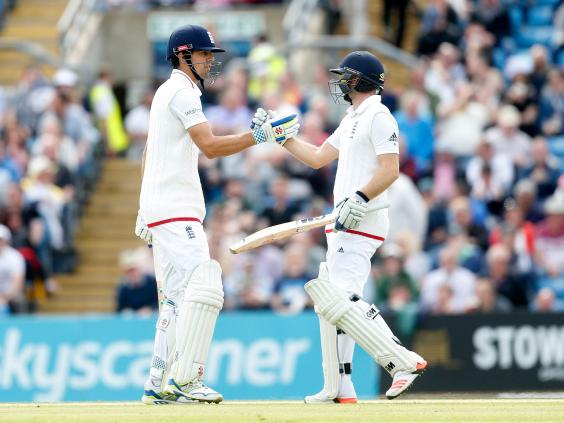 They loved it in what used to be the Western Terrace but is now the White Rose Stand, whence Lyth was cheered by people dressed in garb which varied from female flight attendants (all burly men with beer bellies and beards) to Where's Wally lookalikes.
Cook appears to be fully restored to form, the perpetual caveat of the next series notwithstanding. The main feature of his innings was his studied leave of balls outside off stump. There was nary a waft or a fence, his trademark strokes when times are tough, in sight.
He can be immensely proud not only of his achievements in standing at the top of the England scoring charts, now ahead of his mentor and personal coach, Gooch, but also for withstanding the slings, arrows and a good many verbal barbs of the last year. This was his eighth score above fifty in his past 13 innings.
But England need to win this match, or draw it at the very least, to convince the gainsayers that they can tackle the more arduous tasks ahead. Unfortunately their bowling in the morning was that of numbskulls.
Rather than pitch the ball up, not full but as full you dare, which Headingley experts say is essential, they decided on a short-pitched barrage. New Zealand simply swung merrily away, neither intimidated nor disconcerted.
The tourists lost their last two wickets in 7.1 overs but scored 53 runs in that time to take their total to 350, about 100 more than England would have liked. They may prove invaluable.
Reuse content