During a long afternoon yesterday when everything was going wrong for England, Alastair Cook left the field. Speculation was rife. Either he was answering a call of nature or offering his resignation as captain. At that moment, both seemed equally possible. It was that kind of day.
In the event, without any official confirmation, it must be assumed that it was the former, unless it was the  latter and he was told to wait until later in the week. Cook is a tough, single-minded customer who has been charged with leading a new England Test side, an admirably decisive leap of faith which was not accorded universal approval.
The fourth day of the  second Test went abysmally for Cook and his team. They have allowed a match over which they had almost total control on the second afternoon to run completely away from them.
Sri Lanka, sensing the shift, were magnificent. Led valiantly and magisterially by captain Angelo Mathews, who scored the most authoritative of centuries, they turned a first-innings deficit of 108 into a lead of 349.
Mathews and Rangana Herath shared a partnership of 149, the second highest for the eighth wicket in a Test match at Headingley, and made England look ragged, bereft of gumption and ideas. The strategy looked plain: when plan A was not working, try plan A.
When England batted about a day and a half later than they would have at one time expected – if they expected to bat at all in the second innings – it all went horribly wrong again. By the merciful end of the day they were 57 for 5, 293 runs short of their target.
Sri Lanka's bowlers, especially Dhammika Prasad, who had a Test bowling average of 56, did what England's more illustrious bunch did not. They pitched the ball up. Never underestimate the old verities. 
A bright enough start was followed by Cook's inevitable dismissal, dragging a pull shot on to his stumps, and Gary Ballance was lbw first ball. Sam Robson was caught, misguidedly pushing hard at a ball wide of off stump. Ian Bell was bowled by a peach which went through the gate, Liam Plunkett, the nightwatchman astonishingly drove high to cover in the day's last over. It was carnage.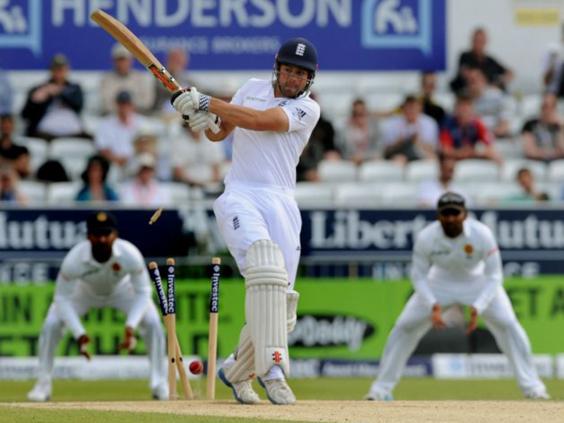 Cook has some serious thinking to do. He is scoring no runs, the team are performing poorly under his stewardship to the extent of throwing away dominant positions. Goodwill can take him – and those who appointed him – only so far. Sri Lanka have played with intelligence and spirit but they are no great shakes as a Test team. For England to lose a home series was on nobody's agenda when Cook's re-appointment was rubber-stamped.
For a little more than five hours, Mathews toyed with England. He played with cunning and power in making his highest Test score of 160.
England had no response. They never veered from their ploy of defensive fields at Mathews while trying to ensure that Herath had the bowling. Mathews played them for suckers, counting the balls to perfection, choosing when he wished to hit a boundary or take a single.
For long enough, Cook resolutely rotated his four-pronged pace attack, all of whom, to a greater or lesser degree, were rendered innocuous. It was a position which demanded a spinner and here Cook was flummoxed.
England have recruited Moeen Ali as their spinner in this series and made it clear that he is a part-timer. It has become as plain as the beard on his face that either England trust him more or they pick an authentic full-time spinner.
By the time Cook turned to him – at least it was after 29 overs rather than the 56 that had passed on the third day – Mathews was in his pomp and the left-handed Herath was settled. It made no sense not to have a spinner operating on a dry, worn pitch.
England were the more  culpable in this passage of play considering what had happened earlier in the day. At the start of play, they showed so little intent that Sri Lanka, with Mahela Jayawardene and Mathews at the crease, were put under no pressure.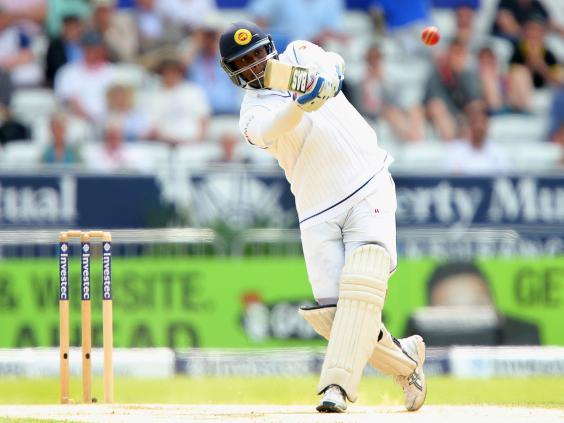 It was evident that England were awaiting the second new ball, which arrived after seven overs. They used it abjectly, Jimmy Anderson and Stuart Broad, one of the country's most durable opening pairs, were too short and too wide.
Without warning, England dragged themselves back into it. Jayawardene chased a ball from Anderson, which was at last more or less the required length. Plunkett then took two wickets in two balls for the second time in the match, both catches in the deep which persuaded Mathews to throw down his bat in disgust.
Sri Lanka's lead then was less than 170, which might have been as big as they could have hoped at one stage but hardly made them immune from match and series defeat. But for the second time in the day, perhaps the fifth in the Test, England failed to make the advantage count.
Sri Lanka, make no mistake, have been the tougher team in this match. Mathews has embodied that and, from the moment he came in at 176 for 4 on the third evening, he played in a calculated fashion designed to annoy England. And England fell for it. By pretty early in the afternoon hands were in pockets, shoulders were slumped, fielders ambled into position.
Anderson and Broad looked distinctly weary and, when umpire Billy Bowden wrongly called Anderson for a wide and then denied him a patent catch behind off an edge he looked beyond grumpy.
The reaction to their performance in this match may be more extreme.
Headingley scoreboard
Second Test (fourth day of five): England, with five second-innings wickets in hand, require 293 runs to beat Sri Lanka
England won toss
SRI LANKA  First innings  257 (Sangakkara 79, Plunkett 5-64)
ENGLAND  First innings  365 (Robson 127, Ballance 74, Bell 64, Mathews 4-44, Eranga 4-93)
SRI LANKA  Second Innings  Overnight 214-4 (Sangakkara 55)
D P M D Jayawardene c Prior b Anderson 79
168 balls 0 sixes 8 fours
*A D Mathews c Ali b Anderson 160
249 balls 1 six 25 fours
†L D Chandimal c Ballance b Plunkett 7
12 balls 0 sixes 1 four
K T G D Prasad c Root b Plunkett 0
1 balls 0 sixes 0 fours
H M R K B Herath run out 48
82 balls 0 sixes 9 fours
R M S Eranga not out 20
19 balls 0 sixes 4 fours
N Pradeep b Anderson 0
1 balls 0 sixes 0 fours
Extras (b5 lb10 w10 nb5) 30
Total (132.5 overs) 457
Fall 1-40, 2-93, 3-172, 4-176, 5-268, 6-277, 7-277, 8-426, 9-437.
Bowling: J M Anderson: 25.5-5-91-3 (1w) (9-3-15-0; 3-0-17-0; 7-1-28-1; 6.5-1-31-2), S C J Broad: 29-6-86-0 (1w) (5-2-13-0; 5-2-18-0; 8-1-20-0; 4-1-5-0; 3-0-11-0; 4-0-19-0), CJ Jordan: 28-8-79-0 (2nb) (8-2-16-0; 7-2-13-0; 7-2-27-0; 6-2-23-0), L E Plunkett: 29-2-112-4 (3nb) (4w) (3-1-18-1; 3-0-7-0; 5-0-14-1; 3-0-6-0; 4-0-24-0; 10-1-32-2; 1-0-11-0), M M Ali: 21-0-74-2 (1-0-2-0; 8-0-24-2; 1-0-6-0; 11-0-42-0).
ENGLAND  Second Innings
S D Robson c Jayawardene b Prasad 24
61 balls 0 sixes 2 fours
*A N Cook b Prasad 16
39 balls 0 sixes 1 four
G S Ballance lbw b Prasad 0
1 balls 0 sixes 0 fours
I R Bell b Prasad 8
30 balls 0 sixes 0 fours
J E Root not out 6
16 balls 0 sixes 1 four
L E Plunkett c Pradeep b Herath 0
12 balls 0 sixes 0 fours
Extras (lb1 w1 nb1) 3
Total (for 5, 26.2 overs) 57
Fall: 1-39, 2-39, 3-50, 4-52, 5-57.
To bat: M M Ali, †M J Prior, C J Jordan, S C J Broad, J M Anderson.
Bowling: N Pradeep: 4-1-11-0 (1nb) (4-1-11-0), R M S Eranga: 4-1-10-0 (1 spell), H M R K B Herath: 9.2-3-13-1 (1 spell), A D Mathews: 3-0-7-0 (1 spell), K T G D Prasad: 6-1-15-4 (1w) (1 spell).
Progress: Fourth day: Sri Lanka: 250 in 79.1 overs, A D Mathews: 50 off 81 balls (6 fours), 300 runs in 94.5 overs, Lunch: 311-7 in 99 overs (A D Mathews 79, H M R K B Herath 7), A D Mathews: 100 off 153 balls (14 fours, 1 six), 350 in 110.3 overs, 400 runs in 121.6 overs, Tea: 426-8 in 126 overs (AD Mathews 149), A D Mathews: 150 off 232 balls (23 fours, 1 six), 450 in 132.2 overs, Innings break: 457 in 132.5 overs (R M S Eranga 20)
England: 50 in 19.3 overs, Close: 57-5 in 26.2 overs (J E Root 6)
Umpires BF Bowden (New Zealand) and S J Davis (Australia).
TV umpire P R Reiffel (Australia).
Match referee AJ Pycroft (Zimbabwe).
Reuse content