England need 240 runs tomorrow to beat Sri Lanka on the second day of their one-day match. If that sounds like a contradiction in terms it also demonstrated the unfortunately necessary foresight of those who scheduled this series at a time of year when it is likely to rain in this country.
Thus, reserve days were built into five of the seven fixtures, so that one-day matches could become two-day matches. Three-day matches, which might have been required, were probably ruled out on the grounds that the players would not have been home in time for Christmas, or perhaps before the World Cup starts in February, or perhaps because they would then have needed to make them first-class.
The target will be testing but a night's sleep and an opportunity to regroup will make reaching it a sounder proposition than it would have been had the tourists been required to chase it tonight under lights.
Assuming the rain stays away from Kandy – which is no certainty but for some  reason it seems to rain mostly at night here – they will start and complete their innings in daylight.
On a slow pitch which granted generous turn, England ought to have restricted their opponents to fewer runs. Dismissing them after 49 overs of the allocated 50 illustrated the difficulties of the pitch for batting but did not reflect the intermittent indifference of much of the England bowling.
True, they ran into a supremely dogged Kumar Sangakkara, who assessed the requirements almost perfectly and was supreme in trying to force the bowlers to change their lengths. However, his wisdom, born of playing 388 ODIs, was often not matched – it could not be – by an attack which has not played that many between them.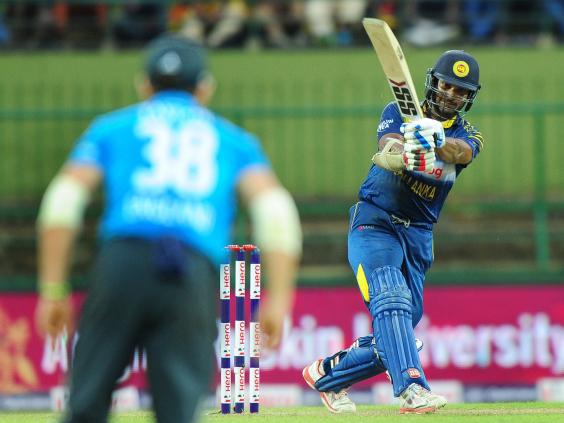 There were good things on show here from the tourists. The most prominent was the return of Chris Woakes, whose 6 for 47 made him the first England bowler to take six wickets twice in a one-day international innings. He also did it at Brisbane in 2011 but will not wish to be reminded that his 6 for 45 then was in a losing cause.
Six other players have taken six or more wickets twice in a one-dayer, though Waqar Younis of Pakistan rather upstaged the lot of them by doing it five times. Woakes was not ill-deserving of his haul today and he led England off at the interval just before the rain began – and did not stop.
But he was not the best of England's bowlers and especially in his first spell was too short in length, a fault which has afflicted him throughout the series. The specialist off-spinner James Tredwell, recalled after missing two matches, was guileful and intelligent in the face of Sangakkara's high-class exhibition. Chris Jordan was always in the game.
There is no doubt that Sangakkara is a man on mission in this series, which will be his last on home soil. He is utterly determined and would have loved nothing more than to score a century on his last appearance in his home town of Kandy.
He cut adeptly by staying back in the crease but was not afraid to dance down the pitch. These were calculated risks and he fell for 91 from 123 balls with 10 boundaries.
The status of the pitch was reflected in the fact that England used 25 overs of spin, which is not generally part of their strategy in one-day or even two-day cricket.
Sangakkara found a key ally in his captain, Angelo Mathews, and the 85 they shared in the middle of the innings was crucial. Equally, towards the end when wickets had clattered, Thisara Perera scored a breakneck 27, again greedily seizing on the short ball which perhaps stopped him hitting sixes off the ones of good length.
England may be glad of the break. A result is likely. It could start giving administrators fancy ideas.
Reuse content