There was a small wobble towards the end, but it must be remembered who we are talking about here.
However, England averted the mother of all muck-ups and duly won the fifth one-day international against Sri Lanka yesterday to make it 3-2 in the series with two to play.
The outstanding individual contribution in their pursuit of 240 to win came from Joe Root, who scored his third limited-overs hundred of the year and his sixth in all. It was a consummately measured innings – it needed to be – exuding a calm air of craftsmanship which was itself a reflection of Root's status in this team now.
Given the recent revelation that he has taken up the ukulele, with much more proficiency than he has admitted, it would have been entirely fitting for him to give the dressing room a blast of George Formby's "It's Turned Out Nice Again".
Root was unbeaten on 104 from 117 balls with seven fours and a six, which was slog-swept with absolute authority just as England were threatening to make a porridge of matters.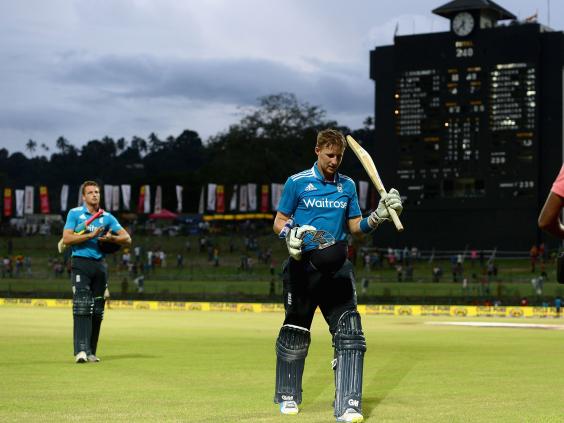 He was given important assistance, first by James Taylor in a partnership of 104 for the third wicket and then by Ravi Bopara, with whom he shared 86 for the fourth. What made it exceptional was that England did not panic, which has frequently been their default position in the past whether faced with targets big or small.
"That is a really important win," said England's captain, Alastair Cook. "I thought the way Kumar Sangakkara played in Sri Lanka's innings was just a masterclass in batting and I thought Rooty hit the same level as that. Sanga was brilliant and when Rooty went on and was there at the end, that was in the same league."
The ball did not turn as much as it did for England on the first day of this elongated match. Perhaps the pitch changed its nature or perhaps, more improbably, England simply imparted more spin, but no matter. Confronted with four slow bowlers, all of different varieties, the tourists coped admirably, remembering that all (all!) they had to do was keep the board ticking over. Big shots were not required.
Considering the start they had, this was all the more laudable. Sachithra Senanayake, returning after his banishment for having an illegal action which has now been rectified, took two wickets in a keen opening spell which adhered entirely to the bowling regulations.
It was simple accuracy rather than deception of flight or turn which did for Moeen Ali, essaying a prematurely expansive drive on the charge, then for Cook, who played round a straight one and thus continued a lean run whose predictability may yet give his team cause for regret. But Taylor and Root, when he settled, shrewdly took stock. They were perpetually busy, they scampered singles, they enjoyed themselves.
Root said: "It's great to see him come in and play like that, he's done it in domestic cricket for a long time now and for him to come into international cricket and do that, it's really refreshing.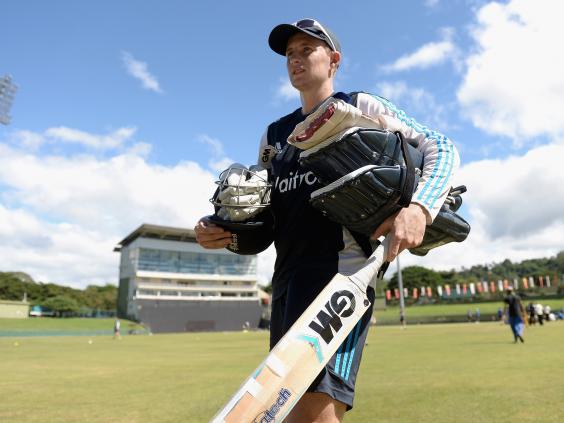 "We have good fun out there and enjoy each other's company. We knew it wasn't a huge score but it was quite a tricky one because of the wicket so we tried to make sure we rotated well, without using up too many dot balls and, if we had the boundary option, to take it."
Taylor was out to an attempted pull when the bat appeared to twist in his hands, one of the perils of batting in such humidity. But Bopara brought all his experience to bear and with five overs to go, England were cruising.
It was simple but with this England it can never be so. A couple of miserly overs increased the rate uncomfortably to a little under a run a ball for the first time. Bopara decided it was time to take charge but could not quite clear the long boundary, where he was neatly caught.
Eoin Morgan nervelessly reverse-swept his first ball for four but that still left 11 runs wanted from 12 balls. Root had to assume command, which he did with a six heaved over long-on from outside his off stump to take him to a hundred.
Going for glory with a boundary, Morgan was caught in the deep. But even England were safe from here and Jos Buttler duly took the two to finish it with five balls to spare. In a way, the judgement of the chase was exemplary.
The sixth match of this long, if not interminable series is tomorrow and for England to be in a position where they can still win it is something of an achievement. They are doing it despite the form of their captain. "If we play anything like that we can put pressure on Sri Lanka," said Cook. "But as we know, the challenge of it is: can we back it up?" For Cook the challenge goes much deeper.
Reuse content