The Australian men's team are the underdogs in the current Ashes series, but their female counterparts  will start as marginal favourites when the women's equivalent begins at this picturesque ground in Buckinghamshire tomorrow.
The Southern Stars, as the Australians are known, will defend the Ashes – and there are some, a bat signed by both sides having been ceremonially burned following a Test at Lord's in 1998 and the remains encased in a trophy – over a series comprising a Test, three one-day internationals and three T20 matches.
The second and third of those T20s will be played directly before the men's matches at the end of this month, but interest in the increasingly strong women's game is such that many of the players will need little introduction to what are likely to be full houses in Southampton and Durham.
Given Australia are also the current world one-day and T20 champions, the format of six points for winning the Test and two points for winning each of the shorter format fixtures appears to improve their winning chances still further, but recent matches between the sides have been decided by such fine margins – Australia winning by two runs in a World Cup match in Mumbai earlier this year, and by four runs in the World T20 final last October – that England are confident home advantage can make the difference.
"We can't wait to get at them to be honest," said England's Sarah Taylor, ICC world top-ranked batter. "I like the format, the more matches we have in front of our supporters the better. We're a young side overall, but most of us have a lot of experience now and the warm-up games have gone well."
In Taylor and captain Charlotte Edwards England have probably the two best and most technically correct batters in women's international cricket. At 33 Edwards remains the most consistent accumulator in the game, and her hunger for runs appears to be increasing as standards rise. Taylor's prowess with both bat and gloves is such that Sussex seriously contemplated drafting her into to the county's second XI earlier this season.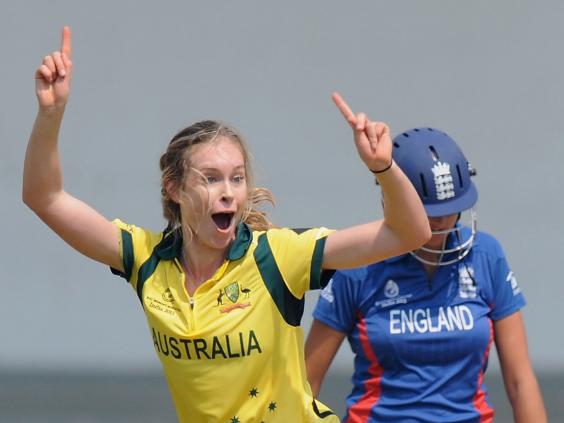 They will however be facing a genuinely impressive bowling attack spear-headed by two young, athletic pace bowlers in Ellyse Perry and the 17-year-old Holly Ferling, both of whom consistently deliver the ball at over 75mph. As well as her pace, Ferling, who has grown up playing men's grade cricket in Queensland, gets a steep bounce that makes her consistently dangerous.
Perry, a dual international who also represents her country at football, proved she had recovered from an ankle injury by taking three wickets in a competitive warm-up match at Radlett last week.
After years of struggling for resources, the Australians are now – like the England players – also relatively well-supported. A restructuring announced in May saw 14 leading players given contracts which will see them earn up to $80,000 (£47,500), while there has also been a substantial increase in the player tour payments, from $100 (£59) to $250 (£148) a day. Ashes to Ashes: How England can win
How does the series work?
Unlike previous series, which were decided on one-off Tests, England will play seven matches against Australia, beginning tomorrow with a four-day Test, then three one day internationals and the same number of Twenty20 games
How will the series be decided?
Six points are on offer for the winner of the Test match, while victories in the one day and Twenty20 games will be worth two points.
* Fixtures
Sunday Test match; Wormsley Cricket Ground
20 August First ODI; Lord's
23 August Second ODI; County Ground, Hove
25 August Third ODI; Hove
27 August First T20I; County Ground, Chelmsford
29 August Second T20I; Rose Bowl, Southampton
31 August Third T20I; Durham ICG
Reuse content