"You and your colleagues may be completely unaware of the potentially explosive situation that will greet you," wrote Peter Hain in a letter to Mike Gatting on the eve of one of cricket's most controversial tours – but as the England captain and his rebels prepared to step off the plane in Johannesburg 25 years ago this week, they had no idea just how prescient those words were.
That rebel tour to South Africa – the second by an England side – proved to be one of the most ill-judged in history. Heavily criticised by those pushing for meaningful change in a country ruled by apartheid and teetering on the edge, Gatting and his 15 fellow tourists were accused of chasing "blood money" by journalists and campaigners across the world.
Despite claims by David Graveney, who was both a player and manager on the tour, that the side were travelling to South Africa to "bring about change and to provide new opportunities for all communities", the commonly held view was that the rebels were only interested in money.
A quarter of a century on, the rewards on offer to the modern-day player are a world away from the remuneration enjoyed by players in an era when the security of central contracts was unheard of.
When the touring party was first announced England were midway through the most miserable summer in living memory. In the process of getting trounced 4-0 by Allan Border's Australians, England would use 29 players, many of whom would be on that plane the following January.
Paul Jarvis, a 24-year-old with six Test caps, summed up the dilemma facing the players at the time. "I would have to play in every Test match at home and away for the next six years to earn as much as £80,000 after tax," he said.
"As a fast bowler with a history of injuries I do not think that is possible. I have had back and circulation problems and I could be injured and out of the game for a long spell and no one would care. I have a £66,500 mortgage, a large overdraft at the bank and only a guaranteed income of £10,000 a year  from Yorkshire."
For Sussex's Alan Wells, it was a lack of international opportunities that led him to join the tour. "Back then the TCCB [Test and County Cricket Board] would send out letters to players asking for their availability should they be selected for England in the coming 12 months," he tells The Independent. "I wasn't even in that group of 50, even though I was scoring runs in county cricket. I just thought I had no chance, I was in my late twenties and was coming into my prime. At the same time I was invited on the tour and, although the three-year ban was a consideration, the financial rewards were obviously attractive."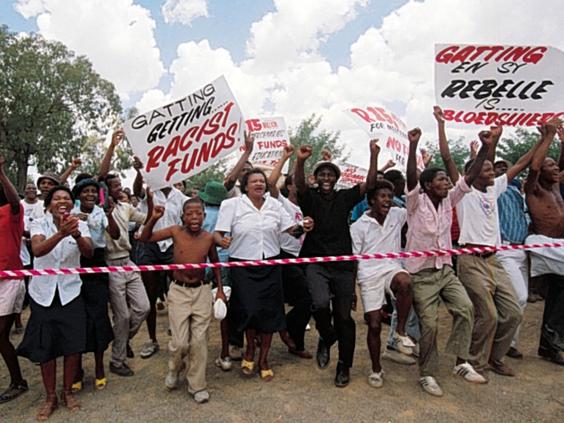 Wells insists most of his colleagues were sympathetic to his reasons for touring but that did not stop some calling for the rebels to be banned, not just from internationals but from the domestic game too.
An England statement declared: "As employees of the 17 county clubs who constitute the TCCB, their first and only loyalty should be to English cricket."
And if the decision to tour was greeted with fury here, that was nothing compared with the reception the news received in South Africa. Krish Naidoo, then general secretary of the National Sports Congress (NSC), warned Gatting and his tourists the South African Cricket Union (SACU) could end up with blood on its hands. "We will hold the SACU directly responsible for all repercussions that will arise through the anger of our people," he said.
"We are convinced that no sane and responsible business will sponsor the tour. The SACU will be compelled to rally round the South African government and its agencies to snatch the taxpayers' monies for its own selfish interest to entrench racism in sport."
It did not take long for Gatting's men to appreciate how deep these feelings ran. After a three-hour delay at Heathrow following a bomb scare, tear gas and dogs were used to break up an anti-apartheid protest at Jan Smuts Airport. Among the demonstrators was Winnie Mandela, whose husband Nelson would be released from his 27-year incarceration three weeks later.
Wells insists an immense security presence sheltered them from the maelstrom that accompanied them in a country tearing itself apart. "The only time we really experienced anything was in Kimberley," he says. "There was a big demonstration around the ground when the game began and the protesters were dispersed. The demonstrators went into Kimberley and wrecked the town.
"That's when Gatting came out with his famous comment – he was tucked up by the press because we had no idea that Kimberley had been wrecked – that as far as he was concerned it was just people 'singing and dancing'. Then they showed him the pictures of cars being turned over and burnt out."
Given that Kimberley was the first fixture of the tour, it was not an auspicious start. Worse was to follow. Tear gas and rubber bullets were used to clear demonstrators in Bloemfontein before events came to a head in Pietermaritzburg on 3 February. Gatting has never been a man to shirk a challenge, but even he must have been unnerved by the sight of 4,000 protesters eager to vent their anger on a man who was rapidly becoming public enemy No 1 in England and South Africa.
"I thought Gatting might get killed out there," said Ali Bacher, South Africa's captain when they entered international exile and a key figure in the tour's organisation. "I realised for the first time that those earlier tours were peaceful only because if there had been demonstrations those people would have been locked up in jail."
Ray Jennings was part of the home team that played England in the single "Test" on the tour but it was, he recalls, far removed from international cricket. "It never really seemed like you were playing a Test match, official or otherwise," he says. "It was a strange atmosphere, you never really felt you had the support of those running the game or the government. As for the cricket, that 1989 England was nowhere near as strong as the one that toured in 1982."
By Valentines' Day 1990, the tour was cut short, with one "Test" and six one-day matches still to play. "I understand a lot more about apartheid now," said Gatting.
In an ironic twist, many of the key figures involved in the tour went on to assume roles in the England set-up. Graveney became chairman of selectors, Gatting took up a senior role at the ECB, Bruce French now works with England's wicketkeepers and Chris Broad, father of Stuart, is an ICC match referee.
Wells would play a single Test and one-day international against the West Indies in 1995. "There was no real animosity towards us when we returned," says Wells. "Gatting got most of the stick because he was the one who continually fronted up to the press, he was outspoken, always willing to have a chat.
"Once South Africa returned to the international fold and those players were selected to tour India, things settled down pretty quickly. In the end, the hope of South Africa moving forward as a country was more the focus than the 16 Englishmen who went out there for six weeks to play cricket."
The rebels were forgiven. But, 25 years on, they have certainly not been forgotten.
Reuse content