England will announce their squad for the World Cup next Saturday. They must apparently observe the proprieties which apply in these matters by having a stage-managed ceremony at Lord's but the selectors could save themselves a festive scrimmage.
The 15 players who will embark for Australia early next month, initially for a triangular series and then for the tournament itself, have become clear in Sri Lanka in this past fortnight. Glorious though it is, this is not necessarily the country of choice for honing a troupe aimed at landing the biggest prize in the limited-overs game in entirely contrasting conditions, but needs must for England.
Two players on this trip are likely to be jettisoned. They are Harry Gurney, who inevitably had to play above himself if he was still to be around for Australia, and Ben Stokes, who had to play well below himself not to be around for Australia. Gurney has not quite done what he had to do, partly but not entirely through lack of opportunity. Stokes has sadly done as poorly as could have been imagined.
The two who will come in, who somehow still offer  England cause for imagining that they can defy the form book and make it all the way to the MCG on 29 March, are Jimmy Anderson and Stuart Broad. Both are in South Africa at the England fast-bowling camp on the last stages of their recoveries from injury.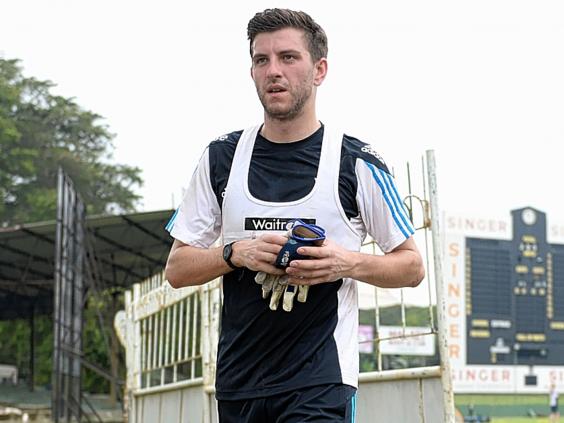 Broad, who has had an operation on a troublesome knee is making quicker progress than Anderson, whose injury did not require surgery but has been slower to respond to treatment. Both should be there in Australia in the new year but in the back of the minds of all concerned is the fact that, after the World Cup, England have 17 Test matches in the following 10 months.
Others from the World Cup long list of 30 who will merit consideration are Gary Ballance, who almost made the cut for the tour to Sri Lanka, and Tim Bresnan, whose experience of big competition cannot be lightly discarded.
From a long way out,  Gurney was likely to be surplus to requirements. In a way, he has surprised himself by coming this far but he is probably neither incisive nor accurate enough when compared with the other available seamers. His bowling at the death, with its slower-ball trickery, is usually worth seeing but others such as Chris Woakes may be entrusted with that and Gurney also suffers from having only one string to his bow.
Stokes has been utterly perplexing. It will be a year next Wednesday since he completed the Ashes century in Perth which made his name and seemed to ensure that he would be a fixture in England sides for a decade. But it has all gone awry.
After he broke a hand when punching a dressing-room locker in Barbados after a first-ball dismissal in March his international form in all formats has simply never recovered. Perhaps he is the sort of inspirational player who should be persevered with until it all clicks again but he has been a forlorn cricketer these past weeks.
Sam Billings, the Kent wicketkeeper-batsman was added to the long list yesterday in place of Craig Kieswetter, who is still being caused severe trouble by the eye which was hit by a ball last summer. Kieswetter felt he had no choice but to withdraw and may miss the whole of the 2015 season.
Billings has been in Sri Lanka with the England Performance Programme after a splendid county summer and has deeply impressed the coaches. This World Cup has come too soon for him but he is one for the future and, while Jos Buttler is hardly under threat, it is also preferable that he does not have it all his own way.
Not only are England now aware of their 15-man squad, they have probably also alighted on a preferred XI, which at this stage still includes the struggling captain, Alastair Cook. To have pulled back to 3-2 in the series, with the sixth of the seven matches being played today, is rather closer than England dared hope. It will not make a difference to next weekend's announcement but it could, of course, still go either way.
Reuse content