Eoin Morgan admitted he was "unbelievable disappointed" to crash out of the Cricket World Cup at the group stage after suffering a shock 15-run defeat to Bangladesh.
Speaking immediately after the game, in which Morgan scored his second duck of the tournament and the fifth time he has failed to register a run in his last nine One-Day International innings, Morgan said that he was at a loss to explain why England had performed so poorly in their four defeats at the World Cup, while they weren't entirely convincing in the sole victory over Scotland.
"It was pretty poor, to be knocked out of the World Cup is unbelievably disappointing," Morgan told Sky Sports. "At half-time I thought the boys had bowled well but with the short boundary and with the wicket with playing the way it was, the target was within reach.
Cricket World Cup 2015: 10 young players to watch
Cricket World Cup 2015: 10 young players to watch
1/10 Usman Ghani, 18, Afghanistan

At just over 18 years old, Ghani is the youngest player at the tournament, but the attacking opener already has an ODI century to his name. If the Aghans are to spring a shock, much will depend on him getting them off to a good start.

AFP/Getty Images

2/10 Pat Cummins, 21, Australia

With his wonderful action and searing pace, Cummins burst onto the scene when he took seven wickets as an 18-year-old Test debutant against South Africa. Terrible injuries have prevented him from adding to his solitary Test cap, but now the stage is set for Cummins to re-establish himself as one of cricket's hottest talents.

Getty Images

3/10 Mominul Haque, 23, Bangladesh

A compact left-handed batsman, Haque will occupy the No.3 spot in the Bangladeshi batting order. He has already made 24 ODI appearances, but thus far has enjoyed more success in the longer format - in 12 Test appearances he has plundered almost 1200 runs at 63.05, with four centuries.

AFP/Getty Images

4/10 Jos Buttler, 24, England

One of the genuine box-office talents in the England squad, Buttler's 121 against Sri Lanka last summer was the most eye-catching innings of the season. His keeping needs work, but as a mid- to lower-order batsman he has the talent to change the course of a game in the blink of the eye.

Getty Images

5/10 Akshar Patel, 21, India

One of the few positives of India's disastrous recent Tri-Series with Australia and England was the consistency of Patel, who was miserly and probing with his tight left-arm spin. He enjoyed a superb 2014 IPL season with 16 wickets and an economy rate of just 6.22 for Kings XI Punjab.

AFP/Getty Images

6/10 George Dockrell, 22, Ireland

Despite having been a mainstay of the Ireland side since his debut in 2010, and with four county seasons at Somerset under his belt, Dockrell is still only 22. The canny spinner was named the ICC Associate Player of the Year in 2012, and he has been touted to follow Eoin Morgan into England colours.

AFP/Getty Images

7/10 Kane Williamson, 24, New Zealand

Williamson is the most consistent performer in a dangerous New Zealand batting line-up, his devastating recent form in all forms of cricket cementing his reputation as one of the most exciting, talented batsmen in world cricket. Having recently had his action cleared, he can now resume bowling his useful off-spin.

Getty Images

8/10 Ahmed Shehzad, 23, Pakistan

Despite his tender age, Shehzad boasts a wealth of experience, with over 50 ODI appearances and six centuries to his name. More of a classical, patient opener than a David Warner-esque pinch-hitter, he will lay the foundation from which Pakistan's big-hitting middle order can tee off.

AFP/Getty Images

9/10 Quinton de Kock, 22, South Africa

Since making his debut just after his 20th birthday, De Kock has been an aggressive, punchy performer at the top of the South African order, plundering six hundreds in just 36 matches. A tidy gloveman, who by taking over keeping duties has allowed AB De Villiers to focus on his batting, to devastating effect.

AFP/Getty Images

10/10 Tendai Chatara, 23, Zimbabwe

An athletic opening bowler with a curious, idiosyncratic action, Chatara takes the ball away from the right-hander at decent pace and is Zimbabwe's key strike bowler. His maiden Test five-wicket haul set up a famous victory over Pakistan in 2013.

AFP/Getty Images
"I'm gutted, we've struggled and fallen away since we arrived here. We wanted to get to the quarter-finals and from there fight through three games. The changes which we made at the start of the tournament were necessary and I believe they were right to be made. It comes down to performance, some of our guys performed but we didn't do it as a unit.
"That's happened too often since we landed in Australia. I've no idea what happens from here. It's a surprise we've been knocked out so early."
Questions will also be aimed at head coach Peter Moores following his unsuccessful return to the England helm, and he added: "We feel hollow, we haven't played well enough. I don't know what to say, what to feel... you feel like you've let people down. I don't think we bowled as well as we could have done in the middle but we started well and ended well. The bowlers haven't bowled as well as they wanted to do, that's been reflected in results.
"We should have chased that down tonight. We haven't got a settled team, we lost two key players at the top of the order - Jonathan Trott was our number three - we accept that and move on from it. We picked the side we thought was the best team. We went for more explosive batters but we know historically we were taking a risk because more experienced teams do better in World Cups.
"I don't think Eoin Morgan is a bad captain, just because we lost tonight. The analysis we do is not how it is talked about in the press. That's not the issue, we just haven't played well enough."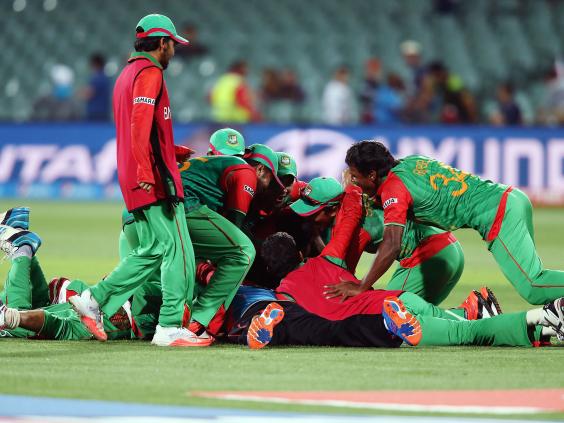 Asked why it took him the whole tournament to work out his best side, he said: "I don't think it does take them a whole tournament. We've got to take it on the chin and that's all we can do. We didn't play well enough. We thought 275 was 'chasable'. We'll have to look at the data."
The severe disappointment felt at England's defeat quickly spread through social media as former England batsman Kevin Pietersen, Michael Vaughan and Geoffrey Boycott had their say on the defeat.
Kevin Pietersen tweeted: "I CANNOT BELIVE [SIC] I JUST CANNOT! But, well done Bangladesh! You deserved it.
"DO NOT SAY WE HAVENT PRIORITISED ODI CRICKET! We played a back to back Ashes to make sure England played 6 months of ODI's before this WC!"
I CANNOT BELIVE THIS! I JUST CANNOT! But, well done Bangladesh! You deserved it! #ENGvBAN

; Kevin Pietersen (@KP24) March 9, 2015
DO NOT SAY WE HAVENT PRIORITISED ODI CRICKET! We played a back to back Ashes to make sure England played 6 months of ODI's before this WC!

; Kevin Pietersen (@KP24) March 9, 2015
"They looked more energetic, they put in a lot of effort and I thought they were up for it," Boycott said on BBC Test Match Special. "The pitch was flat and the outfield was quick, and you get 275 more often than not. They did alright until the Bangladesh seamers started bowling tight to Bell and root, and the batsmen could not rotate the strike."
Michael Vaughan tweeted: "Don't worry… I am sure some positives will have come out of this WC for @ECB_cricket #MyA***."
Reuse content