In the spring, amid general scoffing, a new batsman from Yorkshire called Gary  Ballance was asked to bat at  No 3 for England. It was a crazy idea, born of desperation. He had never done it before at any proper level, it was the blue riband position in the order, he was still learning the game. Blah, blah and blah.
By the late summer, Ballance had made three hundreds and three fifties, scored 729 Test runs in his first 13 innings in Test cricket and was chosen as the Emerging Player of the Year in the International Cricket Council annual awards. If had not arrived he was on his way. It was a masterstroke. Yet more backtracking blah.
To put the tin lid on it, he was also the subject of a tabloid story after taking off his shirt in a Nottingham nightspot and waving it above his head, a scene that was inevitably photographed. As cricketers' misdemeanours go, it was some way short of bed  breaking, busty barmaids and being out of your brains on the top of a London double-decker bus, all of which have featured in the past, but it showed at least that the old game still had the power to make the censorious bristle.
Ballance was mortified. He is reserved, a touch serious, perhaps a product of a disciplined rural boyhood in southern Africa which was finished off at Harrow School in England before he truly migrated, to Yorkshire. Indeed, the incident showed a facet of his character that had hitherto gone undetected.
Sitting on the outfield on a sweltering day at the Colts Ground in Colombo,  Ballance reflected on that small but tellingly significant part of his summer. "At the time when it came out I thought what are you doing," he said. "Looking back on it now I hope  people can laugh about it. I have learned stuff from it but I'm big enough as a person to laugh about it.
"It's quite difficult, as generally I'm quite a shy person and quite quiet, it's quite hard but playing for England there is that responsibility to get more involved with the public. I know Alastair Cook is trying to get the players more involved with them. And it is nice because the supporters are great." Perhaps that may exclude the supporter who whipped out his mobile in Nottingham as Ballance, a 24-year-old bloke relaxing after the work of a Test match, cavorted with his chums.
Ballance was born in Zimbabwe and brought up on a tobacco farm at Nyazura, between Harare and Mutare. Having first attended Peterhouse public school there, he won a sports scholarship to Harrow after the family's farm was taken away during the land reforms imposed by Robert Mugabe's government. He had already played for Zimbabwe Under-19s.
"I always wanted to come over to England and play cricket in England," he said. "You grow up watching and seeing county cricket and when I got the opportunity it was a no-brainer for me. I jumped on it straightaway and said to my parents, look I'm going over there. I had two years at Harrow, it was very different. It is a great school, definitely different but I have made some mates from there and the experience was brilliant."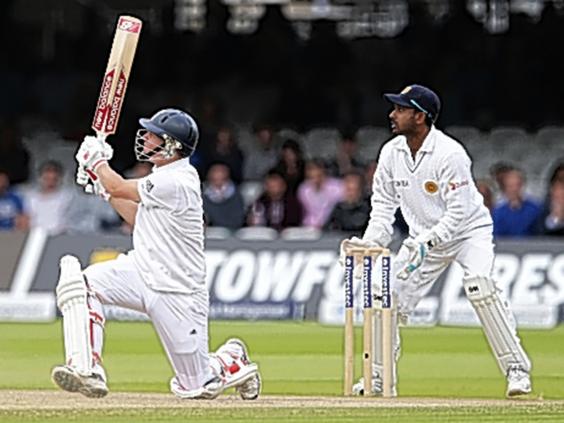 He scored a century for the school against Eton at Lord's in 2008 (which seems slightly unfair since he had already played in three one-day matches for Derbyshire). His professional break came through Dave Houghton, Zimbabwe's first (and extremely accomplished) Test captain, who was the coach at Derbyshire. Houghton was a cousin of Ballance's mother and he and his wife Shirley acted as surrogate parents when the teenager first arrived.
At 25, Ballance looks now as if he should have a substantial international career ahead of him. The other day Paul Downton, the managing director of England cricket, let slip that he expected him to be a linchpin of the Test and one-day sides in the next few years.
Having moved from  Derbyshire to Yorkshire, partly because Houghton left, he made uncertain progress. But his fortitude and skill against fast bowling seemed exceptional, his play off the back foot stood out. Over two years in an increasingly strong side, he became their most formidable performer across all formats. For a while, he and another young gun, Joe Root, shared a flat.
His 1251 Championship runs last year won him the final batting place on last winter's Ashes tour. The grapevine was  humming by now that here was the real deal. Initially earmarked for a Test middle-order berth, the outlook changed after the first warm-up match when Alastair Cook was injured and Michael Carberry sculpted a craftsman's century. Ballance had to wait until the fifth Test for his chance and looked the part without going on.
Then came this summer. England were under new management. The team were being rebuilt. Ballance, with two early-season county hundreds, would obviously be given the selectorial nod for the first Test against Sri Lanka. He did not expect what happened.
"I had batted at three in the one-dayers against Sri Lanka and did OK, not great," he said. "After that series I got a call from Paul Farbrace, the new deputy coach, asking me if I wanted to bat three. He put it as bluntly as that. He and Peter Moores and Alastair Cook had been chatting."
Ballance had to make swift arrangements. He faced much more of the new ball in the nets, he practised leaving it more often, he resolved that he had to be more patient.
"I'd done it in the second team, there's no doubt this was different," he said. "First innings I felt good but nicked off to a bad shot. I wasn't overly concerned, it was just a poor shot and then the second innings it was a good time to bat. We had a big lead, we lost a few wickets but it was nice to rebuild. I liked that pressure. It definitely gave me confidence. A lot of times I started off slowly and kind of waited for my opportunity."
Modestly, he does himself a disservice. Of that maiden hundred at Lord's, the first fifty took 130 balls as England sought to rebuild from the perils of 120 for 6, the second took 54 and he reached the landmark in the last over of the fourth day, knowing they had to declare the next morning, with a pre-determined six calmly launched into the Grand Stand. He was elated and sprinted, bucolic of face towards the pavilion
It became a kind of template for the summer. Ballance would slowly assert himself, leaving, free of risk, allowing the bowler to make the mistakes, and then he would accelerate gloriously. All the time his chubby cheeks would become rosier and rosier. Over the years to come it will be a sign: the ruddier Ballance's cheeks the more runs he has. The first double hundred should stop the traffic.
Musing on this method, he said: "It depends on the  situation. In all those situations I just felt in, I felt good, a bit more free but I am sure there will be times when I won't be able to go through those gears. But that is what I like to do. I think it was good it happened in those ways and gave me a chance to get some big scores."
He scored a hundred in his second Test at Lord's, against India, immediately following the shirtless incident and there was another in the third Test against India at Southampton when England launched their comeback.
Ballance was in Sri Lanka this month as part of the England Performance Programme, though many judges thought he should have been with the senior party. He was reasonably content, able to hone his game on slower, turning pitches, though had not wholly given up hope of making England's World Cup party.
He is predominantly a back-foot player, waiting for the ball to come to him and there is a suspicion that the fast, full length swinging delivery will cause him difficulty. This will make a change from Australians besieging him with bumpers next summer.
"I find I am at my best when I play the ball as late as I can," he said. "Some people like to get at the ball when it's seaming, I find I'm at my best letting it come to me. Everyone is going to have their opinions but it is what got me selected for England, playing as late as possible, try and be as patient and back my ability all the way."
Although Ballance has played all his senior cricket in England, has a British passport and now considers himself a Yorkshireman there will always be sceptics. He recalled the scenes of (almost) unbridled joy when Yorkshire clinched the County Championship at Trent Bridge in September.
"I would like to consider myself a Yorkshireman now but there are still a few people who are doubtful," he said. "After that Championship win at Trent Bridge and celebrating with a few fans and thanking them for their support quite a few of them were saying: 'you're not even from Yorkshire.' I said 'we have just won the Championship, come on cheer up.' Yorkshire is Yorkshire isn't it?"
Only two batsmen have scored more Test runs for England after 13 innings than Ballance. One was Herbert Sutcliffe, the other Len Hutton. They were both Yorkshiremen, too.
Reuse content