Rarely does a chance at redemption spread itself out before you as invitingly as this. At the end of a year to forget for English cricket comes the beginning of one the like of which has never been seen.
When the England team touches down in Sydney on Wednesday, back where things fell apart in such haunting fashion, they will know that beyond the immediate and enthralling horizon of a World Cup in Australia lies much more: a Test series in the Caribbean, a visit from New Zealand, yet another Ashes summer, and way out there in the blue on Boxing Day, South Africa.
They arrive Down Under just a few weeks after the sacking of Alastair Cook as one-day captain, a decision which head coach Peter Moores today described as "brave".
"We'd got to a position where it felt like the right thing to do," Moores said. "It felt like the right decision, so we moved [to do it] as a set of selectors and I'm comfortable with that. I think we've got the right people on the plane and we've got to go there now and perform."
"It's a tough one on Alastair. We can look back and say he had every opportunity to try to get himself on the plane and he was committed totally to that, and all that work won't be lost. I think we've got a very good set of players and Alastair understands that."
As the dust settles on Cook's exit, Moores, echoing the recent comments of bowler Stuart Broad when he revealed almost by accident the pressure that the former captain's poor form had placed on the team, preferred to concentrate on the mood of excitement among the players.
After a couple of warm-up matches, on Friday week England will again take to the field against Australia at Sydney, on the spot now tragically hallowed by the death of Phillip Hughes, and face many of the same men who last year dismantled and destroyed one of the greatest sides in English cricket history.
It is, they hope, a brave new world, and one without Andy Flower, Kevin Pietersen and Cook – in the one-day game – as they try to win back the love and affection of the English public at home. "We will go to Australia with a batting line-up that could excite the world," Broad said on Monday, with optimism not entirely misplaced, even if the word "could" is the telling one.
The game-plan will be to develop on improvements made in Sri Lanka before Christmas, to play in the new way that was attempted there, and with some success, but which left much room for improvement.
"Anybody who watched us bat in Sri Lanka saw us play in a different style," Moores said, as his players milled around their hotel at Heathrow waiting to board the plane.
"We didn't always execute it perfectly, because we got bowled out, but we scored at a quicker rate than Sri Lanka in most of the games, and we promoted Moeen Ali to the top of the order, who played a very aggressive brand of cricket. We tried to create some flexibility. We have moved our game. We didn't always  execute it as well as we wanted to, but the change of mindset has already happened."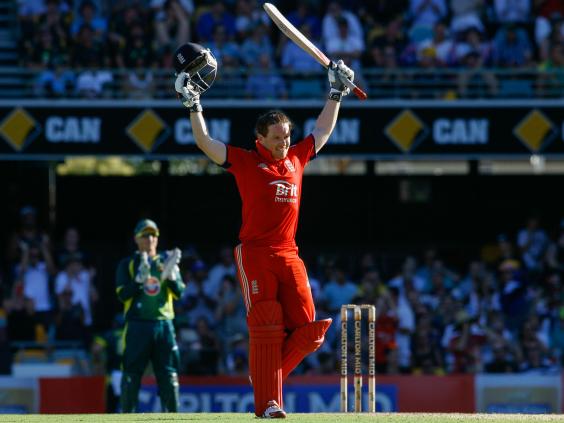 It is an approach that will be driven by the new captain, the more free-scoring Eoin Morgan – a player who, Broad believes, will be helped by the captaincy and will find that it helps rather than hinders  his focus.
Morgan's aggressive run-making does not come without its risks, however, which has been said once or twice about another English batsman, from South Africa, who will be conspicuous by his absence. But the comparison ends there.
"The style of cricketer doesn't make the style of person," Moores said. "I think Eoin plays a style of cricket which is an exciting brand of cricket to watch, which I'm very excited about. I said this before, when people were questioning his form, that I think he's in our best World Cup team in my mind.
"Eoin will bring his simple approach to how to play the game. Tactically he's savvy. I think he fronts up as a player and he'll expect that from the team, and I think that's really important.
"If in Sri Lanka individuals performed, it's really important here that the team understand that this is about being a team," Moores added. "This is about winning for England. It's not about making excuses. We're going out there to  perform, and to win, and we're going to have to play very well."
Tri-series fixtures
16 January Sydney; England v Australia
18 January Melbourne; Australia v India
20 January Brisbane; England v India
23 January Hobart; England v Australia
26 January Sydney; Australia v India
30 January Perth; England v India
1 February Perth; Final
All matches will be shown live on Sky Sports 2
Reuse content