Virat Kohli has the most pressurised job in all of sport. He is the cricket captain of the world's most fanatical cricketing nation and with it the most scrutinized figure in a country of 1.3 billion.
Yet he walks and talks – and bats – with the air of a man with not a care in the world. He has ice running through those feted veins. He is coolness personified. You imagine he dresses every morning by simply conjuring the clothes from his wardrobe. There is seemingly nothing he can't do.
But in Birmingham on Thursday, with Bangladesh's Tamim Iqbal and Mushriqur Rahim in the midst of a run-a-ball 100 partnership, he almost looked concerned. Concerned before making the decision that decisively changed the momentum, decided the game, and ensured India will face Pakistan in Sunday's Champions Trophy final.
"We had another complete game and we needed a clean, collective performance to beat this Bangladesh side," Kohli said. "We didn't expect to win by nine wickets but that's the quality of batsmen we have up front and I could play my natural game when I came in."
Kohli's natural game is something to behold. To see him live and up close is to watch a player at the absolute peak of his powers. Every stroke is a masterpiece, each wave of the blade a privilege to witness. His loyal subjects know his greatness too.
Thousands in blue and orange made the pilgrimage here and rose as one as their hero strode to the wicket to finish what he had earlier started. So many of them were there the walk from train station to ground was more Eden Gardens than Edgbaston.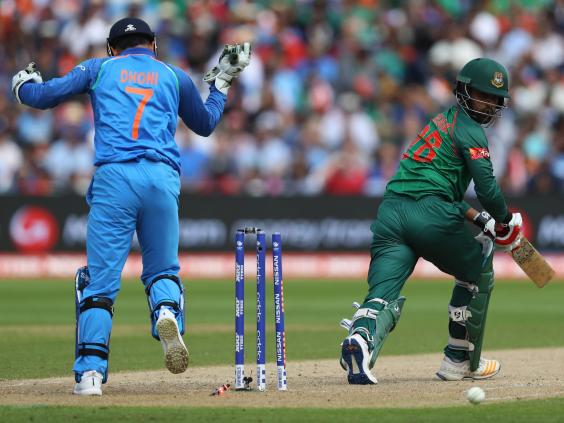 Bangladesh lost the toss and with it early wickets and Tamim, so often this side's catalyst and arguably this tournament's standout batsman, looked distinctly off colour before being bowled off a Hardik Pandya no-ball woke him from his slumber. A fourth half-century in five ODIs showed the early cobwebs were gone.
The Tigers were renewed and with Kohli forced into shuffling his pack away from the impressive Bhuvneshwar Kumar and Jasprit Bumrah were steadily accumulating towards what looked like a total north of 300. Mushfiqur followed his partner past his own milestone and the pair looked to have wrested back control before Kohli made the call that ultimately decided the match.
Kedar Jadhav, a bowler firmly at the part-time end of the spectrum, had only claimed six ODI scalps before but summoned by Kohli saw off first Tamim and then Mushfiqur to swing the momentum India's way for good. Tamim's demise for 70, bowled after an ugly swipe across the line, came before Mushfiqur (61) clothed a full toss straight to a visibly delighted Kohli at midwicket.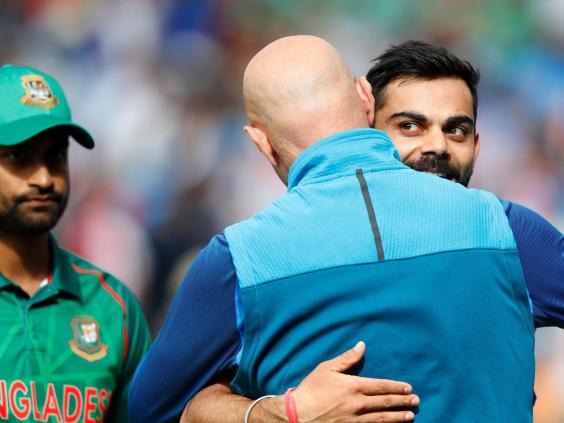 In between Ravi Jadeja saw Shakib Al Hasan edge behind. What was 154-2 was now 179-5 and with the centurion hero of last time out gone so were Bangladesh's chances of a competitive total on what, after Wednesday's much-talked about surface in Cardiff, looked to be an entirely agreeable pitch.
The Tigers' tail wagged and inspired by some lower order biffing from skipper Mashrafe Mortaza, they pushed up to 264 from their 50 overs. But almost as soon as Shikhar Dhawan had dispatched the first of his eight boundaries to the fence in the second over of India's reply it didn't look anywhere near enough.
Even when the tournament's top scorer inexplicably spooned to point when set on 46 that only brought Kohli to the crease to accelerate Bangladesh's demise. Rohit Sharma, who had played second fiddle to the free-flowing Dhawan up to now, moved through the gears with his skipper passing 50 off just 57 balls.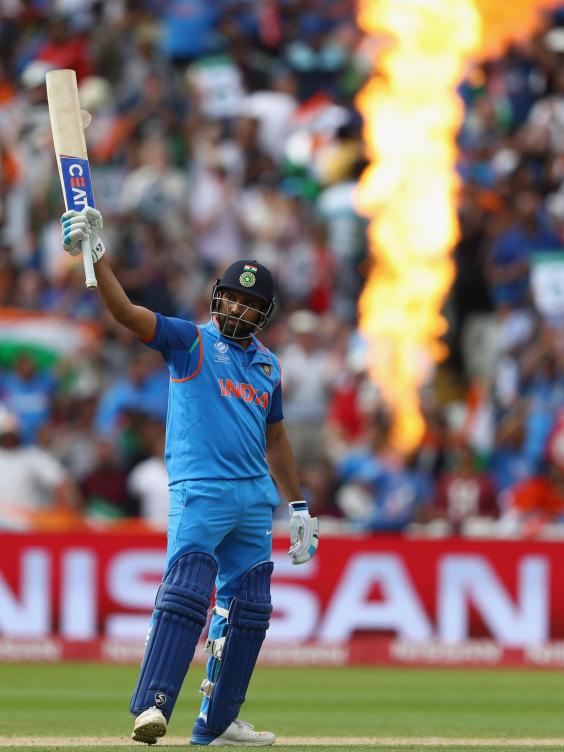 The finishing line was in sight but Sharma and Kohli had no intention of waiting for it to come to them. 28 runs came from overs 21 and 22 alone. Kohli took only 42 balls to reach his own half-century. Such is his mastery you feel he could've got there in half that time had the match situation needed him to.
Sharma brought up his 11th ODI ton with a six but it was left to Kohli to knock off the winning runs with 59 balls to spare. There could be no more fitting end.
Reuse content