What a win by Sarfraz Ahmed and his Pakistan team, widely written off after their abject defeat to India last Sunday. 
Their victory against South Africa, on the same Edgbaston pitch as that loss, might have been determined by Duckworth and Lewis, the algorithm that settles matches hit by bad weather, but the means were pure Pakistan - brilliant, unpredictable and faltering, all in the space of a few hours.    
Pakistan have long had the capacity to run hot and cold like a defrosting vindaloo, but even their greatest supporters were beginning to doubt they could recover from their latest drubbing. Yet, typical of them, they found not only the means but the character to beat South Africa, whose nervy cricket here belied their number one status in the 50-over format.
Their victory certainly opens up Group B. Unlike Group A, which has seen England already qualify for the semi-finals after two games, this one doesn't look like it will be settled until well into next week, which gives the remaining matches added piquancy.
Chasing a total of 220 these days, as Pakistan did here, usually means you have bowled a side out in 40 overs, though South Africa actually used up their full 50 to post the score, David Miller's unbeaten 75 the sole reason they got as many as they did after wickets tumbled at regular intervals.
In pursuit Pakistan got off to a frenetic start with debutant, Fakhar Ahmed, thrashing several boundaries off Wayne Parnell. Fakhar, a left-hander, finally succumbed to Morne Morkel, who struck again two balls later to have Azhar Ali caught at third man. 
A partnership of 52 in 95 balls, glacial in terms of modern one-day cricket, stopped the rot but a further strike by Morkel sent Mohammad Hafeez back for 26 to give South Africa renewed hope.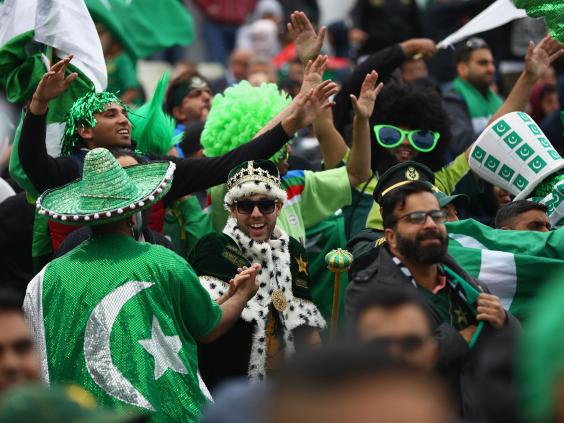 As has been the pattern of this tournament so far, rain arrived to send both team back to the dressing room at the end of the 27th over with Pakistan on 119 for three, 18 runs ahead by the Duckworth Lewis method - a situation that remained when the match was abandoned at 9.45pm.
South Africa's woes began after AB de Villiers, South Africa's captain, won  the toss and batted, a reasonable enough decision given this was the third match on this particular pitch but one that seemed to confuse South Africa's top order who hiccuped between caution and gay abandon, unsure of what a good score might be. 
The largely unforced errors that accounted for Hashim Amla, Quinton de Kock and AB de Villiers, turned a tidy start from Pakistan's bowlers into a sensational one, the first ball duck suffered by de Villiers, who sliced a loose drive off Imad Wasim's left-arm spin to backward point, the first of his international career. 
More than most, Pakistan are a side who feed on confidence, and their dander was noticeably raised after that big wicket. Indeed, they bowled and fielded like a side that bore no relation to the one humbled by India.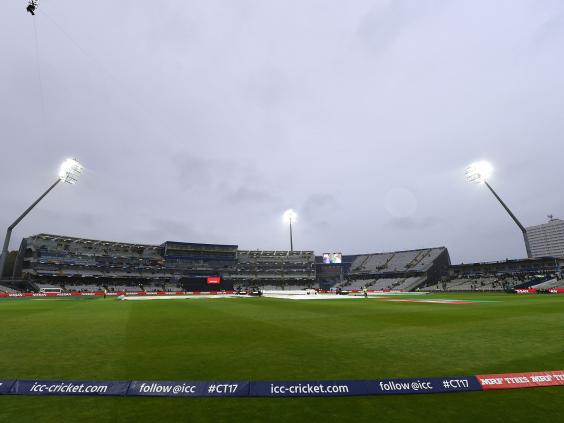 They were cute, tactically, too, Sarfraz getting his spinners on early and keeping them on while South Africa were rebuilding. Their 15 overs early in the piece helped to scuff up the ball which, for the first time in the tournament, reverse-swung, with Hasan Ali utilising the late movement expertly to take three for 24 in his eight overs.
Miller occasionally leapt out of rebuilding mode to show what a fine striker of a cricket ball he is with two mighty sixes off Hafeez, but his was an innings of denial in order to give his bowlers a total to bowl at even if the weather eventually denied them a full opportunity.
Reuse content